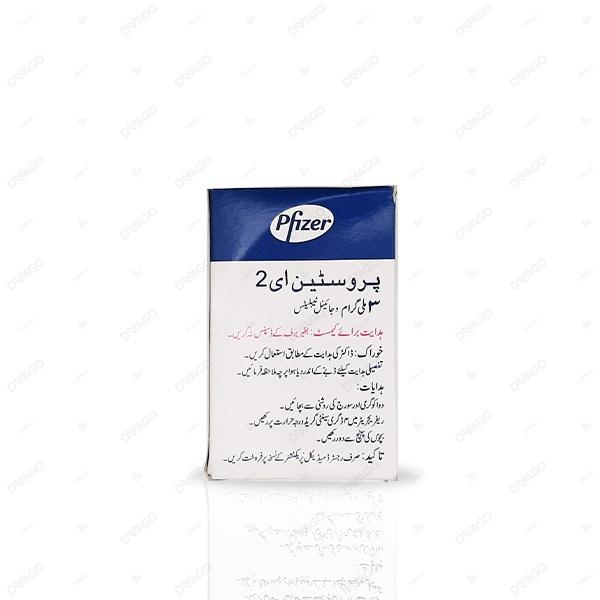 Prostin E-2 3Mg Tablets 4S (Pack Size 1 X 4S)
How it works
Dinoprostone is a prostaglandin of the E series with actions on smooth muscle; the endogenous substance is termed prostaglandin E2. It induces contraction of uterine muscle at any stage of pregnancy and is reported to act predominantly as a vasodilator on blood vessels and as a bronchodilator on bronchial muscle. It is postulated that vaginal absorption of PGE2 stimulates endogenous PGE2 and PGF2a production, similar to that which is seen in spontaneous labour.
Description
PROSTIN E-2 VAG TAB 3 MG 4'S
Requires Prescription (YES/NO)
Yes
Indication
It is indicated for induction of labour, when there are no foetal or maternal contraindications.
Side Effects
• Vomiting • Nausea • Diarrhoea • Sudden blockage of a blood vessel with amniotic fluid (the fluid which surrounds the baby) or by a blood clots in the lungs. This could cause chest pain and shortness of breath. • Placenta becoming detached • Foetal death, stillbirth and death of the newborn baby (neonatal death); especially following serious events such as tearing of the womb. • Abnormally strong, frequent or long contractions of the womb • Slowing or quickening of the baby's heart rate and distress in the baby • Itching, soreness, rash or feeling of warmth of the vaginal area • High blood pressure in the mother
When not to Use
It should not be used where the patient is sensitive to prostaglandins or other constituents of the medicine .
Dosage
Adults : By vagina, induction of labour, inserted high into posterior fornix; 3mg, followed after 6-8hr by 3mg if labour is not established ; max 6mg (vaginal tab/pessary) Children : Not applicable. OR As directed by your physician.
Storage yes or /no
Store in a refrigerator (2°C–8°C). Do not Freeze .
Precautions
Use caution in handling this product to prevent contact with skin. Wash hands thoroughly with soap and water after administration.
Warning 1
As with any oxytocic agent, the risk of uterine rupture should be considered. Concomitant medication, maternal and foetal status should be taken into consideration in order to minimise the risk of uterine hyperstimulation, uterine rupture, uterine haemorrhage, foetal and neonatal death.
Warning 2
In labour induction, cephalopelvic relationships should be carefully evaluated before use of Vaginal Tablets. During use, uterine activity, foetal status and the progression of cervical dilation should be carefully monitored to detect possible evidence of undesired responses, e.g. hypertonus, sustained uterine contractions, or foetal distress.
Warning 3
In cases where there is a known history of hypertonic uterine contractility or tetanic uterine contractions, it is recommended that uterine activity and the state of the foetus (where applicable) should be continuously monitored throughout labour. The possibility of uterine rupture should be borne in mind where high-tone uterine contractions are sustained.
Pregnancy category
Always consult your physician before using any medicine.
Drug Interactions
Oxytocin
Suggestions