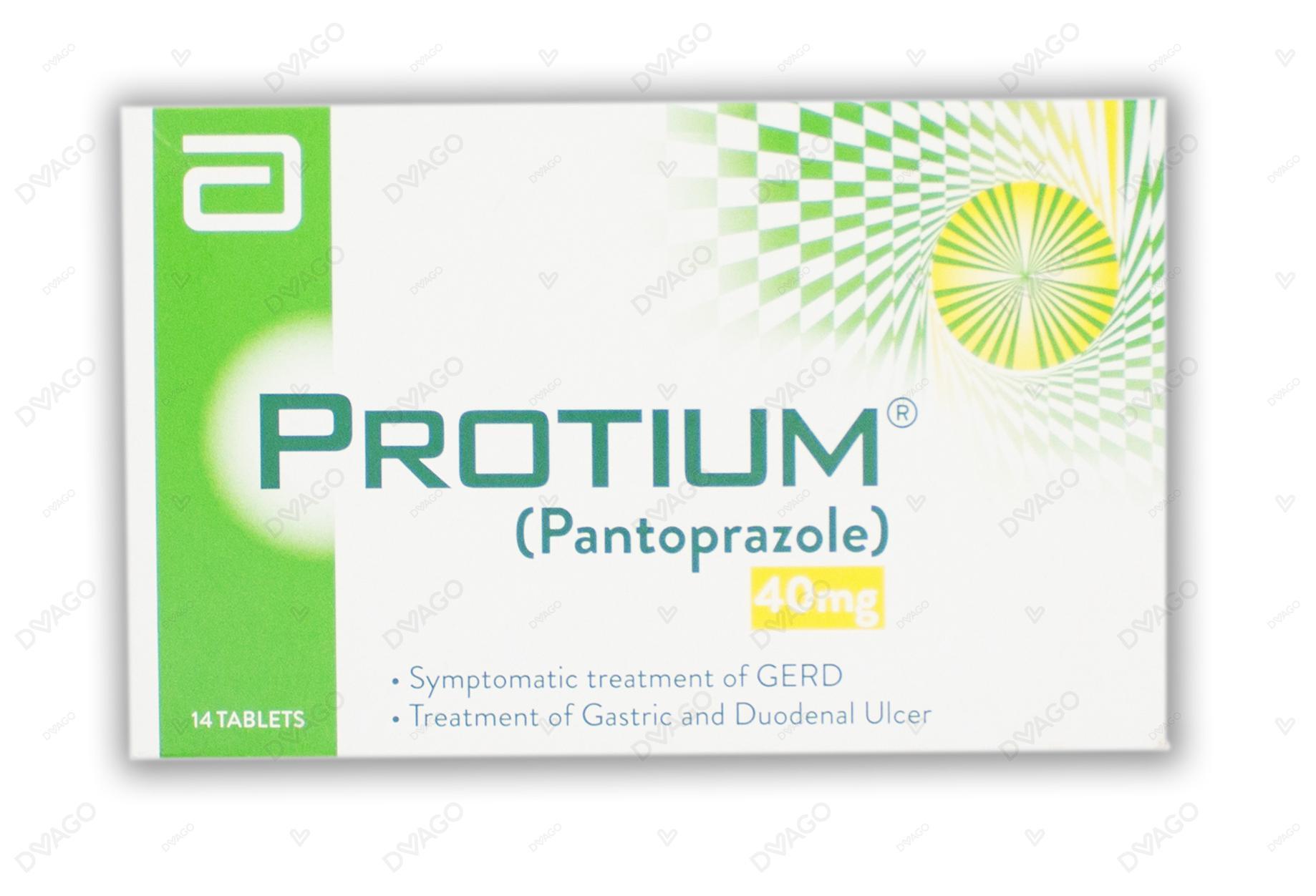 Protium 40Mg Tablets 14S
How it works
Pantoprazole is used to treat certain stomach and esophagus problems (such as acid reflux). It works by decreasing the amount of acid your stomach makes.
Description
PROTIUM TAB 40 MG 14'S
Generics
Pantoprazole Sodium
Requires Prescription (YES/NO)
Yes
Indication
In combination with two appropriate antibiotics for the eradication of Helicobacter pylori in patients with peptic ulcers with the objective of reducing the recurrence of duodenal and gastric ulcers caused by this microorganism. Duodenal ulcer , Gastric ulcer and Moderate and severe cases of inflammation of the oesophagus (reflux oesophagitis).
Side Effects
Uncommon (may affect up to 1 in 100 people) - Headache; dizziness; diarrhoea; feeling sick, vomiting; bloating and flatulence (wind); constipation; dry mouth; abdominal pain and discomfort; skin rash, exanthema, eruption; itching; feeling weak, exhausted or generally unwell; sleep disorders; fracture in the hip, wrist or spine.Rare (may affect up to 1 in 1,000 people) - Distortion or complete lack of the sense of taste; disturbances in vision such as blurred vision; hives; pain in the joints; muscle pains; weight changes; raised body temperature; high fever; swelling of the extremities (peripheral oedema); allergic reactions; depression; breast enlargement in males.Very Rare - Disorientation
When not to Use
If you are allergic to pantoprazole or to any of the other ingredients of this medicine. If you are allergic to medicines containing other proton pump inhibitors.
Dosage
Adults : Duodenal ulcer : 40 mg daily in the morning for 4 wk . In severe cases , increase up to 80 mg daily. Gastric ulcer : 40 mg daily in the morning for 8 wk. In severe cases , increase upto 80mg daily. NSAID ulceration : 20 mg daily. Zollinger-Ellison syndrome : Initially 80mg daily , adjust dose according to response . Elderly : 40 mg daily. GERD : 20-40 mg daily in the morning for 2-4 wk. Extend for a further 4 wk if not healed . Maintenance , 20 mg daily ; reassess risk/benefit if treatment exceeds 1 yr. Children : Not recommeded. OR As directed by your physician.
Storage yes or /no
Store this medicine at room temperature, away from direct light and heat.
Precautions
Talk to your doctor, pharmacist or nurse before taking - If you have severe liver problems. Please tell your doctor if you ever had problems with your liver in the past. He will check your liver enzymes more frequently. In the case of a rise of liver enzymes the treatment should be stopped.
Warning 1
Taking a proton pump inhibitor like pantoprazole, especially over a period of more than one year, may slightly increase your risk of fracture in the hip, wrist or spine.
Warning 2
Tell your doctor If you have ever had a skin reaction after treatment with a medicine similar to this medicine that reduces stomach acid.
Warning 3
If you get a rash on your skin, especially in areas exposed to the sun tell your doctor as soon as you can, as you may need to stop your treatment with this medicine. Remember to also mention any other ill effects like pain in your joints.
Pregnancy category
Always consult your physician before using any medicine.
Drug Interactions
Ketoconazole, itraconazole and posaconazole or erlotinib , Warfarin and phenprocoumon , atazanavir , Methotrexate , Fluvoxamine , Rifampicin.
Suggestions