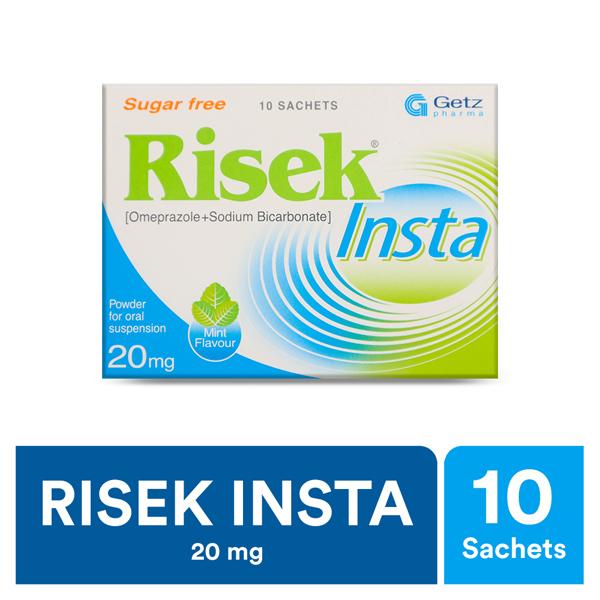 Risek Insta 20Mg Sachet 10S
How it works
Omeprazole reduces gastric acid secretion through a unique mechanism of action. Omeprazole belongs to a class of anti-secretory compounds - the substituted benzimidazoles that do not exhibit anti-cholinergic or H2 histamine antagonistic properties. It inhibits secretion of gastric acid by irreversibly blocking the enzyme system of hydrogen/potassium adenosine triphosphatase (H+/K+ATPase), the proton pump of the gastric parietal cell. This effect is dose-related and leads to inhibition of both basal and stimulated acid secretion irrespective of the stimulus.
Description
RISEK INSTA POWD 20MG 10'S
Generics
Omeprazole + Sodium Bicarbonte
used for
Gastroesophageal Reflux Disease
Requires Prescription (YES/NO)
Yes
Indication
It (Omeprazole) is indicated in adults for the treatment of: Gastro-Esophageal Reflux Disease (GERD):- Treatment of erosive reflux esophagitis.- Long term management of patients with healed esophagitis to prevent relapse.- Symptomatic treatment of gastroesophageal reflux disease (GERD).
Side Effects
Common : Central and peripheral nervous system: Headache. Gastrointestinal: Diarrhea, constipation, abdominal pain, nausea/vomiting and flatulence.Uncommon : Central and peripheral nervous system: Dizziness, paraesthesia, somnolence, insomnia and vertigo.Hepatic: Increased liver enzymesSkin: Rash and/or pruritis, urticariaOther: MalaiseRare : Central and peripheral nervous system: Reversible mental confusion, agitation,aggression, depression and hallucinations, predominantly in severely ill patients.Endocrine: Gynecomastia
When not to Use
Omeprazole is contraindicated in patients with known hypersensitivity to any component of the formulation or to substituted benzimidazoles. Omeprazole must not be used concomitantly with nelfinavir.
Dosage
Short term treatment of active duodenal ulcer : 20mg Once daily for 4 weeks. For Benign gastric ulcer : 40mg Once daily for 4-8 weeks ; Reduction of risk of upper gastrointestinal bleeding in critically ill patients (40mg oral suspension only) : 40mg initially follwed by 40mg 6-8 hours later and 40mg daily thereafter for 14 days . Gastroesophageal Reflux Disease (GERD) : Symptomatic GERD (with no esophageal erosions) : 20mg Once daily for up to 4 weeks , Erosive esophagitis : 20mg Once daily for 4-8 weeks ; Maintenance of healing of erosive esophagitis : 20mg Once daily OR As directed by your physician.
Storage yes or /no
Store this medicine at room temperature, away from direct light and heat.
Precautions
Symptomatic response to therapy with omeprazole does not preclude the presence of gastric malignancy .
Warning 1
Atrophic gastritis has been noted occasionally in gastric corpus biopsies from patients treated long-term with omeprazole .
Warning 2
Sodium bicarbonate should be used with caution in patients with Bartter's syndrome, hypokalemia, respiratory alkalosis, and problems with acid-base balance. Long- term administration of bicarbonate with calcium or milk can cause milk-alkali syndrome .
Warning 3
Omeprazole powder for oral suspension contains sodium in the form of sodium bicarbonate. This should be taken into consideration for patients on a sodium restricted diet .
Pregnancy category
Always consult your physician before using any medicine.
Drug Interactions
Ketoconazole and itraconazole , diazepam, citalopram, imipramine, clomipramine, phenytoin , Atazanavir , Digoxin , Clopidogrel , posaconazole, erlotinib , Saquinavir , Tacrolimus , Methotrexate , clarithromycin , CYP2C19 or CYP3A4 or both (such as rifampicin and St John's wort.
Suggestions