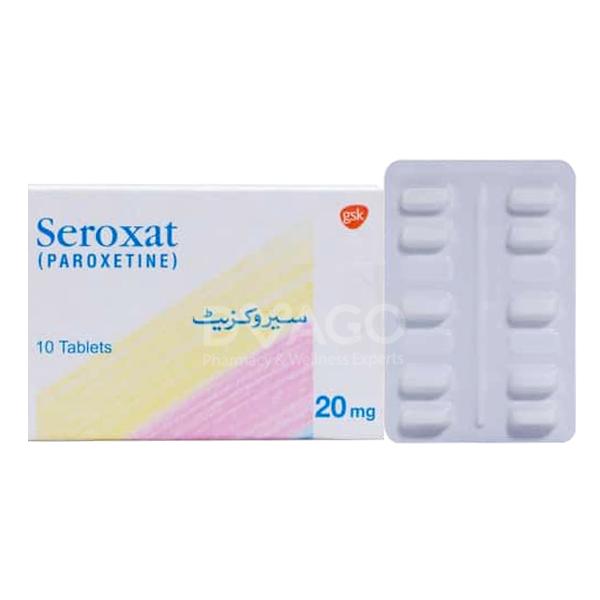 Seroxat 20Mg Tablets 10S (Pack Size 1 X 10S)
How it works
The efficacy of paroxetine in the treatment of major depressive disorder, social anxiety disorder, obsessive compulsive disorder (OCD), panic disorder (PD), generalized anxiety disorder (GAD), and posttraumatic stress disorder (PTSD) is presumed to be linked to potentiation of serotonergic activity in the central nervous system resulting from inhibition of neuronal reuptake of serotonin (5-hydroxy-tryptamine, 5-HT).
Description
SEROXAT TAB 20 MG 10'S
Requires Prescription (YES/NO)
Yes
Indication
It is indicated for the symptomatic relief of Major Depressive Disorder.
Side Effects
Abnormal bleeding, predominantly of the skin and mucous membranes (mostly ecchymosis), thrombocytopenia , allergic reactions (including urticaria and angioedema , syndrome of inappropriate anti-diuretic hormone secretion (SIADH) , hyponatraemia , somnolence, insomnia, agitation, abnormal dreams (including nightmares) , confusion, hallucinations , dizziness, tremor, headache.
When not to Use
Known hypersensitivity to paroxetine and excepients. Paroxetine should not be used in combination with monoamine oxidase (MAO) inhibitors (including linezolid, an antibiotic which is a reversible non-selective MAO inhibitor) or within 2 weeks of terminating treatment with MAO inhibitors. Likewise, MAO inhibitors should not be introduced within 2 weeks of cessation of therapy with paroxetine.
Dosage
Depression - Adult dose : Initially 20mg once daily in the morning with food. If necessary increase gradually after minimum 2 week in 10mg increments , max 50mg daily. Obsessive compulsive disorder : Adults : Initially 20 mg once daily in the morning with food . Increase wkly 10 mg increments to 40 mg daily ; max 60 mg daily. Panic disorders : Adults : Initially 10 mg once daily in the morning with food . Increase wkly in 10 mg increments to 40 mg daily ; max 50 mg daily. Generalized anxiety disorder : Adults : Initially 20mg once daily , preferably in the morning ( if dose is increased , adjust in steps of 10mg/day at 1 wk intervals ) . Children : Not recommended . OR As directed by your physician.
Storage yes or /no
Store this medicine at room temperature, away from direct light and heat.
Precautions
Treatment with antidepressants is associated with an increased risk of suicidal thinking and behaviour in children and adolescents with Major Depressive Disorder (MDD) and other psychiatric disorders.
Warning 1
Epidemiological studies on bone fracture risk following exposure to some antidepressants, including SSRIs, have reported an association with fractures. The risk occurs during treatment and is greatest in the early stages of therapy. The possibility of fracture should be considered in the care of patients treated with paroxetine.
Warning 2
Caution is recommended in patients with severe renal impairment or in those with hepatic impairment.
Warning 3
Overall the incidence of seizures is less than 0.1% in patients treated with paroxetine. The drug should be discontinued in any patient who develops seizures.
Pregnancy category
Always consult your physician before using any medicine.
Drug Interactions
L-tryptophan, triptans, tramadol, SSRIs, lithium, fentanyl and St. John's Wort – Hypericum perforatum – preparations , Pimozide , carbamazepine, rifampicin, phenobarbital, phenytoin , Fosamprenavir , ritonavir , Procyclidine , carbamazepine, phenytoin, sodium valproate , tricyclic antidepressants, phenothiazine neuroleptics, risperidone, atomoxetine, certain Type 1c antiarrhythmics and metoprolol.
Suggestions