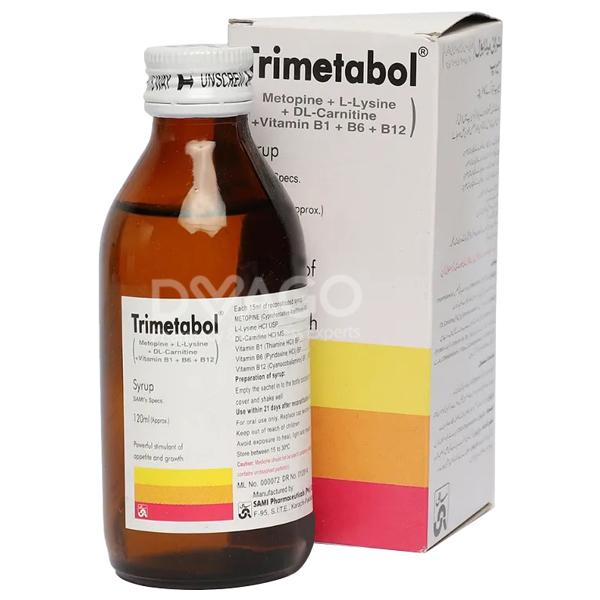 Trimetabol Syrup 120Ml
How it works
Metopine belongs to a class of drugs known as appetite stimulants. These stimulants increase the hunger of patients. L-Lysine and DL-Carnitine are amino acids that are essential to absorb nutrients. Vitamin B1 + B6 + B12 are the families of Vitamin B.
Description
TRIMETABOL SYP 120 ML
Generics
Metopine , L-lysine , DL-Carnitine , Vitamin B1 , Vitamin B6 , Vitamin B12
used for
Appetite Stimulant
Requires Prescription (YES/NO)
Yes
Indication
It is used as a supportive therapy to improve conditions such as loss of appetite, anorexia and bulimia.
Side Effects
It may cause sedation.
When not to Use
Hypersensitivity towards any of the ingredients listed.
Dosage
For adults: 1 to 2 tablespoons 3 times daily. For children: 1 or 2 teaspoon 3 times daily or as directed by your physician.
Storage yes or /no
Store this medicine at room temperature, away from direct light and heat.
Precautions
You may feel dizzines or hypotension while using this product.
Warning 1
It is recommended not to drive or operate machinery right after taking the dose.
Warning 2
 It is also recommended not to use it in combination with Anti-Depressant medications.
Warning 3
It is recommended to continue the therapy for at least 2 months.
Pregnancy category
Always consult your physician before using any medicine.
Drug Interactions
Ask your doctor or Pharmacist for any drug interactions.
Suggestions