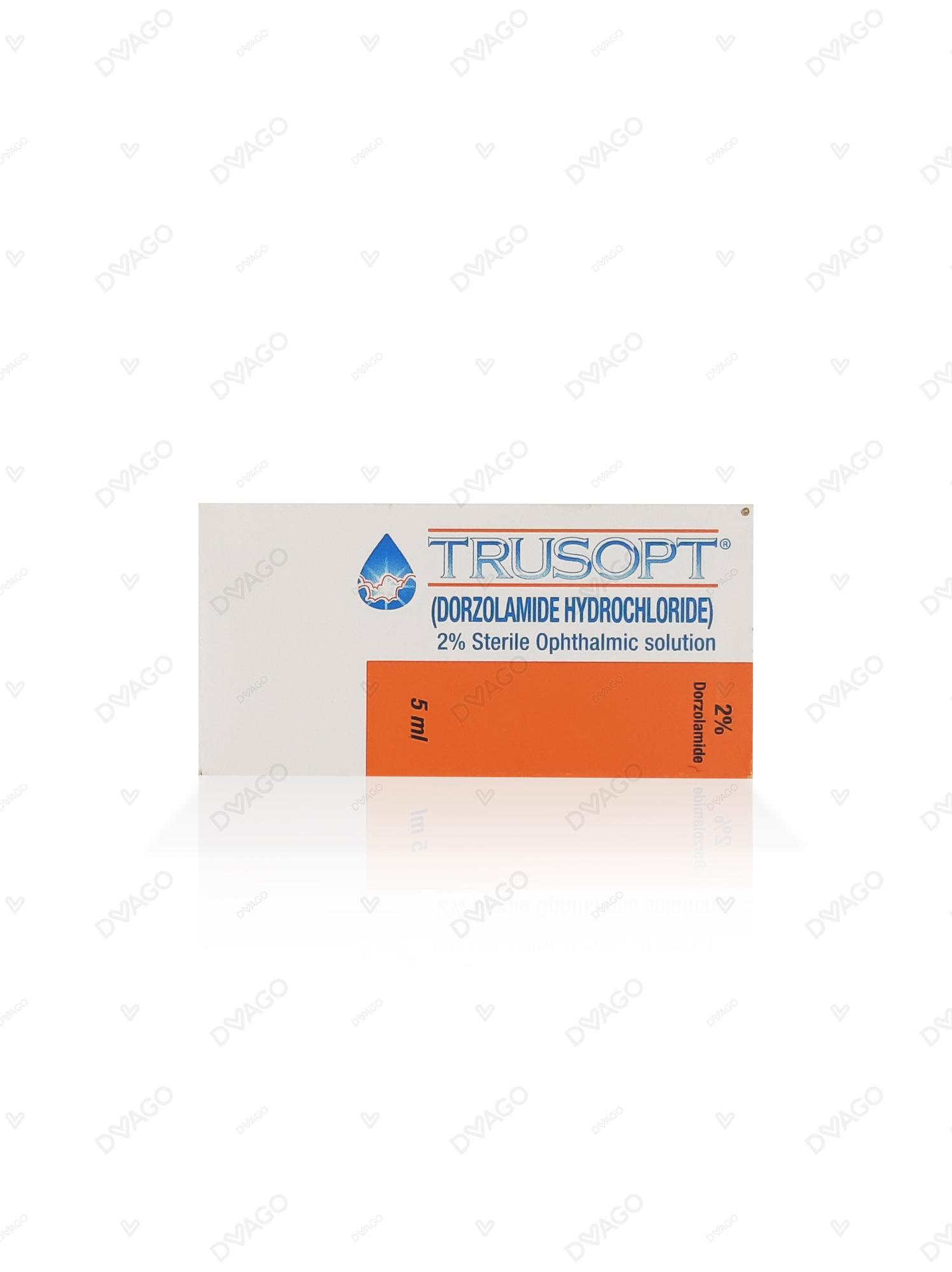 Trusopt Eye Drops 5Ml
How it works
It contains dorzolamide hydrochloride, an inhibitor of human carbonic anhydrase II. Following topical ocular administration, it reduces elevated intraocular pressure. Elevated intraocular pressure is a major risk factor in the pathogenesis of optic nerve damage and glaucomatous visual field loss.
Description
TRUSOPT EYE DROP 5 ML
Generics
Dorzolamide Hydrochloride
Requires Prescription (YES/NO)
Yes
Indication
it is indicated in the treatment of elevated intraocular pressure in patients with ocular hypertension or open-angle glaucoma.
Side Effects
Blurred vision, eye redness, tearing, dryness, and photophobia , headache, nausea, asthenia/fatigue; and, rarely, skin rashes, urolithiasis, and iridocyclitis , angioedema, bronchospasm, pruritus, and urticaria; Stevens-Johnson syndrome and toxic epidermal necrolysis; dizziness, paresthesia; ocular pain, transient myopia, choroidal detachment following filtration surgery, eyelid crusting; dyspnea; contact dermatitis, epistaxis, dry mouth and throat irritation.
When not to Use
It is contraindicated in patients who are hypersensitive to any component of this product.
Dosage
Adults : Monotherapy 1 drop three times daily . Adjunct therapy , 1 drop twice daily . Children : Not Recommended . OR As directed by your physician .
Storage yes or /no
Store this medicine at room temperature, away from direct light and heat.
Precautions
Patients should be advised that if they develop any ocular reactions, particularly conjunctivitis and lid reactions, they should discontinue use and seek their physician's advice.
Warning 1
It is a sulfonamide and, although administered topically, is absorbed systemically. Therefore, the same types of adverse reactions that are attributable to sulfonamides may occur with topical administration with dorzolamide. Fatalities have occurred, although rarely, due to severe reactions to sulfonamides including Stevens-Johnson syndrome, toxic epidermal necrolysis, fulminant hepatic necrosis, agranulocytosis, aplastic anemia, and other blood dyscrasias.
Warning 2
Patients should also be instructed that ocular solutions, if handled improperly or if the tip of the dispensing container contacts the eye or surrounding structures, can become contaminated by common bacteria known to cause ocular infections. Serious damage to the eye and subsequent loss of vision may result from using contaminated solutions.
Warning 3
Patients also should be advised that if they have ocular surgery or develop an intercurrent ocular condition (e.g., trauma or infection), they should immediately seek their physician's advice concerning the continued use of the present multidose container.
Pregnancy category
Always consult your physician before using any medicine.
Drug Interactions
Leave interval of 10 min if using other ophthalmic preps . Oral carbonic anhydrase inhibitors .
Suggestions