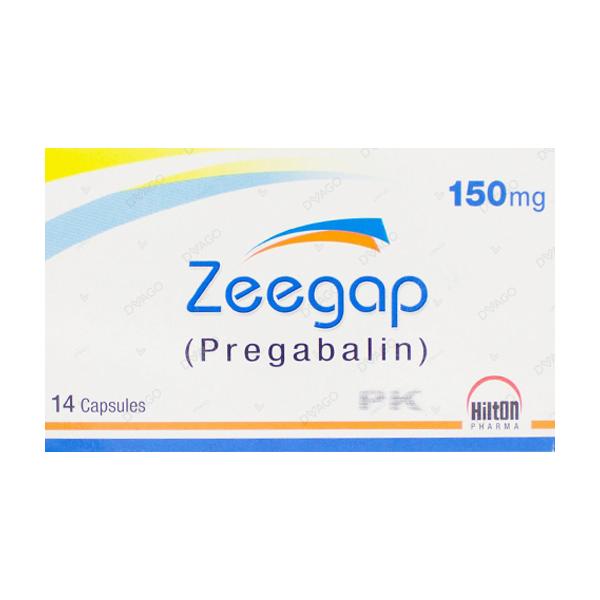 Zeegap 150Mg Capsules 14S (Pack Size 1 X 14S)
How it works
Pregabalin reduces neuronal calcium currents by binding to the alpha-2-delta subunit of voltage gated calcium channels in CNS tissues and this particular mechanism may be responsible for effects in neuropathic pain, anxiety and other pain syndromes.
Description
ZEEGAP CAP 150 MG 14'S
Requires Prescription (YES/NO)
Yes
Indication
Pregabalin is indicated: - For the management of neuropathic pain associated with diabetic peripheral neuropathy. - For the management of postherpetic neuralgia. - For the treatment of pain associated with spinal cord injury . - As adjunctive therapy in adults with partial seizures with or without secondary generalization.- For the treatment of Generalized Anxiety Disorder (GAD) in adults. - For the treatment of fibromyalgia syndrome (FMS).
Side Effects
Very common: Dizziness, drowsiness and somnolence. Common:Increased appetite, euphoric mood, confusion, irritability, decreased libido, disorientation, insomnia, ataxia, abnormal coordination, tremor, dysarthria, memory impairment, disturbance in attention, paraesthesia, sedation, balance disorder, lethargy, headache, blurred vision, diplopia, vertigo, vomiting, dry mouth, constipation, flatulence, erectile dysfunction, gait abnormal, feeling drunk, fatigue, peripheral oedema, oedema and weight increased. Uncommon:Nasopharyngitis, anorexia, hypoglycemia, hallucination, panic attack, restlessness, agitation, depression, depressed mood, mood swings, depersonalisation, word finding difficulty, abnormal dreams, libido increased, anorgasmia, apathy, syncope, stupor, myoclonus, psychomotor hyperactivity.
When not to Use
Pregabalin is contraindicated in patients with a known hypersensitivity to pregabalin or any the component of the product. - Patients with rare hereditary problems of galactose intolerance, the Lapp lactase deficiency or glucose-galactose malabsorption should not take this medicine.
Dosage
Neuropathic Pain :(Pregabalin) treatment can be started at a dose of 150mg per day, given as 2-3 divided doses. Based on individual patient response and tolerability, the dosage may be increased to 300mg per day, given as 2 divided doses, after an interval of 3 to 7 days, and if needed, to a maximum dose of 600mg per day after an additional 7 days interval. Neuropathic Pain Associated with Spinal Cord Injury : The recommended starting dose is 75mg two times a day (150mg/day). The dose may be increased to 150mg two times a day (300mg/day) within 1 week based on efficacy and tolerability. Patients who do not experience sufficient pain relief following 2 to 4 weeks of treatment with 300mg/day and who are able to tolerate Pregabalin, may be treated with up to 300mg two times a day (600mg/day) .GeneralAnxietyDisorder : The dose range is 150mg to 600mg/day given as two or three divided doses. The need for treatment should be reassessed regularly. Pregabalin treatment can be started with a dose of 150mg/day given as 2-3 divided doses. Based on individual patient response and tolerability, the dosage may be increased to 300mg/day after 1 week. Following an additional week the dosage may be increased to 450mg/day. The maximum dosage of 600mg/day may be achieved after an additional week. Always consult your physician or pharmacisSt for dose adjustment.
Storage yes or /no
Store this medicine at room temperature, away from direct light and heat.
Precautions
As with all Antiepileptic Drugs, pregabalin should be withdrawn gradually to minimize the potential of increased seizure frequency in patients with seizure disorders. If pregabalin is discontinued this should be done gradually over a minimum of 1 week.
Warning 1
Pregabalin should be discontinued immediately if symptoms of angioedema, such as facial, perioral or upper airway swelling occur.
Warning 2
Pregabalin associated weight gain is related to dose and duration of exposure. Some diabetic patients who gain weight on pregabalin treatment may need to adjust hypoglycemic medications.
Warning 3
Pregabalin may cause dizziness and somnolence and therefore may have an influence on the ability to drive or use machines or may increase the occurrence of accidental injuries especially in the elderly population.
Pregnancy category
Always consult your physician before using any medicine.
Drug Interactions
CNS depressants such as opiates or benzodiazepines , ethanol , lorazepam , oxycodone.
Suggestions