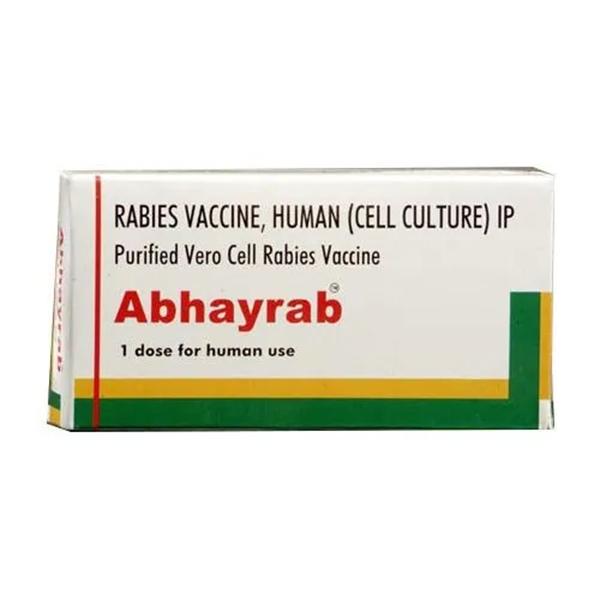 SPECIFICATION
Requires Prescription (YES/NO)
Yes
Generics
Freeze dried Rabies vaccine
How it works
It is an inactivated vaccine. It helps develop immunity by forming antibodies, which are proteins that protect against infection caused by viruses.
USAGE AND SAFETY
Dosage
Freeze dried Rabies vaccine
Side Effects
Side effects are usually mild and go away in a few days. They may include pain, erythema, edema, pruritus, and induration at injection site. Other side effects include fever, shivering, fainting, headache, dizziness, muscle aches, joint pains and stomach upset.
Drug Interactions
Corticosteroids and immunosuppressor treatments may interfere with antibody production and cause the vaccination to fail. Therefore, it is preferable to conduct a neutralizing antibody assay 2 to 4 weeks after the last injection of vaccine. In order to avoid possible interactions between several medicinal products, any other ongoing treatment should be systematically reported to the doctor or to the pharmacist.
Indication
It is a vaccine for for Rabies, a viral disease caused by rabies virus (Rabies lyssavirus).
When not to Use
Do not use if you • Have had an allergic reaction to the rabies vaccine in the past • Have other severe allergies • Have HIV/AIDS • Have cancer • Taking medicines that can affect your immune system .
PRECAUTIONS
Precaution
Inform the doctor in the event of known allergy to neomycin, due to the use of these substances during production. If there is any doubt, do not hesitate to consult the doctor or the pharmacist.
WARNINGS
Warning 1
Use with caution on subjects with a known allergy to neomycin (present in trace form in the vaccine).
Warning 2
Do not inject by the intravascular route make sure that the needle does not enter a blood vessel .
Warning 3
Immunoglobulins and rabies vaccine must not be associated in the same syringe or injected at the same site.
ADDITIONAL INFORMATION
Pregnancy category
Always consult your physician before using any medicine.
Storage (YES/NO)
Store in a refrigerator (2°C–8°C). Do not Freeze .
Related Products