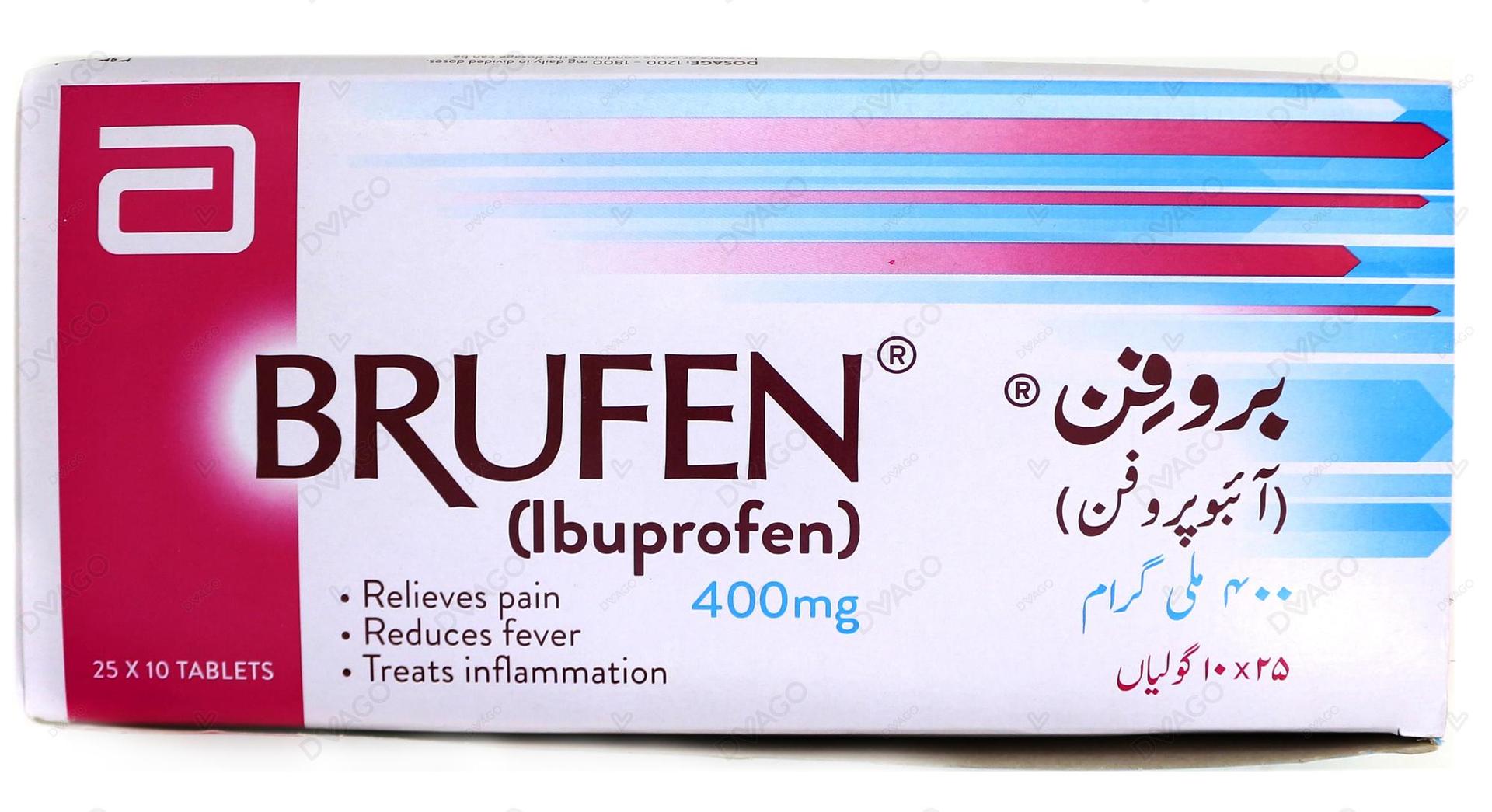 Brufen 400Mg Tablets 250S (Pack Size 25X10s)
How it works
It relieves pain and reduces inflammation (swelling or redness) that may occur.
Description
BRUFEN TAB 400 MG 25X10'S
used for
Pain & Fever Relief
Requires Prescription (YES/NO)
No
Indication
Rheumatoid arthritis including juvenile rheumatoid arthritis or still's disease, ankylosing spondylitis, osteoarthritis, other non-rheumatoid (seronegative) arthropathies and acute gouty arthritis and periarticular conditions such as frozen shoulder (capsulitis), bursitis, tendonitis, tenosynovitis and low-back pain. Soft tissue injuries. Mild to moderate pain such as dysmenorrhoea, dental and post operative pain. Symptomatic relief of headache including migraine headache. In addition ibuprofen is indicated for the treatment of pyrexia.
Side Effects
Nausea or vomiting , loss of appetite , heartburn or pain in the upper part of your stomach , cramps, wind, constipation or diarrhoea , headache , sleepiness or drowsiness , dizziness ? buzzing or ringing in the ears or other trouble hearing , runny or stuffy nose , sleeplessness (insomnia) , feeling tired (fatigue). hallucinations , changes in mood, for example depression, confusion, nervousness , severe pain or tenderness in the stomach , eye problems such as blurred vision or loss of colour vision or sore red eyes or itching , signs of frequent or worrying infections such as fever, severe chills, sore throat or mouth ulcers , bleeding or bruising more easily than normal, reddish or purplish blotches under the skin.
When not to Use
Do not take Ibuprofen if you have an allergy to: Any medicine containing ibuprofen , any of the ingredients listed .
Dosage
The usual dose of Ibuprofen is 1200mg to 1800 mg daily. This dose may be increased for short periods of time, in severe conditions, up to a maximum dose of 2400 mg daily. Ask your doctor or pharmacist for proper use of medicine.
Storage yes or /no
Store this medicine at room temperature, away from direct light and heat.
Precautions
If you get an infection while taking Ibuprofen, tell your doctor. Ibuprofen may hide some of the signs of an infection and may make you think mistakenly, that you are better or that it is not serious. Signs of an infection may include fever, pain, swelling and redness.
Warning 1
If you are about to be started on any new medicine, remind your doctor and pharmacist that you are taking Ibuprofen.
Warning 2
Do not take Ibuprofen if you have a condition resulting in an increased tendency to bleed.
Warning 3
Do not take a double dose to make up for the dose that you missed.
Pregnancy category
Always consult your physician before using any medicine.
Drug Interactions
Aspirin, salicylates or other NSAID medicines , warfarin or clopidogrel , lithium, SSRIs such as fluoxetine, diuretics, methotrexate , corticosteroids, digoxin , ciclosporin or tacrolimus, aminoglycosides, medicines , gingko biloba, quinolone antibiotics, zidovudine, cholestyramine, sulfonylureas, voriconazole or fluconazole, mifepristol.
Suggestions