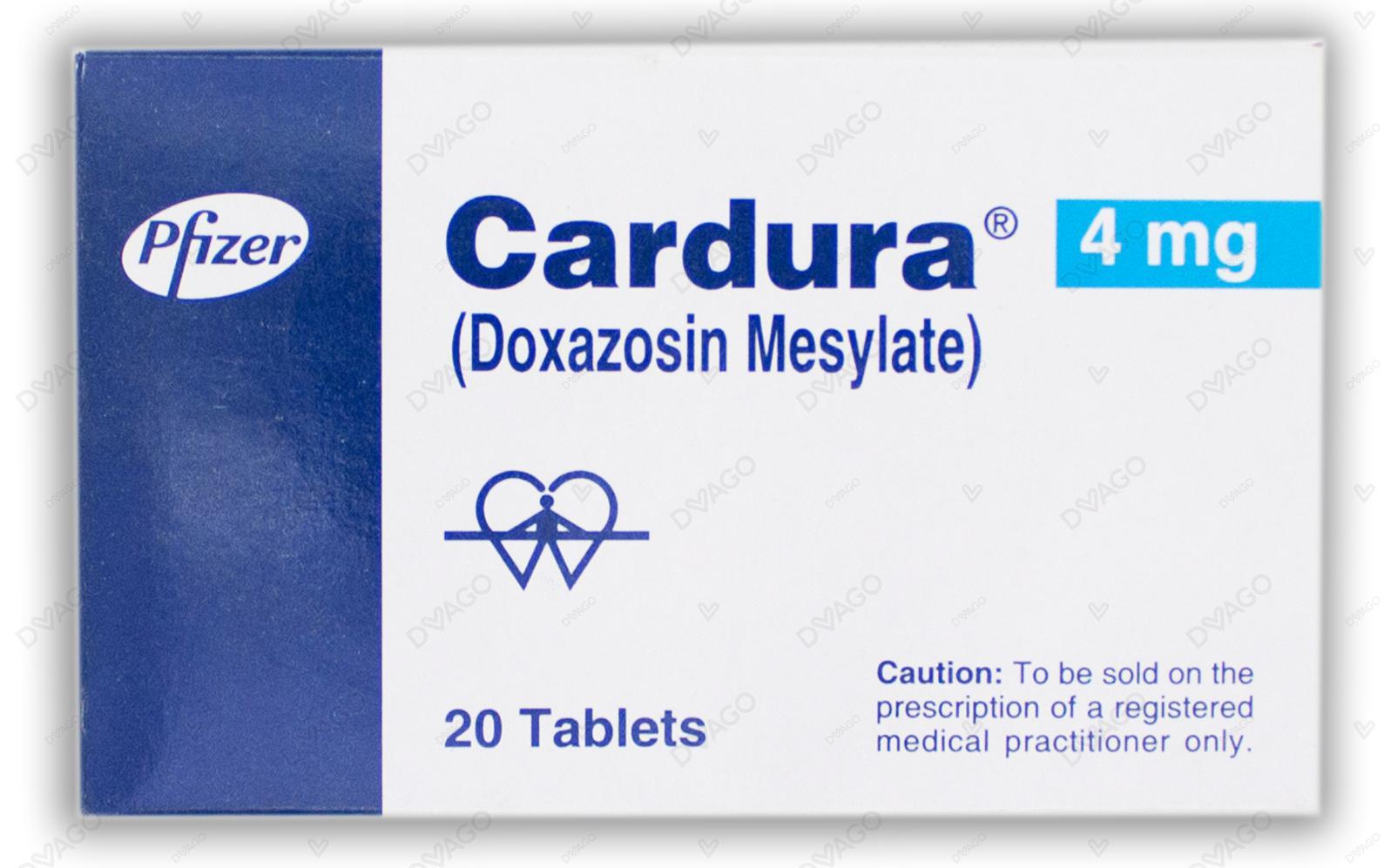 Cardura 4Mg Tablets 20S (Pack Size 2 X 10S)
How it works
Doxazosin helps reduce the symptoms of an enlarged prostate gland by relaxing the muscle around the bladder and prostate gland so you can pee more easily.
Description
CARDURA TAB 4 MG 2X10'S
Generics
 Doxazosin mesylate
used for
Benign Prostatic Hyperplasia
Requires Prescription (YES/NO)
Yes
Indication
It is a prescription medicine that contains doxazosin mesylate and is called an alpha-blocker. It is used to treat: the symptoms of benign prostatic hyperplasia (BPH) , high blood pressure (hypertension) .
Side Effects
Heart attack , Weakness of arms, legs or problems speaking which may be symptoms of a stroke , Swelling of the face, tongue or throat which may be the result of an allergic reaction to this medicine , Shortness of breath, difficulty breathing , Increased or decreased heartbeat , Feeling your heartbeat (palpitations) , Chest pain, angina , Irregular heartbeat , Yellowing of the skin or the eyes (jaundice) , Low numbers of white blood cells or blood platelets, which may result in bruising or easy bleeding , Sleepiness, general weaknes , Indigestion, heartburn, dry mouth , Itching , Back pain, painful muscles , Flu-like symptoms.
When not to Use
Do not take if you are allergic to doxazosin, other quinazolines, or any of the ingredients in the list.
Dosage
The recommended initial dose is 1mg given once daily. After this the usual dose is 2mg or 4mg and 8mg once daily. The maximum recommended daily dose is 8mg. Always consult your doctor or pharmacist for dose adjustments.
Storage yes or /no
Store this medicine at room temperature, away from direct light and heat.
Precautions
It should be administered with caution to patients with evidence of impaired hepatic function, or to patients receiving drugs known to influence hepatic metabolism.
Warning 1
Before taking doxazosin, tell your healthcare provider about all of your medical conditions, including if you have had low blood pressure, especially after taking other medicine. Signs of low blood pressure include fainting, dizziness, and lightheadedness.
Warning 2
Carcinoma of the prostate causes many of the symptoms associated with BPH and the two disorders frequently co-exist. Carcinoma of the prostate should therefore be ruled out prior to commencing therapy with doxazosin.
Warning 3
Patients in occupations in which orthostatic hypotension could be dangerous should be treated with particular caution. As alpha1 antagonists can cause orthostatic effects, it is important to evaluate standing blood pressure two minutes after standing, and patients should be advised to exercise care when arising from a supine or sitting position.
Pregnancy category
Always consult your physician before using any medicine.
Drug Interactions
Phosphodiesterase-5-inhibitors (e.g. sildenafil, tadalafil, vardenafil)
Suggestions