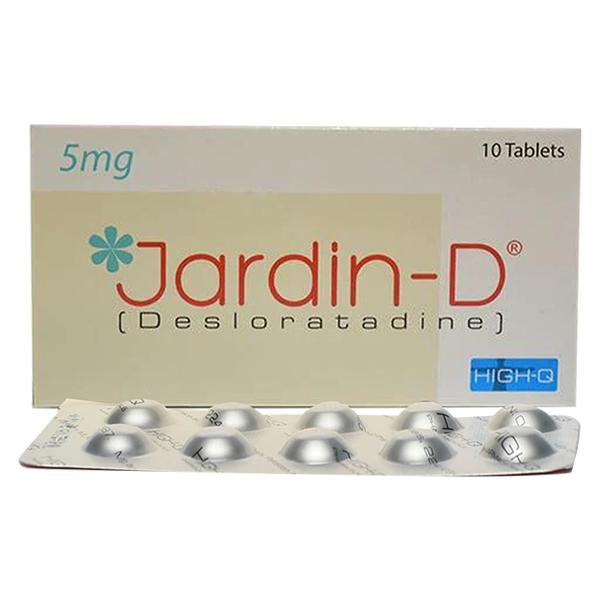 Jardin-D 5Mg Tablets 10S (Pack Size 1 X 10S)
SPECIFICATION
Requires Prescription (YES/NO)
Yes
How it works
Desloratadine is an antiallergy medicine that does not make you drowsy. It helps control your allergic reaction and its symptoms.
USAGE AND SAFETY
Side Effects
Headache , fatigue , dry mouth. Diarrhea , fever and insomnia in children.
Indication
Desloratadine relieves symptoms associated with allergic rhinitis (inflammation of the nasal passages caused by an allergy, hay fever or allergy to dust mites) in adults and adolescents 12 years of age and older. These symptoms include sneezing, runny or itchy nose, itchy palate, and itchy, red or watery eyes.
When not to Use
Do not take Desloratadine if you are allergic to desloratadine, to any of the other ingredients of this medicine.
PRECAUTIONS
Precaution
Talk to your doctor or pharmacist before taking Desloratadine if you: • Have medical or familial history of seizures. • Have poor kidney function.
WARNINGS
Warning 1
If you are pregnant or breast-feeding, think you may be pregnant or are planning to have a baby, ask your doctor or pharmacist for advice before taking this medicine .
Warning 2
At the recommended dose, Desloratadine is not expected to cause you to be drowsy or less alert. However, very rarely some people experience drowsiness, which may affect their ability to drive or use machines.
Warning 3
Tell your doctor or pharmacist if you are taking, have recently taken or might take any other medicines.
ADDITIONAL INFORMATION
Pregnancy category
Always consult your physician before using any medicine.
Storage (YES/NO)
Store this medicine at room temperature, away from direct light and heat.
Related Products