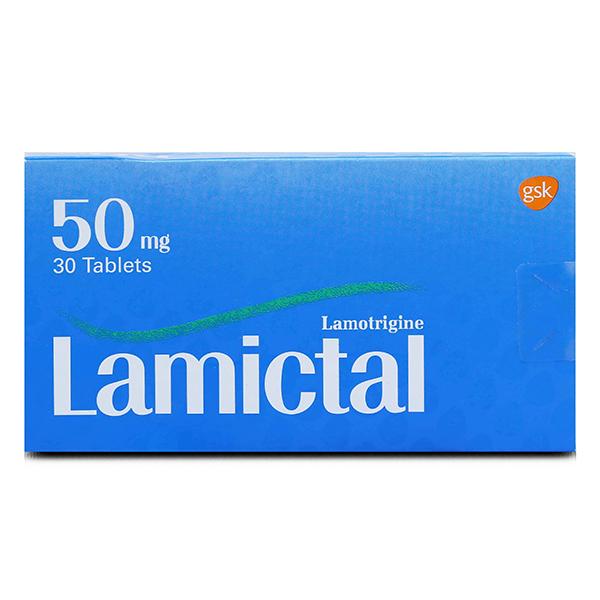 Lamictal 50Mg Tablets 30S (Pack Size 3 X 10S)
How it works
It treats epilepsy by blocking the signals in the brain that trigger epileptic seizures (fits).
Description
LAMICTAL TAB 50 MG 30'S
Requires Prescription (YES/NO)
Yes
Indication
Lamotrigine belongs to a group of medicines called anti-epileptics. It is used to treat two conditions - Epilepsy and bipolar disorder.
Side Effects
Headache , skin rash. aggression or irritability , feeling sleepy or drowsy , feeling dizzy , shaking or tremors , difficulty in sleeping (insomnia), feeling agitated , diarrhoea , dry mouth, feeling sick (nausea) or being sick (vomiting) , feeling tired , pain in your back or joints, or elsewhere , clumsiness and lack of co-ordination (ataxia) , double vision or blurred vision , hair loss or thinning (alopecia).
When not to Use
Do not take Lamotrigine: If you are allergic (hypersensitive) to lamotrigine or any of the other ingredients of this medicine .
Dosage
The usual effective dose for adults and children aged 13 years or over is between 100 mg and 400 mg each day. For children aged 2 to 12 years, the effective dose depends on their body weight - usually, it's between 1 mg and 15 mg for each kilogram of the child's weight, up to a maximum maintenance dose of 200 mg daily. It is not recommended for children aged under 2 years. OR As directed by your physician .
Storage yes or /no
Store this medicine at room temperature, away from direct light and heat.
Precautions
Talk to your doctor or pharmacist before taking Lamotrigine : If you have any kidney problems or If you have ever developed a rash after taking lamotrigine or other medicines for bipolar disorder or epilepsy.
Warning 1
Medicines to treat depression and other mental health problems increase the risk of suicidal thoughts and behaviour in children and adolescents aged under 18 years.
Warning 2
Lamotrigine can cause dizziness and double vision.
Warning 3
It contain small amounts of a sugar called lactose. If you have an intolerance to lactose or any other sugars , Tell your doctor, and don't take Lamotrigine.
Pregnancy category
Always consult your physician before using any medicine.
Drug Interactions
Oxcarbazepine, felbamate, gabapentin, levetiracetam, pregabalin, topiramate or zonisamide , lithium, olanzapine or aripiprazole , bupropion , valproate , carbamazepine , phenytoin, primidone or phenobarbitone , risperidone , rifampicin .
Suggestions