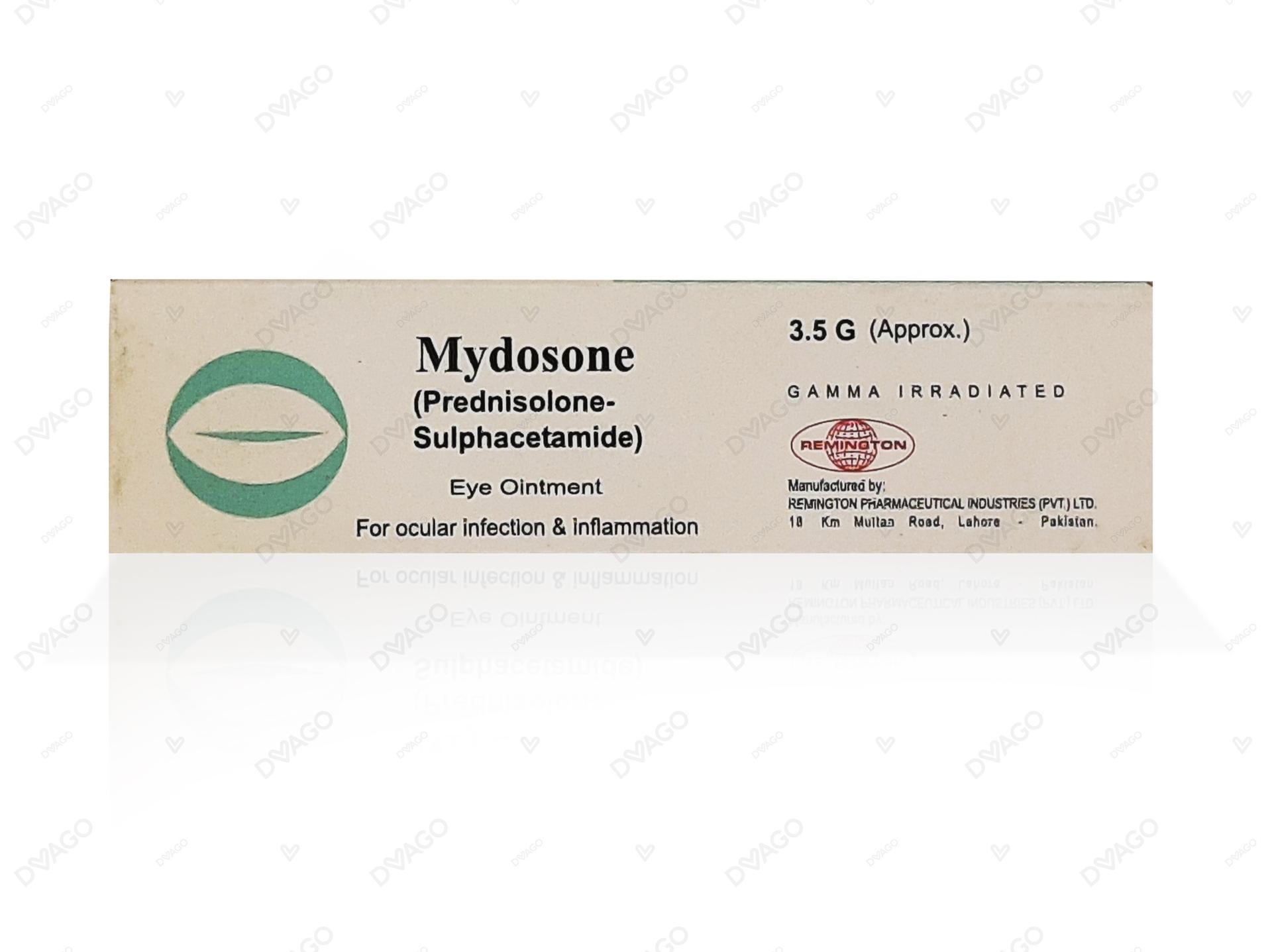 Mydosone Eye Ointment 3.5G
SPECIFICATION
Requires Prescription (YES/NO)
Yes
Generics
Prednisolone , Sulphacetamide
How it works
Corticosteroids suppress the inflammatory response to a variety of agents and they probably delay or slow healing. Since corticosteroids may inhibit the body's defense mechanism against infection, a concomitant antibacterial drug may be used when this inhibition is considered to be clinically significant in a particular case. Sulfacetamide sodium exerts a bacteriostatic effect against susceptible bacteria by restricting the synthesis of folic acid required for growth through competition with p-aminobenzoic acid. Some strains of these bacteria may be resistant to sulfacetamide or resistant strains may emerge in vivo.
USAGE AND SAFETY
Dosage
Prednisolone , Sulphacetamide
Side Effects
Cataract, dizziness, eye discharge, eyelid edema, eyelid erythema, eye irritation, eye pain, eye pruritus, and hypersensitivity including rash, skin pruritus, urticaria, ocular hyperemia, and visual disturbance (blurry vision).
Drug Interactions
Local anesthetics
Indication
It is a steroid/anti-infective combination drug indicated for steroid responsive inflammatory ocular conditions for which a corticosteroid is indicated and where superficial bacterial ocular infection or a risk of bacterial ocular infection exists.
When not to Use
It is contraindicated in most viral diseases of the cornea and conjunctiva including epithelial herpes simplex keratitis (dendritic keratitis), vaccinia, varicella, and also in mycobacterial infection of the eye and fungal diseases of ocular structures.It is also contraindicated in individuals with known or suspected hypersensitivity to any of the ingredients of this preparation, to other sulfonamides and to other corticosteroids.
PRECAUTIONS
Precaution
If the product is used for 10 days or longer, intraocular pressure should be routinely monitored even though it may be difficult in children and uncooperative patients. Corticosteroids should be used with caution in the presence of glaucoma. Intraocular pressure should be checked frequently .
WARNINGS
Warning 1
The use of ocular corticosteroids may prolong the course and may exacerbate the severity of many viral infections of the eye (including herpes simplex). Employment of corticosteroid medication in the treatment of herpes simplex requires great caution.
Warning 2
If signs of hypersensitivity, skin rash, or other serious reactions occur, discontinue use of this preparation. Cross-sensitivity among corticosteroids has been demonstrated .
Warning 3
The possibility of fungal infections of the cornea should be considered after prolonged corticosteroid dosing. Fungal cultures should be taken when appropriate.
ADDITIONAL INFORMATION
Pregnancy category
Always consult your physician before using any medicine.
Storage (YES/NO)
Store this medicine at room temperature, away from direct light and heat.
Related Products