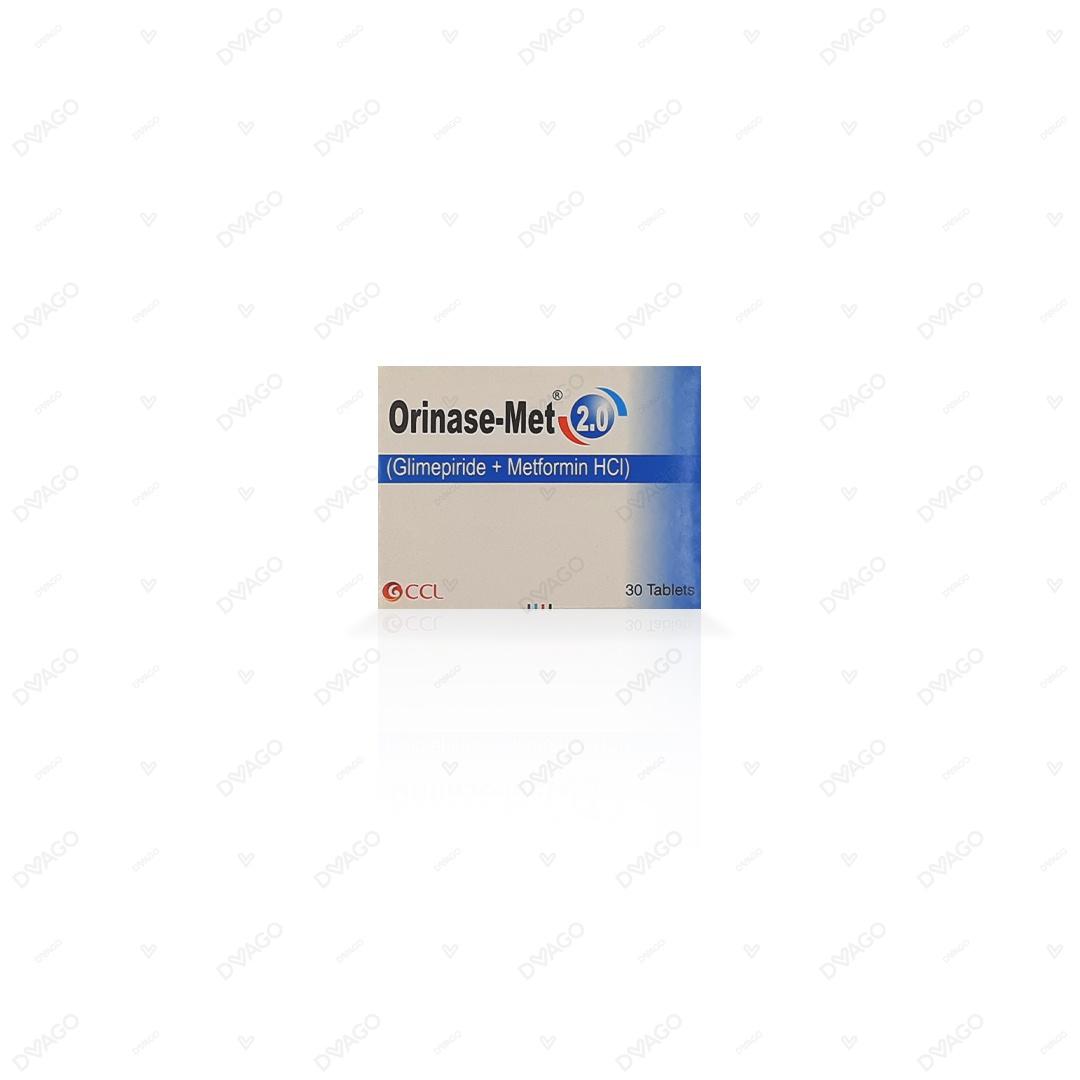 Orinase-Met 2/500Mg Tablets 30S (Pack Size 3 X 10S)
How it works
Glimepiride: Glimepiride is a third generation sulphonylurea. The primary mechanism of action of glimepiride appears to be dependent on stimulating the release of insulin from functioni ng pancreatic beta cells. In addition, extrapancreatic effects (e.g. reduction of basal hepatic glucose production and increased peripheral tissue sensitivity to insulin and glucose uptake) may also play role in the activity of glimepiride.Metformin HCl: Metformin hydrochloride is a biguanide anti-diabetic, which improves glucose tolerance in patients with type 2 diabetes, lowering both basal and postprandial plasma glucose. Its mode of action is thought to be multifactoral and includes delayed uptake of glucose from the intestinal tract, increased peripheral glucose utilization mediated by increased insulin sensitivity and inhibition of increased hepatic and renal gluconeogenesis.
Description
ORINASE-MET TAB 2/500 MG 30'S
Generics
Glimepiride, Metformin HCl
Requires Prescription (YES/NO)
Yes
Indication
Glimepiride + Metformin HCl is indicated as an adjunct to diet and exercise to improve glycemic control in patients with type 2 diabetes whose diabetes is not adequately controlled with glimepiride or metformin HCl alone, or for those patients who have initially responded to glimepiride or metformin HCl alone and require additional glycemic control.
Side Effects
Diarrhea, vomiting, metallic taste, rash, isolated transaminase elevations, cholestatic jaundice, allergic skin reactions, photosensitivity reactions, leukopenia, agranulocytosis, thrombocytopenia, hemolyticanemia, aplastic anemia, pancytopenia and blurred vision. Glimepiride appears to be associated with a low incidence of hypoglycemia.
When not to Use
Glimepiride + Metformin HCl combination is contraindicated in:- Patients with known hypersensitivity to sulfonylurea or biguanide or any component of the drug.- Insulin-dependent diabetes mellitus.- Renal or hepatic failure.- Alcoholism.- NIDDM complicated by severe ketosis and acidosis.- Diabetic pre-coma and coma.- Patients undergoing surgery, after severe trauma or during infections.- Chronic obstructive pulmonary disease.- Coronary heart disease, cardiac failure.
Dosage
Adults : Dosage must be individualized on the basis of both effectiveness and tolerance, while not exceeding the maximum recommended dose. The maximum daily dose of metformin is 2000mg and of glimepiride is 8mg. The tablets should be swallowed whole and not crushed or chewed. The tablet is tak en once daily with meals to a maximum of 4 tablets/day or as Children : Not recommended OR As directed by the physician.
Storage yes or /no
Store this medicine at room temperature, away from direct light and heat.
Precautions
Hypoglycemia may occur if the patient's dietary intake is reduced or after accidental or deliberate overdose or after severe exercise, trauma and stress. Hypoglycemic symptoms can be reduced byprescribing a diabetic meal plan. Immediate intervention should be done if signs and symptoms of hypoglycemia occur. Adjust dose of drug according to blood and urinary glucose levels during the first few months.
Warning 1
Lactic acidosis is rare, but serious metabolic complication that can occur due to metformin accumulation. The incidence of lactic acidosis can and should be reduced by assessing also other associated risk factors such as poorly controlled diabetes, ketosis, prolonged fasting, excessive alcohol intake, hepatic insufficiency and any condition associated with hypoxia.
Warning 2
As metformin is excreted by the kidney, serum creatinine levels should be determined before initiating treatment and regularly thereafter.
Warning 3
Safety and effectiveness of the drug in children have not been established.
Pregnancy category
Always consult your physician before using any medicine.
Drug Interactions
Glimepiride: Salicylates, sulfonamides, chloramphenicol, coumarins, probenecid, monoamine oxidase inhibitors , thiazides and other diuretics, corticosteroids, phenothiazines, thyroid products, estrogens, oral contraceptives, phenytoin, nicotinic acid, sympathomimetics and isoniazid , rifampicin, fluconazole, amiodarone, tolbutamide, diclofenac, ibuprofen, naproxen , clonidine and reserpine. Metformin HCl: Phenprocoumon, hyperglycemic agent (e.g. - thiazides, corticosteroids, phenothiazines, thyroid products, estrogens, oral contraceptives, phenytoin, nicotinic acid, sympathomimetics, calcium channelblocking drugs and isoniazid), alcohol, furosemide, nifedipine and cationic drugs (amiloride, digoxin, morphine, procainamide, quinidine, quinine, ranitidine, triamterene, trimethoprim and cimetidine, vancomycin).
Suggestions