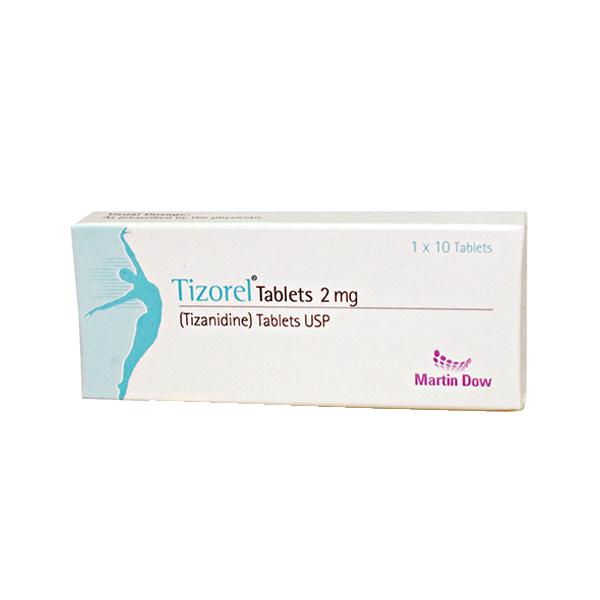 Tizorel 2Mg Tablets 10S (Pack Size 1 X 10S)
How it works
Tizanidine is a centrally acting skeletal muscle relaxant. Its principal site of action is the spinal cord, where the evidence suggests that, by stimulating presynaptic alpha2-receptors, it inhibits the release of excitatory aminoacids that simulate N-methyl-D-aspartate (NMDA) receptors. Polysynaptic signal transmission at spinal interneuron level, which is responsible for excessive muscle tone, is thus inhibited and muscle tone reduced.
Description
TIZOREL TAB 2 MG 10'S
Requires Prescription (YES/NO)
Yes
Indication
Painful muscle spasms: Associated with static and functional disorders of the spine (cervical and lumber syndromes). Following surgery, e.g. for herniated intervertebral disc or osteoarthritis of the hip. Spasticity due to neurological disorders: Eg. multiple sclerosis, chronic myelopathy, degenerative spinal cord diseases, cerebrovascular accidents, and cerebral palsy.
Side Effects
Psychiatric disorders: Rare: Hallucination, insomnia, sleep disorder . Nervous system disorders: Common: Bradycardia . Vascular disorders - Common: Hypotension . Gastrointestinal disorders Common: Dry mouthRare:Nausea, gastrointestinal disorder Hepatobiliary disorders: Very rare: Hepatitis Musculoskeletal and connective tissue disorders Rare: Muscular weakness General disorders and administration site conditions Common: Fatigue.
When not to Use
Known hypersensitivity to tizanidine or any component of the formulation. Significantly impaired hepatic function. Concomitant use of tizanidine with fluvoxamine or ciprofloxacin is contraindicated.
Dosage
Relief of painful muscle spasms: 2 to 4 mg three times daily in tablet form. In severe cases an extra dose of 2 or 4 mg may be taken at night.Spasticity due to neurological disorders: The dosage should be adjusted to the needs of the individual patient. The initial daily dose should not exceed 6 mg given in 3 divided doses. It may be increased stepwise at half weekly or weekly intervals by 2-4mg. The optimum therapeutic response is generally achieved with at daily dose of between 12 & 24mg, administrated in 3 to 4 divided doses. The total daily dose should not exceed 36 mg. Children: Its use in children is not recommended.
Storage yes or /no
Store this medicine at room temperature, away from direct light and heat.
Precautions
Hallucinations (visual) may occur while you are using this medicine. Check with your doctor right away if you have hallucinations (seeing things that are not there).
Warning 1
These contain lactose. The medicine is not recommended in patients with rare hereditary problem of galactose intolerance, of severe lactase deficiency or of glucose galactose malabsorption.
Warning 2
Patients experiencing somnolence or dizziness should refrain from activity requiring a high degree of alertness. e.g: driving a vehicle or operating machine.
Warning 3
Concomitant use of tizanidine with CYP1A2 inhibitors is not recommended since hepatic dysfunction has been reported.
Pregnancy category
Always consult your physician before using any medicine.
Drug Interactions
Fluvoxamine or ciprofloxacin, CYP4501A2 inhibitors , antiarrhythmics (amiodarone, mexiletine, propafenone) cimetidine, some fluoroquinolones ( enoxacin, pefloxacin, norfloxacin) rofecoxaib, oral contraceptives and ticlopidine , Alcohol and sedatives.
Suggestions