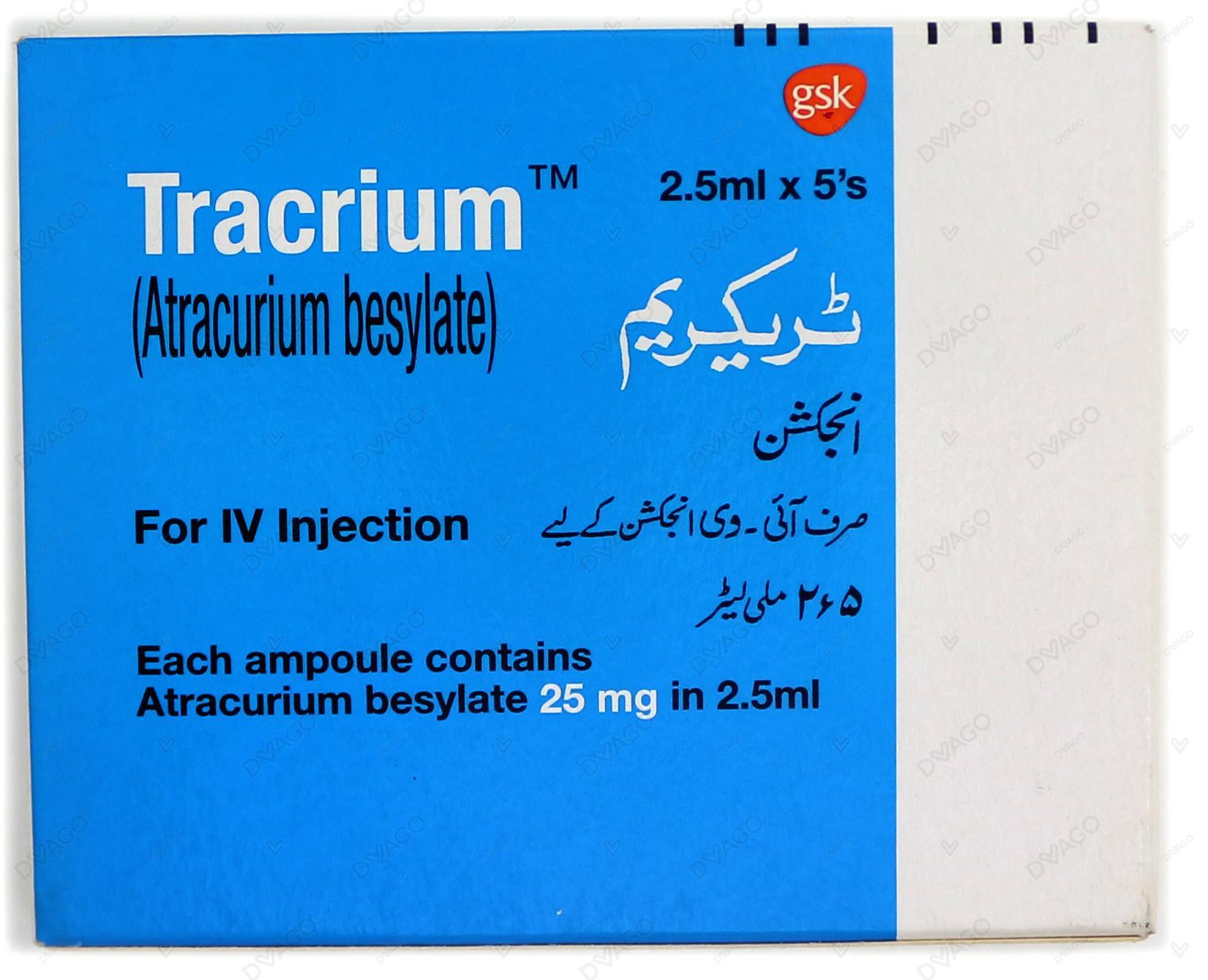 Tracrium Injection 5 Ampx2.5 Ml
How it works
Atracurium is in the neuromuscular-blocker family of medications and is of the non-depolarizing type. It works by blocking the action of acetylcholine on skeletal muscles.
Description
TRACRIUM INJ 5 AMPX2.5 ML
Generics
Atracurium besylate
Requires Prescription (YES/NO)
Yes
Indication
As an adjunct to General Anaesthesia. • To facilitate endotracheal intubation. • To provide skeletal muscle relaxation during surgery or ventilation.
Side Effects
General – Allergic reactions (anaphylactic or anaphylactoid response). CNS – hypotension, vasodilation, tachycardia, bradycardia. Respiratory - Dyspnoea, bronchospasm, laryngospasm. Skin – Rash, urticaria.
When not to Use
Atracurium Besylate is contraindicated in patients known to have a hypersensitivity to it.
Dosage
Adults : Atracurium Besylate Injection in a dose of 0.4 to 0.5 mg/kg given as an intravenous bolus injection, is the recommended initial dose for most patients.Pediatric (Children/Infants) Patients: Atracurium Besylate in a dose of 0.3 to 0.4 mg/kg is recommended as the initial dose for infants (1 month to 2 years of age) under halothane anaesthesia. OR As directed by your physician .
Storage yes or /no
Store in a refrigerator (2°C–8°C). Do not Freeze .
Precautions
Atracurium Besylate is a less potent histamine releaser than d-tubocurarine or metocurine, Special caution should be exercised in administering Acuron (Atracurium Besylate) to patients with significant cardiovascular disease and in patients with any history severe anaphylactoid reactions or asthma, suggesting a greater risk of histamine release.
Warning 1
Atracurium Besylate should be used only by those skilled in airway management and respiratory support.
Warning 2
Equipment and personnel must be immediately available for endotracheal intubation and support of ventilation, including administration of positive pressure oxygen .
Warning 3
Atracurium Besylate, which has an acidic pH, should not be mixed with alkaline solutions (e.g., barbiturate solutions) in the same syringe or administered simultaneously during intravenous infusion through the same needle.
Pregnancy category
Always consult your physician before using any medicine.
Drug Interactions
Anticholinesterases, thiazide diuretics.
Suggestions