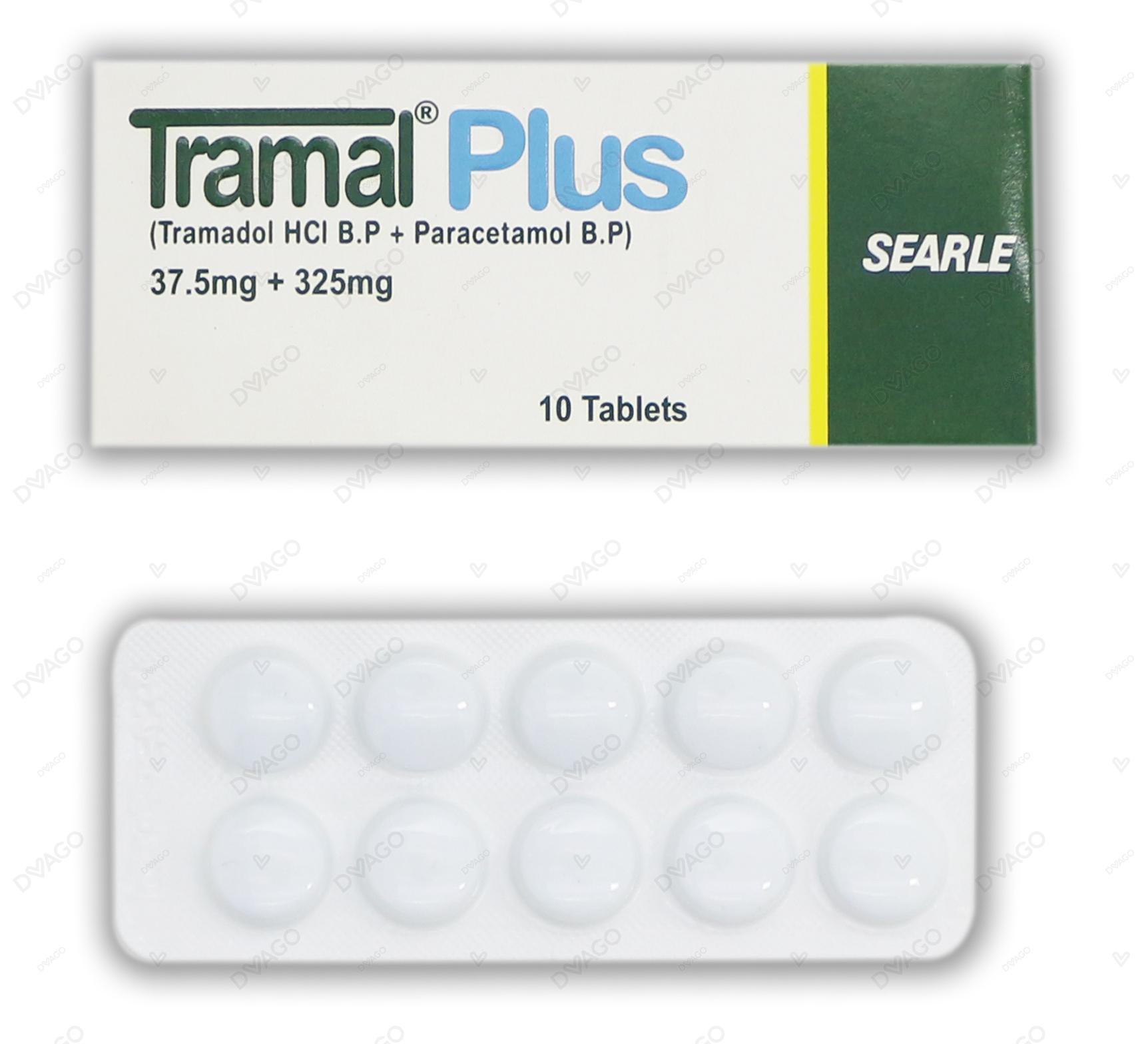 Tramal Plus 37.5Mg+325Mg Tablets 10S (Pack Size 1 X 10S)
SPECIFICATION
Requires Prescription (YES/NO)
Yes
Generics
Tramadol HCl + Paracetamol
Used For
Pain & Inflammation
How it works
Tramadol is a pure, non-selective agonist of the µ, d and k opioid receptors, with a higher affinity for µ receptors. Other mechanisms that contribute to its analgesic effect are inhibition of neuronal reuptake of noradrenaline and enhancement of serotonin release. Tramadol causes an antitussive effect. Paracetamol has a central analgesic effect that is mediated through activation of descending serotonergic pathways. Debate exists about its primary site of action, which may be inhibition of prostaglandin (PG) synthesis or through an active metabolite influencing cannabinoid receptors.
USAGE AND SAFETY
Dosage
Tramadol HCl + Paracetamol
Side Effects
Very common: may affect more than 1 in 10 people; • Nausea • dizziness, drowsiness Common: may affect up to 1 in 10 people; • Vomiting (being sick), digestion problems (constipation, flatulence, diarrhoea), stomach pain, dry mouth • itching, sweating (hyperhidrosis) • headache, shaking • confusion, sleep disorders, mood changes (anxiety, nervousness, feeling of high spirits). Uncommon: may affect up to 1 in 100 people; • increase in pulse or blood pressure, heart rate or heart rhythm disorders • tingling, numbness or feeling of pins and needles in the limbs, ringing in the ears, involuntary muscle twitching • depression, nightmares, hallucinations (hearing, seeing or sensing things that are not really there), memory lapses • difficulty breathing • difficulty swallowing, blood in the stools.
Drug Interactions
Carbamazepine , Buprenorphine, nalbuphine or pentazocine (opioid-type pain killers) , triptans , SSRIs , morphine , codeine (also as cough medicine), baclofen , benzodiazepines or related drugs , certain antidepressants , warfarin or phenprocoumon (for blood thinning) , Metoclopramide, domperidone and ondansetron , Cholestyramine .
Indication
It is indicated for the treatment of moderate to severe pain.
When not to Use
Do not take this medicine: • If you are allergic to tramadol, paracetamol or any of the other ingredients of this medicine • In cases of acute alcohol poisoning. • If you are taking sleeping pills, pain relievers or medicines that affect mood and emotions. • If you are taking medicines called monoamine oxidase inhibitors (MAOIs) or if you have taken MAOIs in the last 14 days before treatment with this medicine. MAOIs are used in the treatment of depression or Parkinson's disease.
PRECAUTIONS
Precaution
Opioids should only be used by those they are prescribed for. Do not give your medicine to anyone else. Taking higher doses or more frequent doses of opioid, may increase the risk of addiction. Overuse and misuse can lead to overdose and/or death .
WARNINGS
Warning 1
Talk to your doctor, pharmacist or nurse before taking this medicine if you have epilepsy or have already experienced fits or seizures. • if you have recently suffered from a head injury, shock or severe headache associated with vomiting (being sick).
Warning 2
Taking this medicine regularly, particularly for a long time, can lead to addiction. Your prescriber should have explained how long you will be taking it for, and when it is appropriate to stop, how to do this safely .
Warning 3
Talk to your doctor, pharmacist or nurse before taking this medicine if you have liver problems or disease as your eyes and skin may turn yellow, which may suggest jaundice.
ADDITIONAL INFORMATION
Pregnancy category
Always consult your physician before using any medicine.
Storage (YES/NO)
Store this medicine at room temperature, away from direct light and heat.
Related Products