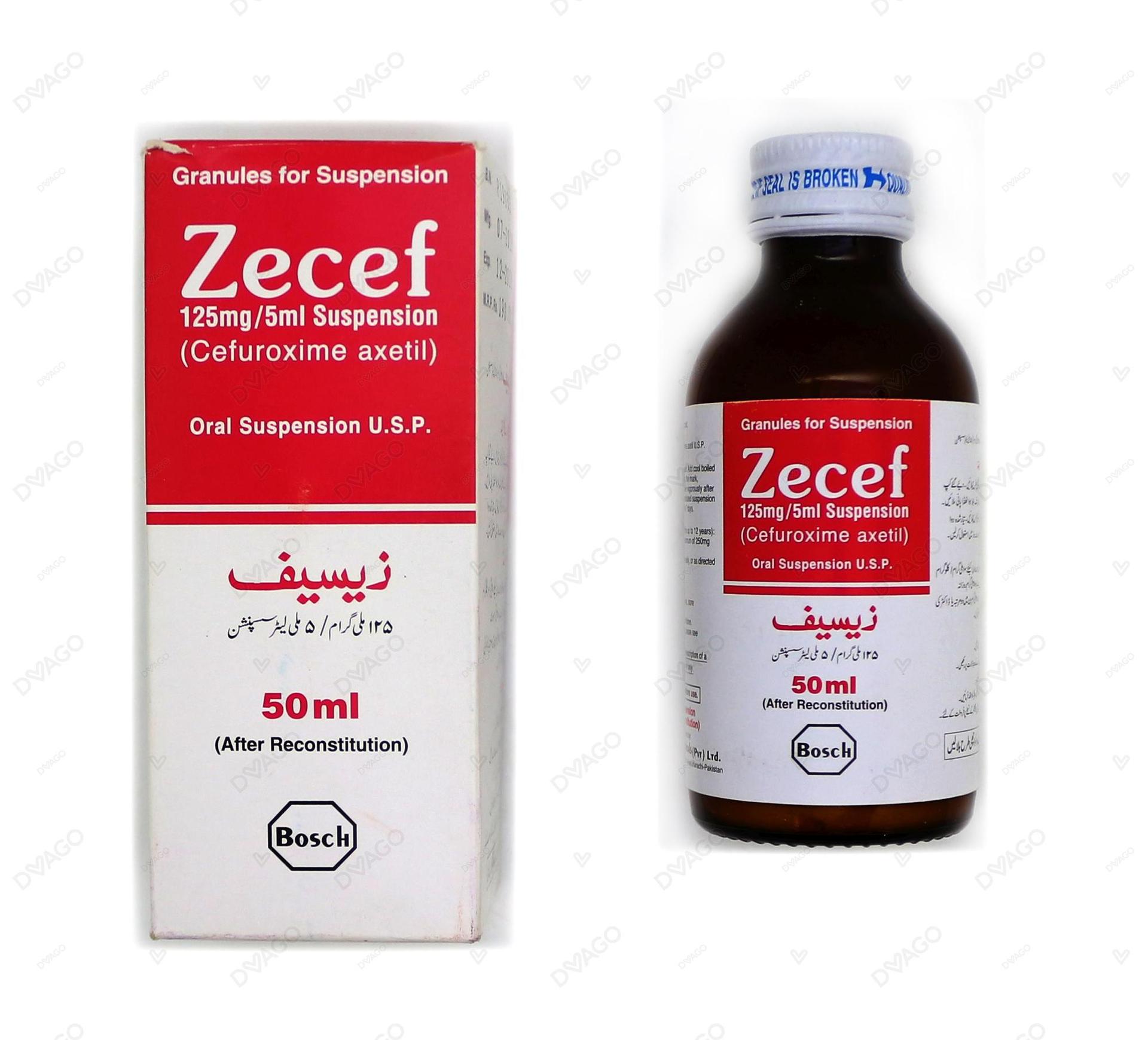 Zecef 125Mg/5Ml Suspension 50Ml
How it works
Cefuroxime is a bactericidal agent that acts by inhibition of bacterial cell wall synthesis. Cefuroxime has activity in the presence of some beta-lactamases, both penicillinases and cephalosporinases of Gram-negative and Gram-positive bacteria.
Description
ZECEF SUSP 125 MG 50 ML
Generics
Cefuroxime Sodium
used for
Bacterial Infection
Requires Prescription (YES/NO)
Yes
Indication
It is indicated for the treatment of infections before the infecting organism has been identified or when caused by sensitive bacteria .
Side Effects
Blood and lymphatic system disorders : Common Neutropenia, eosinophilia. Uncommon : Leukopenia, decreased haemoglobin concentration, positive Coomb's test. Rare Thrombocytopenia . Very rare Haemolytic anaemia. Immune system disorders Hypersensitivity reactions including Uncommon Skin rash, urticaria and pruritus. Rare Drug fever. Very rare Interstitial nephritis, anaphylaxis, cutaneous vasculitis. Gastrointestinal disorders Uncommon Gastrointestinal disturbance. Very rare Pseudomembranous colitis . Hepatobiliary disorders Common Transient rise in liver enzymes. Uncommon Transient rise in bilirubin.
When not to Use
Hypersensitivity to cephalosporin antibiotics.
Dosage
Adults : Most infections and bronchitis , usually 250mg twice daily. Severe infections & pneumonia : 500mg twice daily. Gonorrhoea : 1gm as a single dose . Children : 3-6mnth (4-6kg body wt) : 40-60mg; 6mnth-2yr, 60-120mg; 2-12yr, 125mg . All twice daily. Lower Respiratory infection : Adults & Children : >13yr : 250-500mg twice daily for 5-10days. Upper Respiratory Infection : Pharyngitis/Tonsillitis/Sinusitis: Adults : 250mg every 12hr for 10days. Children : >13yr : 250mg every 12hr for 10 days. Always consult your doctor or pharmacist for dose adjustments .
Storage yes or /no
Store this medicine at room temperature, away from direct light and heat.
Precautions
As with other antibiotics, use of Cefuroxime may result in the overgrowth of Candida. Prolonged use may also result in the overgrowth of other non-susceptible organisms (e.g. enterococci and Clostridium difficile), which may require interruption of treatment.
Warning 1
Special care is indicated in patients who have experienced an allergic reaction to penicillins or other beta-lactams.
Warning 2
Cephalosporin antibiotics at high dosage should be given with caution to patients receiving concurrent treatment with potent diuretics such as furosemide or aminoglycosides, as renal impairment has been reported with these combinations. Renal function should be monitored in these patients, the elderly, and those with pre-existing renal impairment .
Warning 3
With a sequential therapy regime the timing of change to oral therapy is determined by severity of the infection, clinical status of the patient and susceptibility of the pathogens involved. If there is no clinical improvement within 72 hours, then the parenteral course of treatment must be continued.
Pregnancy category
Always consult your physician before using any medicine.
Drug Interactions
Slight interference with copper reduction methods (Benedict's, Fehling's, Clinitest) may be observed. However, this should not lead to false-positive results, as may be experienced with some other cephalosporins , oral contraceptives .
Suggestions