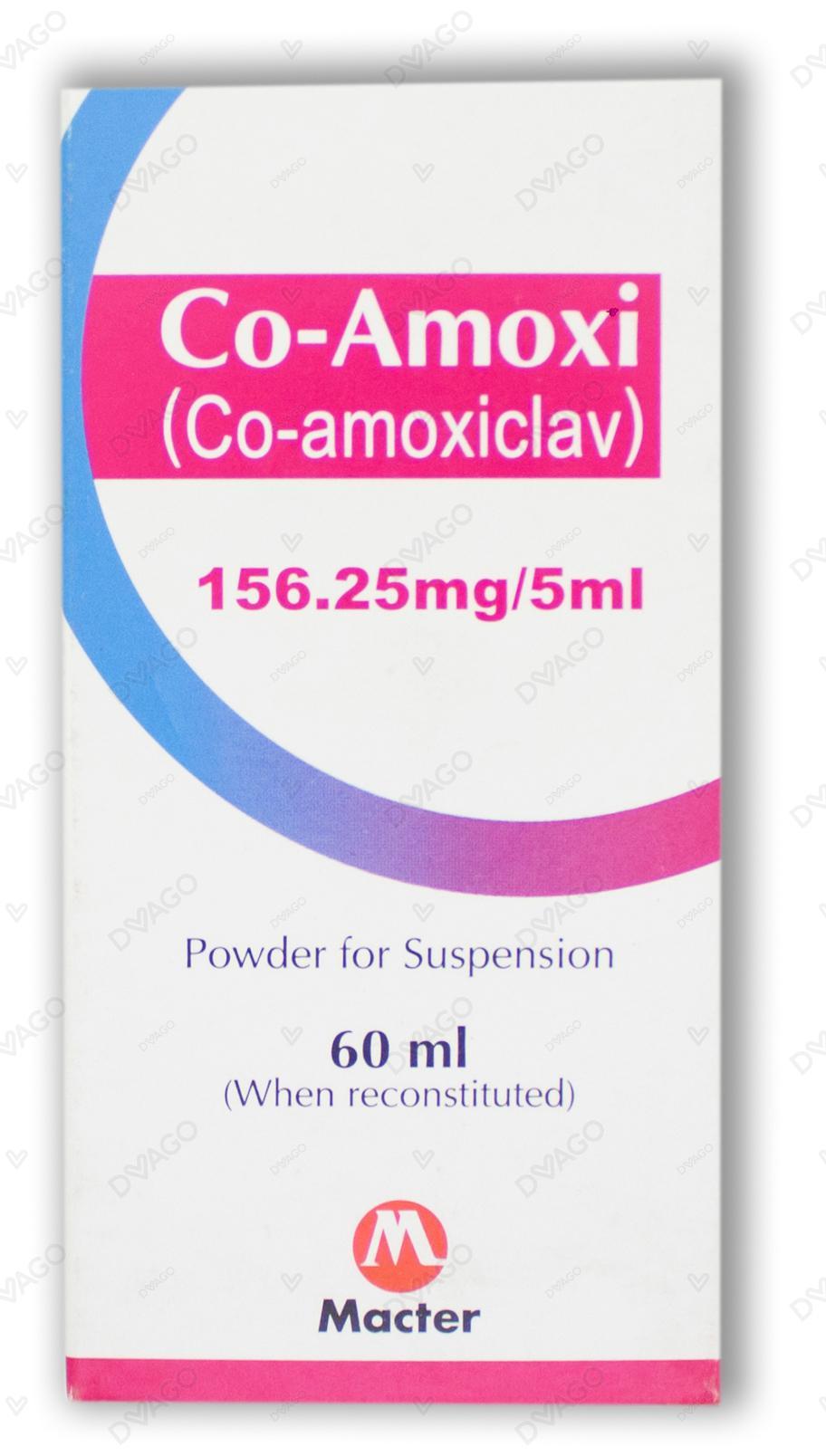 Co-Amoxi Suspension 156.25 Mg 60 Ml
How it works
The beta-lactamase inhibitory action of clavulanate extends the spectrum of amoxicillin to embrace a wider range of organisms, including many resistant to other beta-lactam antibiotics.
Description
CO-AMOXI SUSP 156.25 MG 60 ML
Generics
Amoxicllin , Clavulanic Acid
used for
Bacterial Infection
Requires Prescription (YES/NO)
Yes
Indication
It is an antibiotic agent with a notably broad spectrum of activity against the commonly occurring bacterial pathogens .
Side Effects
Mucocutaneous candidiasis , Reversible leucopenia (including neutropenia) and thrombocytopenia , Angioneurotic oedema, anaphylaxis, serum sickness-like syndrome, hypersensitivity vasculitis , Dizziness, headache , Diarrhoea , Nausea, vomiting , Indigestion .
When not to Use
It is contraindicated in patients with a history of hypersensitivity to betalactams, e.g. penicillins and cephalosporins.
Dosage
Oral : Susp 156.25 mg . Children : Under 3 months , not recommended , 3-9 months , 2.5ml half-strength , 9months-2yr , 5ml half strength . 2-6yr , 5ml. All three Times daily upto 14 days. Tablets : Mild - Moderate infections: 375mg three times a day or One 625 mg tablet every 12 hours. Severe infections : One 1 g tablet every 12 hours. Always take this medicine exactly as your doctor has told you. Dosage depends on the age and renal function of the patient and the severity of the infection. INJ : Adults : 1.2gm by IV inj or intermittent infusioneight or six hourly . Treat upto 14 days then review . Children : Upto 3 month , 30mg/kg every twelve hr in premature and full term infants during the perinatal period , increasing to eight hr thereafter ; 3 mnth-12yr, 30mg/kg eight or six hourly . All by IV inj or intermittent infusion for upto 14 days then revise . OR As directed by your physician.
Storage yes or /no
Store this medicine at room temperature, away from direct light and heat.
Precautions
Before initiating therapy with Co-Amoxiclav, careful enquiry should be made concerning previous hypersensitivity reactions to penicillins, cephalosporins, or other allergens.
Warning 1
Serious and occasionally fatal hypersensitivity reactions (including anaphylactoid and severe cutaneous adverse reactions) have been reported in patients on penicillin therapy. These reactions are more likely to occur in individuals with a history of penicillin hypersensitivity.
Warning 2
Prolonged use may also occasionally result in overgrowth of non-susceptible organisms.
Warning 3
In patients with renal impairment, Co-Amoxiclav dosage should be adjusted as recommended.
Pregnancy category
Always consult your physician before using any medicine.
Drug Interactions
Mycophenolate mofetil , Probenecid , Oral contraceptives , acenocoumarol or warfarin .
Suggestions