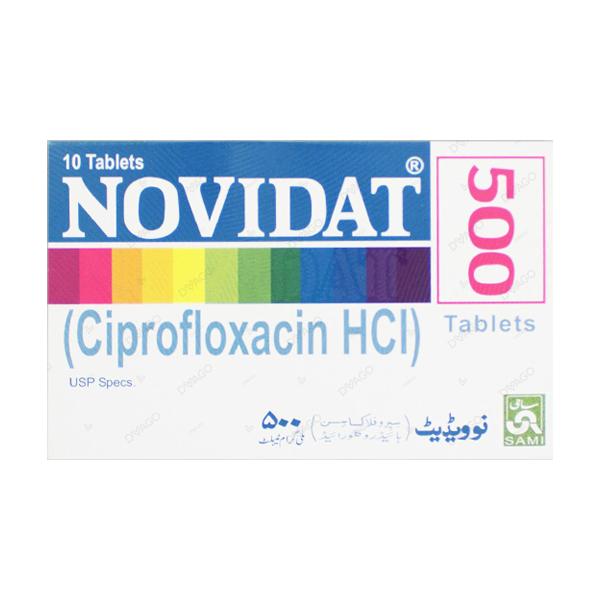 Novidat 500Mg Tablets 10S (Pack Size 1 X 10S)
How it works
It acts via inhibition of bacterial DNA gyrase (topoisomerase, which is essential in the reproduction of bacterial DNA), ultimately resulting in interference with DNA function. Ciprofloxacin is highly active against a wide range of Gram-positive and Gram-negative organisms and has shown activity against some anaerobes.
Description
NOVIDAT TAB 500 MG 10'S
Generics
Ciprofloxacin HCl
used for
Bacterial Infection
Requires Prescription (YES/NO)
Yes
Indication
It is used to treat : • Lower respiratory tract infections due to Gram-negative bacteria• Acute exacerbation of chronic sinusitis especially if these are caused by Gram-negative bacteria• Urinary tract infections• Genital tract infections
Side Effects
Nausea, Diarrhoea , Mycotic superinfections, Eosinophilia, Anorexia, Psychomotor hyperactivity / agitation, Headache, Dizziness, Sleep disorders, Taste disorders, Vomiting, Gastrointestinal and abdominal pains, Dyspepsia, Flatulence, Increase in transaminases, Increased bilirubin, Rash, Pruritus, Urticaria, Musculoskeletal pain (e.g. extremity pain, back pain, chest pain), Arthralgia, Renal impairment, Asthenia, Fever, Increase in blood alkaline phosphatase.
When not to Use
Ciprofloxacin is contraindicated in patients with a history of hypersensitivity to ciprofloxacin, any member of the quinolone class of antimicrobial agents or any of the product components. - Concomitant administration with tizanidine is contraindicated.
Dosage
Oral : Adults -The dosage range for adults is 100-750mg twice daily. The duration of treatment depends upon the severity of infection. The usual duration is 7 to 14 days, however,for severe and complicated infections more prolonged therapy may be required. Children : Used only for established following indication and when no other safe alternatice available. Injection : Adults - 400mg bid or tid times daily by IV infusion over 60min x 5-14days depending upon the severity of infections . Children : 1-17yr : 6-10mg/kg IV bid x 10-21 days. Max 400mg IV/dose. Ask your doctor or pharmacist for dose adjustment.
Storage yes or /no
Store this medicine at room temperature, away from direct light and heat.
Precautions
Cases of hepatic necrosis and life-threatening hepatic failure have been reported with ciprofloxacin. In the event of any signs and symptoms of hepatic disease (such as anorexia, jaundice, dark urine, pruritus, or tender abdomen), treatment should be discontinued.
Warning 1
Hypersensitivity and allergic reactions, including anaphylaxis and anaphylactoid reactions, may occur following a single dose and may be life-threatening.If such reaction occurs, ciprofloxacin should be discontinued and an adequate medical treatment is required.
Warning 2
Ciprofloxacin should be discontinued in patients experiencing symptoms of neuropathy, including pain, burning, tingling, numbness, and/or weakness in order to prevent the development of an irreversible condition.
Warning 3
Patients with a family history of actual defects in glucose-6-phosphate dehydrogenase activity are prone to hemolytic reactions with quinolones, and so ciprofloxacin should be used with caution in these patients.
Pregnancy category
Always consult your physician before using any medicine.
Drug Interactions
Theophylline, clozapine, tacrine, ropinirole, tizanidine, duloxetine , Chelation complex formulation like , calcium, magnesium, aluminum or iron), polymeric phosphate binders (e.g., sevelamer), sucralfate or antacids and highly buffered drugs (e.g., didanosine ) , caffeine or pentoxifylline (oxpentifylline) , Phenytoin , Glyburide/Glibenclimide , Warfarin , Probencid , Methotrexate , Metoclopramide , Omeprazole , Cyclosporin , Sildenafil.
Suggestions