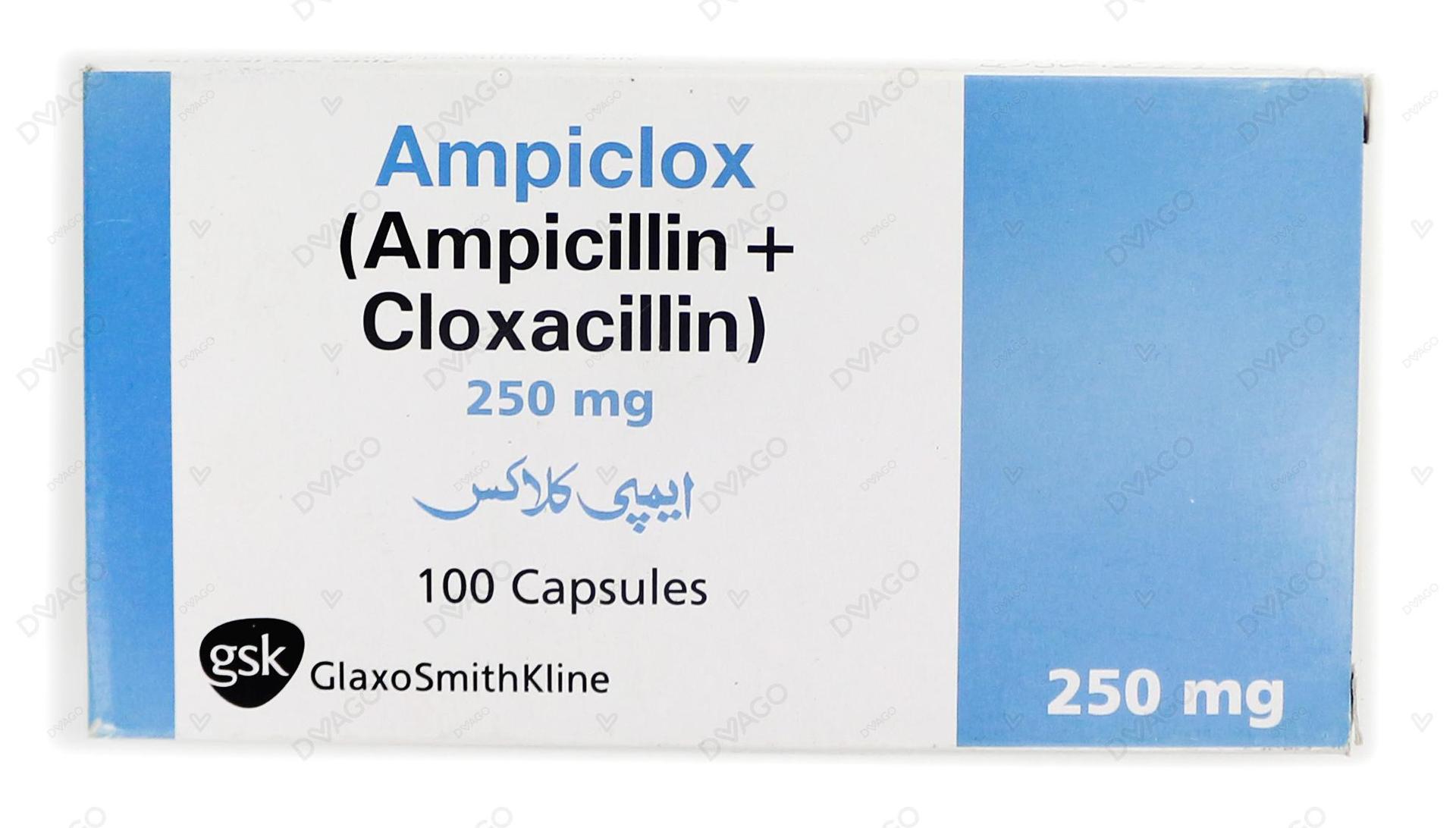 Ampiclox 250Mg Capsules 100S (Pack Size 10 X 10S)
How it works
Both ampicillin and cloxacillin are bactericidal antibiotics and act by interfering with the formation of new bacterial cell wall by dividing organisms.
Description
AMPICLOX CAP 250 MG 100'S
Generics
 Ampicillin , Cloxacillin
used for
Bacterial Infection
Requires Prescription (YES/NO)
Yes
Indication
It is indicated for the treatment of the following infections including mixed Grampositive (except methicillin-resistant Staphylococcus aureus (MRSA) and methicillin-resistant coagulase-negative staphylococcus (MRCoNS)) and Gram-negative infections.
Side Effects
Hemolytic anemia, leucopenia, thrombocytopenia, agranulocytosis , Anaphylaxis , Myoclonus and convulsions , Diarrhoea and nausea , Vomiting , Pseudomembranous colitis , Hepatitis and cholestatic jaundice , Skin rash, urticaria, and pruritus , Bullous reactions (including erythema multiforme, Stevens-Johnson syndrome and toxic epidermal necrolysis), exfoliative dermatitis and purpura .
When not to Use
It should not be given to patients with a history of hypersensitivity to beta-lactam antibiotics (e.g., penicillins, cephalosporins) or excipients . It is contraindicated for ocular administration.
Dosage
Adults : Oral - 500mg to 1g every 6 hours . Intramuscular (i.m.) injection : 500mg to 1500mg very 4 to 6 hours .The dose may be increased for the treatment of severe infections. Children 2 to 12 years , Oral Half adult dose: 5 to 10mL suspension every 6 hours , Injectable Half adult dose: 250mg every 8 hours . Neonates to 2 years , Neonatal oral drops 0.6ml (90mg) of reconstituted suspension every 4 hours. Administer 0/5 to 1 hour prior to feeding. Always consult your doctor or pharmacist for dose adjustment.
Storage yes or /no
Store this medicine at room temperature, away from direct light and heat.
Precautions
It should be avoided if infectious mononucleosis and/or acute or chronic leukaemia of lymphoid origin are suspected. The occurrence of a skin rash has been associated with these conditions following the administration of ampicillin.
Warning 1
Caution should be observed when administering neonatal oral drops to babies whose mothers are hypersensitive to penicillin.
Warning 2
Before initiating therapy with this, careful inquiry should be made concerning previous hypersensitivity reactions to beta-lactams.
Warning 3
If an allergic reaction occurs, it should be discontinued and the appropriate alternative therapy instituted. All adverse reactions should be treated symptomatically.
Pregnancy category
Always consult your physician before using any medicine.
Drug Interactions
Probenecid , Oral contraceptives , Sulphonamides and acetylsalicylic acid , Bacteriostatic drugs , allopurinol
Suggestions