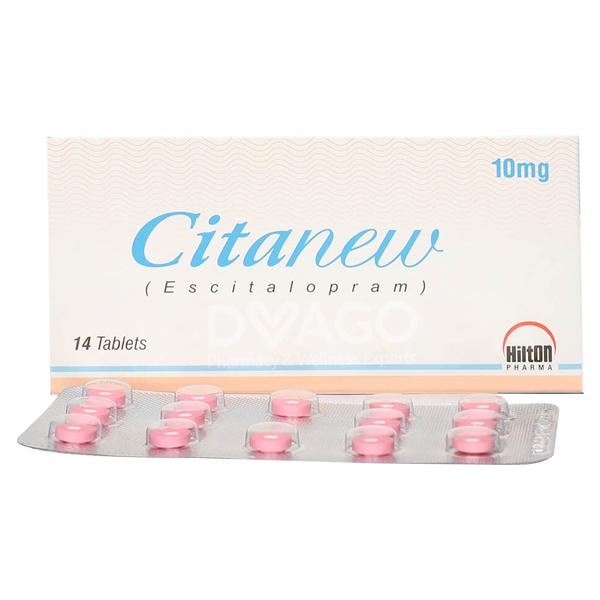 Citanew 10Mg Tablets 14S (Pack Size 1 X 14S)
How it works
It belongs to a group of medicines called selective serotonin reuptake inhibitors (SSRIs). They are thought to work by their actions on brain chemicals called amines which are involved in controlling mood.
Description
CITANEW TAB 10 MG 14'S
Generics
 Escitalopram as Oxalate
Requires Prescription (YES/NO)
Yes
Indication
It is used to treat depression.
Side Effects
Decreased appetite or loss of appetite , Dry mouth , Diarrhoea , Nausea (feeling sick) , sleeplessness , fatigue, sleepiness or drowsiness, yawning , increased sweating , sexual disturbances (decreased sexual drive; problems with ejaculation or erection; women may experience difficulties achieving orgasm).
When not to Use
Do not take if you are allergic to it, to any medicine containing escitalopram, citalopram, or any of the ingredients listed .
Dosage
Depression : Adults - Usually 10mg once daily , increasing if necessary to max 20mg once daily. Continue treatment for min 6 months. Panic disorder : Initially 5mg once daily for 1st week then 10mg once daily, max 20mg once daily. Always consult your doctor or pharmacist for dose adjustment.
Storage yes or /no
Store this medicine at room temperature, away from direct light and heat.
Precautions
Some patients with panic disorder may experience increased anxiety symptoms at the beginning of treatment with antidepressants. A low starting dose is advised to reduce the likelihood of an anxiogenic effect.
Warning 1
Escitalopram should be discontinued if a patient develops seizures for the first time, or if there is an increase in seizure frequency .Selective serotonin reuptake inhibitors (SSRIs) should be avoided in patients with unstable epilepsy and patients with controlled epilepsy should be closely monitored.
Warning 2
Selective serotonin reuptake inhibitors (SSRIs) should be used with caution in patients with a history of mania/hypomania. SSRIs should be discontinued in any patient entering a manic phase.
Warning 3
In patients with diabetes, treatment with an (Selective serotonin reuptake inhibitors) SSRI may alter glycemic control (hypoglycemia or hyperglycemia). Insulin and/or oral hypoglycemic dosage may need to be adjusted.
Pregnancy category
Always consult your physician before using any medicine.
Drug Interactions
Atypical antipsychotics, phenothiazines, most tricyclic antidepressants, acetylsalicylic acid and non-steroidal anti-inflammatory drugs (NSAIDs), ticlopidine, dipyridamole , Tramadol, sumatriptan and other triptans , antidepressants (tricyclics, SSRIs), neuroleptics (phenothiazines, thioxanthenes and butyrophenones), mefloquine, bupropion and tramadol , lithium or tryptophan , omeprazole, esomeprazole, fluvoxamine, lansoprazole, ticlopidine , flecainide, propafenone and metoprolol , risperidone, thioridazine and haloperidol .
Suggestions