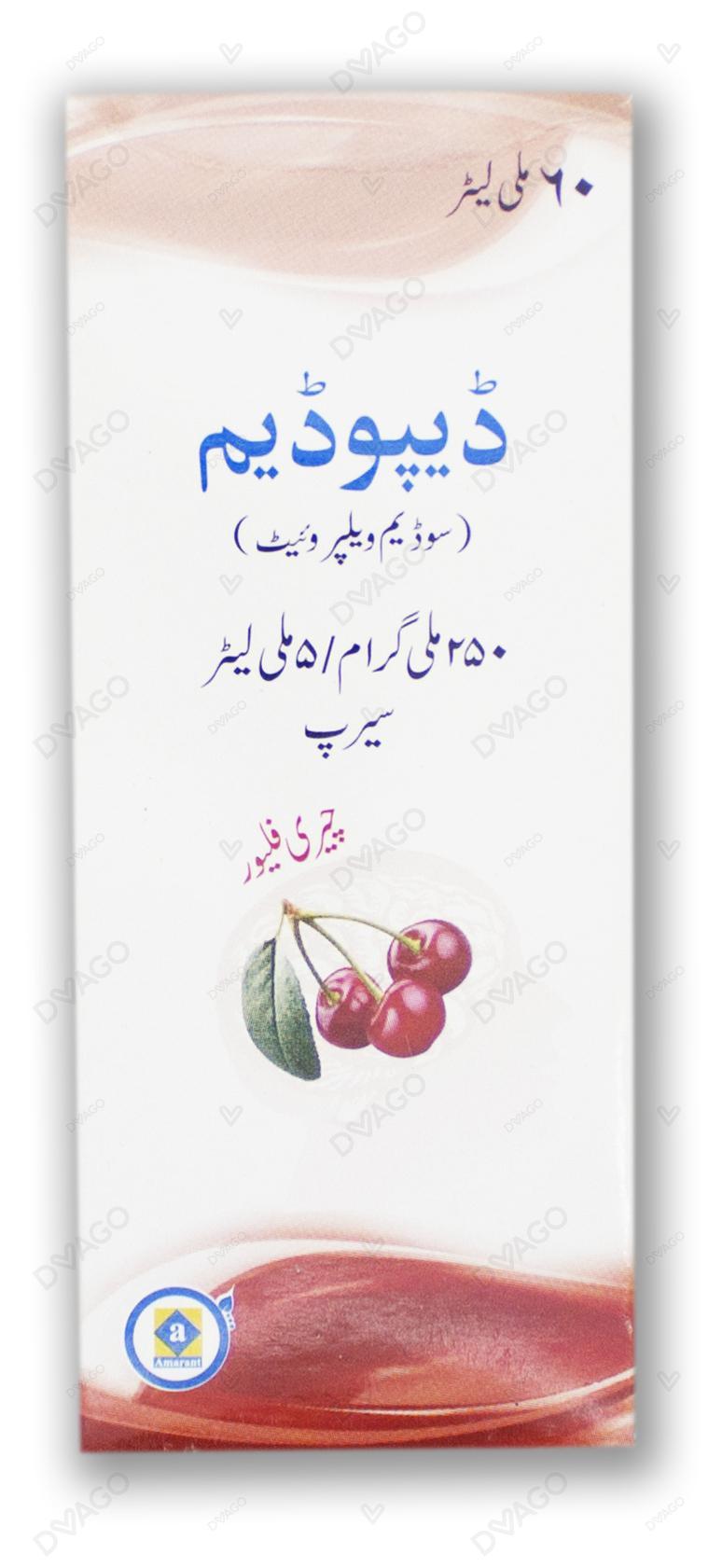 Dipodium 250Mg/5Ml Syrup 60Ml 1S
SPECIFICATION
Requires Prescription (YES/NO)
Yes
How it works
It is thought to work by increasing the amount of an amino acid in the brain called gammaaminobutyric acid (GABA). By changing the amount of GABA in the brain, it is able to help control epilepsy and stabilize mood.
USAGE AND SAFETY
Side Effects
Headache , Nausea or vomiting , Indigestion , Diarrhea , Tremors (involuntary shaking) , Feeling tired , Feeling weak or dizzy , Hair loss or hair growth on the face, chest or back , Increased appetite that may lead to weight gain , Hallucinations , Urinary incontinence , Aggravated convulsions , Depression , Kidney problems , Pancreatitis .
Drug Interactions
Phenobarbital , Lamotrigine , Carbamazepine, primidone, topiramate, felbamate, phenytoin, ethosuximide, rufinamide , Anticoagulants such as acetylsalicylic acid, warfarin, dicumarol ,diazepam, lorazepam, clonazepam , rifampin , Tolbutamide , zidovudine, ritonavir, lopinavir, lamivudine , doripenem, ertapenem, imipenem, meropenem , amitriptyline, nortriptyline.
Indication
It is used to: • Control epilepsy in adults and children on its own or with other medicines • Treat symptoms of mania associated with bipolar disorder in adults, such as aggressiveness, agitation, impulsive behaviour or excessively elevated mood.
When not to Use
Do not use if: • You are allergic to divalproex sodium or to any other ingredient in the list. • You have liver disease or severe liver problems • You have a mitochondrial disorder such as Alpers-Huttenlocher Syndrome. Children under 2 years of age who may have a mitochondrial disorder. • You have or have a family history of a urea cycle disorder (a condition that affects how your body removes waste) • You have porphyria (a condition that affects the nervous system and skin) • You or any of your close relatives have a history of severe hepatitis, especially when caused by medicines.
PRECAUTIONS
Precaution
If you have thoughts of harming or killing yourself at any time, contact your doctor or go to a hospital right away. It may also cause behavioural changes in you or you child such as aggression, agitation, change in attention span and learning disorders.
WARNINGS
Warning 1
It may harm your unborn baby. Your doctor may require you to do a pregnancy test before you start treatment to make sure that you are not pregnant. You must use effective methods of birth control.
Warning 2
Talk about any health conditions or problems you may have, including if you have other medical conditions including a history of unexplained coma, intellectual disability or any type of brain dysfunction , Drink alcohol on a regular basis , You are elderly (65 years of age or older).
Warning 3
It may affect male fertility during treatment. It can make you less fertile or infertile. This may or may not be reversible if your dose is decreased or if you stop taking Sodium Valproate.
ADDITIONAL INFORMATION
Pregnancy category
Always consult your physician before using any medicine.
Storage (YES/NO)
Store this medicine at room temperature, away from direct light and heat.
Related Products