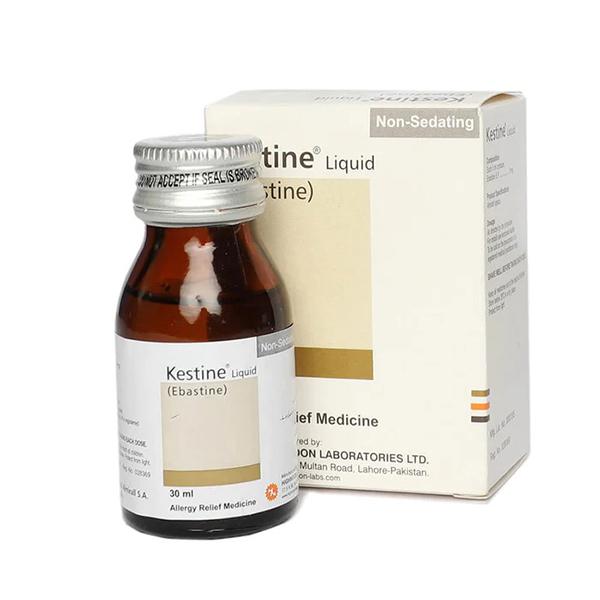 Kestine 5Mg/5Ml Liquid 30Ml
How it works
Ebastine and its active metabolite, carebastine, are selective antihistamines acting on peripheral H1 receptors, which appear to have no sedative and anticholinergic side effects at the recommended doses.
Description
KESTINE LIQD 5 MG 30 ML
Requires Prescription (YES/NO)
Yes
Indication
Ebastine is indicated for the symptomatic treatment of: • Seasonal and perennial allergic rhinitis / rhinoconjunctivitis • Urticaria
Side Effects
Very Common: Headache. Common: Somnolence & dry mouth. Uncommon: Epistaxis, pharyngitis and rhinitis. Rare: Hypersensitivity reactions (such as anaphylaxis and angioedema), nervousness, insomnia, dysaesthesia, hypoaesthesia, dysgeusia, dizziness, tachycardia, palpitations, nausea, abdominal pain, dyspepsia, vomiting, hepatitis, cholestasis, abnormal liver function test (transaminases, gamma-GT, alkaline phosphatase and bilirubin increased), urticaria, rash, dermatitis, menstrual disorders, oedema & asthenia. Very rare: Exanthema, eczema and dysmenorrhoea.
When not to Use
Ebastine is contraindicated:• In patients with known sensitivity to ebastine or to any excipient of the product.• In children under 12 years of age in the absence of efficacy and safety data.• In cases of phenylketonuria, due to the presence of aspartame.
Dosage
Children : 6-11 yr, 5mg daily. Below 6 yr, not recommended. OR As directed by your physician.
Storage yes or /no
Store this medicine at room temperature, away from direct light and heat.
Precautions
Ebastine should be used with caution in patients with severe hepatic impairment.
Warning 1
Since there is a pharmacokinetic interaction with antimycotics of the imidazole type, like ketoconazole and itraconazole or macrolide antibiotics, like erythromycin and antituberculosis agents, like rifampicin, care should be taken when prescribing ebastine with drugs belonging to such groups
Warning 2
In sensitive patients who react unusually to ebastine, it is advisable to know the individual reactions before a patient drives or carries out complicated activities: somnolence or dizziness may occur.
Warning 3
Ebastine should be used during pregnancy only if the potential benefit to the patient outweighs the risk to the patient and fetus.
Pregnancy category
Always consult your physician before using any medicine.
Drug Interactions
Ketoconazole or Itraconazole and erythromycin , rifampicin
Suggestions