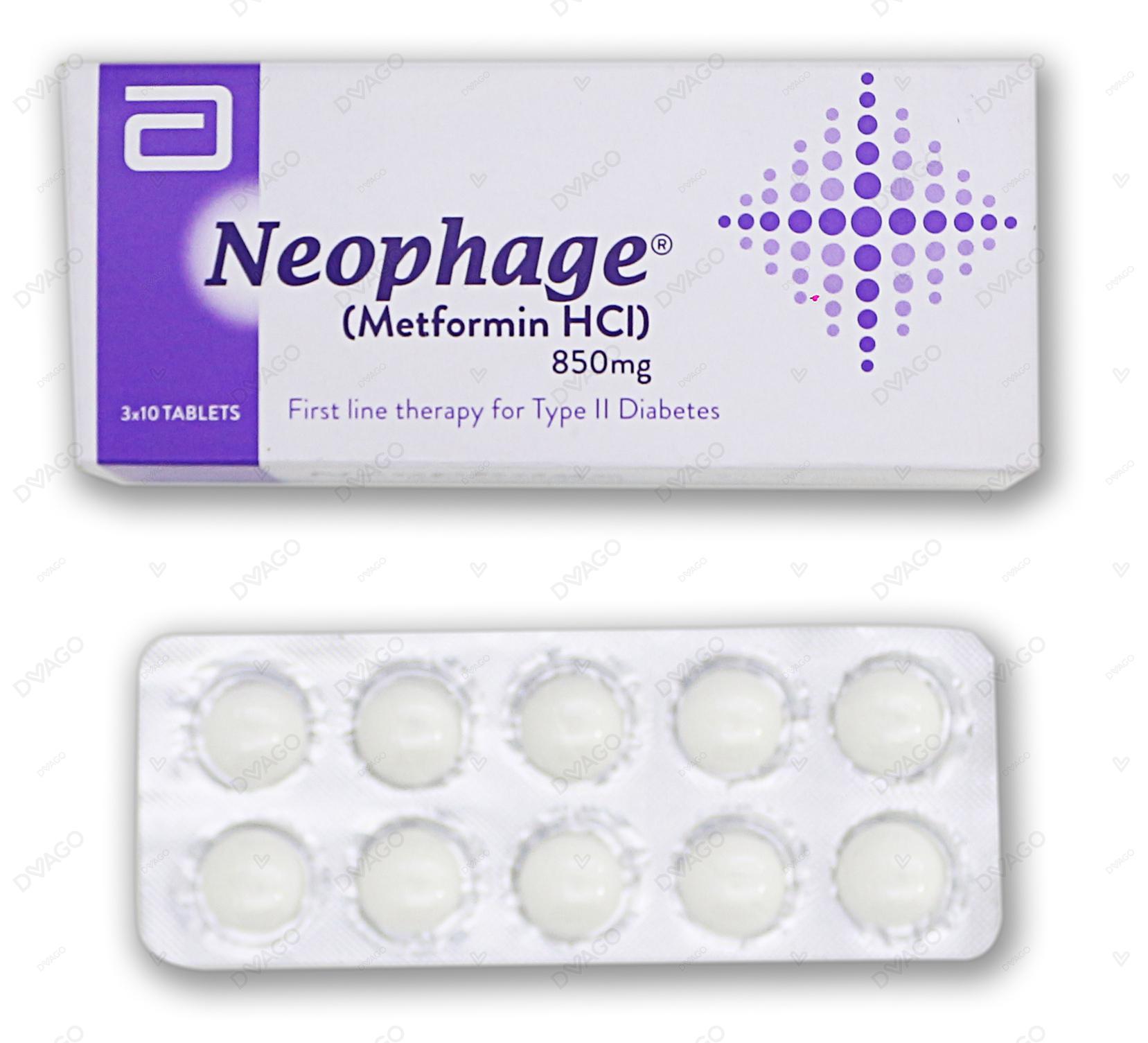 Neophage 850 Mg 3X10 Tablets
How it works
Metformin is an antihyperglycemic agent which improves glucose tolerance in patients with type 2 diabetes, lowering both basal and postprandial plasma glucose. Its pharmacologic mechanisms of action are different from other classes of oral antihyperglycemic agents. Metformin decreases hepatic glucose production, decreases intestinal absorption of glucose and improves insulin sensitivity by increasing peripheral glucose uptake and utilization. Unlike sulfonylureas, metformin does not produce hypoglycemia in either patients with type 2 diabetes or normal subjects and does not cause hyperinsulinemia. With metformin therapy, insulin secretion remains unchanged while fasting insulin levels and day-long plasma insulin response may actually decrease.
Description
NEOPHAGE TAB 850 MG 3X10'S
Requires Prescription (YES/NO)
Yes
Indication
Metformin HCl is used to treat patients with type 2 diabetes (also called 'non-insulin dependent diabetes') when diet and exercise alone have not been enough to control your blood glucose levels. It is used particularly in overweight patients.
Side Effects
• Vomiting • Stomach ache (abdominal pain) • Muscle cramps • A general feeling of not being well with severe tiredness • Difficulty in breathing • Reduced body temperature and heartbeat .
When not to Use
Do not take Metformin :• if you are allergic (hypersensitive) to metformin or any of the other ingredients of this medicine • if you have liver problems• if you have severely reduced kidney function. • if you have uncontrolled diabetes, with, for example, severe hyperglycaemia (high blood glucose), nausea, vomiting, diarrhoea, rapid weight loss, lactic acidosis or ketoacidosis. Ketoacidosis is a condition in which substances called 'ketone bodies' accumulate in the blood and which can lead to diabetic pre-coma. Symptoms include stomach pain, fast and deep breathing, sleepiness or your breath developing an unusual fruity smell.
Dosage
Adults : Initial 500mg twice daily or 850mg daily with meals. Titrate : Increase by 500mg every week, or 850mg every two wk or from 500mg twice daily to 850mg twice daily every 2wk. Max: 2550mg daily. With Insulin : Adults : Initial : 500mg daily. Titrate : 500mg every wk. Max : 2500mg daily. Tab ER,XR ( with or without Insulin ) : Initial 500mg daily with pm meal. Titrate : Increase by 500mg every wk , Max : 2000mg/daily. Children : Monotherapy and in combination with insulin in children above 10yr and adolescent, 500mg twice daily, adjust after 10-15days. Max dose 2gm daily taken as 2 or 3 divided doses. OR As directed by your physician.
Storage yes or /no
Store this medicine at room temperature, away from direct light and heat.
Precautions
Metformin on its own does not cause hypoglycaemia (a blood glucose level which is too low). However, if you take Metformin together with other medicines to treat diabetes that can cause hypoglycaemia (suchas sulphonylureas, insulin, meglitinides), there is a risk of hypoglycaemia. If you experience symptoms of hypoglycaemia such as weakness, dizziness, increased sweating, fast heart beating, vision disorders or difficulty in concentration, it usually helps to eat or drink something containing sugar.
Warning 1
Metformin decreases liver uptake of lactate which may increase the risk of lactic acidosis, especially in patients at risk.
Warning 2
Stop taking Metformin for a short time if you have a condition that may be associated with dehydration (significant loss of body fluids) such as severe vomiting, diarrhoea, fever, exposure to heat or if you drink less fluid than normal. Talk to your doctor for further instructions.
Warning 3
Stop taking Metformin and contact a doctor or the nearest hospital immediately if you experience some of the symptoms of lactic acidosis, as this condition may lead to coma.
Pregnancy category
Always consult your physician before using any medicine.
Drug Interactions
Alcohol, Iodinated contrast agents , diuretics , corticosteroids , ACE inhibitors , sympathomimetics , NSAIDs , other hypoglycaemics . Inhibitors of OCT2 ( e.g , cimetidine, dolutegravir , ranolazine , trimethoprim ) .
Suggestions