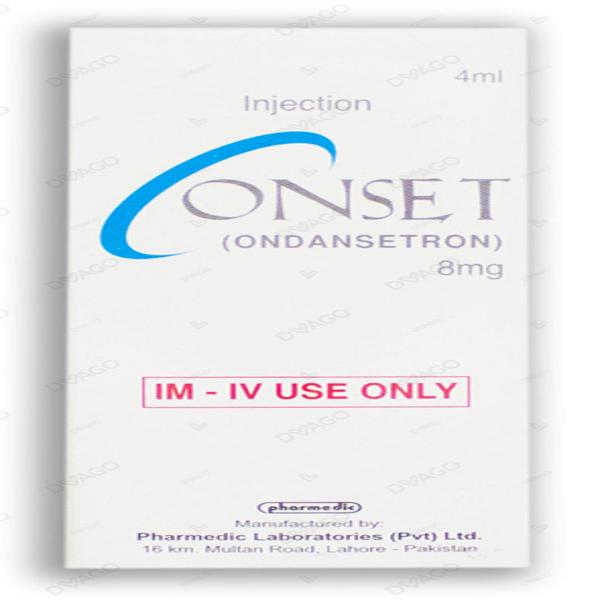 Onset 8Mg Injection 1Ampoulex4ml 1S
SPECIFICATION
Requires Prescription (YES/NO)
Yes
Used For
Nausea & Vomiting
How it works
Ondansetron is a selective antagonist of the serotonin receptor subtype, 5-HT3. Its precise mode of action in the control of chemotherapy induced nausea and vomiting is not known. Cytotoxic chemotherapy and radiotherapy are associated with the release of serotonin (5-HT) from enterochromaffin cells of the small intestine, presumably initiating a vomiting reflex through stimulation of 5-HT3 receptors located on vagal afferents. Ondansetron may block the initiation of this reflex. Activation of vagal afferents may also cause a central release of serotonin from the chemoreceptor trigger zone of the area postrema, located on the floor of the fourth ventricle. Thus, the antiemetic effect of ondansetron is probably due to the selective antagonism of 5-HT3 receptors on neurons located in either the peripheral or central nervous systems, or both. The mechanisms of ondansetron's antiemetic action in post-operative nausea and vomiting are not known.
USAGE AND SAFETY
Side Effects
Adverse reactions observed when ondansetron is used for Chemotherapy induced Nausea and Vomiting Diarrhea, Headache, Fever, Constipation, Rash.Cardiovascular:Rare cases of angina (chest pain), electrocardiographic alterations, hypotension, and tachycardia, QT prolongation, ST segment depression, bradycardia.Hepatic: In comparative trials in cisplatin chemotherapy patients with normal baseline values of aspartate transaminase (AST) and alanine transaminase (ALT), these enzymes have been reported to exceed twice the upper limit of normal in approximately 5% of patients. The increases were transient and did not appear to be related to dose or duration of therapy. On repeat exposure, similar transient elevations in transaminase values occurred in some courses, but symptomatic hepatic disease did not occur.Neurological: There have been rare reports consistent with, but not diagnostic of, extrapyramidal reactions in patients receiving ondansetron Injection and rare cases of grand mal seizure.Other:Rare cases of hypokalemia.Adverse reactions observed when ondansetron is used for Postoperative Nausea and Vomiting Headache, Drowsiness/sedation, Injection site reaction, Fever, Cold sensation, Pruritus and Paresthesia.OTHER ADVERSE REACTIONS:Local reactions:Pain, redness, burning at site of injectionLower respiratory: HiccupsSkin:Urticaria, Stenvens-Johnson syndrome, toxic epidermal necrolysis.Eye disorders:Transient blindnessNeurological:Oculogyric crisis, appearing alone,as well as with other dystonic reactions.Transient dizziness during or shortly after intervenous administration.
Drug Interactions
Drugs Affecting Cytochrome P-450 Enzymes , Apomorphine , Phenytoin, Carbamazepine, and Rifampin , Tramadol , Serotonergic Drugs , carmustine, etoposide, and cisplatin , Temazepam , Alfentanil and Atracurium.
Indication
Prevention of Nausea and Vomiting Associated with Initial and Repeat Courses of Emetogenic Cancer Chemotherapy.
When not to Use
Ondansetron is contraindicated for patients known to have hypersensitivity (e.g., anaphylaxis) to this product or any of its components. Anaphylactic reactions may be observed in patients taking ondansetron.The concomitant use of apomorphine with ondansetron is contraindicated based on reports of profound hypotension and loss of consciousness when apomorphine was administered with ondansetron.
PRECAUTIONS
Precaution
Hypersensitivity reactions, including anaphylaxis and bronchospasm, have been reported in patients who have exhibited hypersensitivity to other selective 5-HT3 receptor antagonists.
WARNINGS
Warning 1
Ondansetron prolongs the QT interval in a dose-dependent manner . Avoid this medicine in patients with congenital long QT syndrome. ECG monitoring is recommended in patients with electrolyte abnormalities (e.g., hypokalemia or hypomagnesemia), congestive heart failure, bradyarrhythmias, or patients taking other medicinal products that lead to QT prolongation.
Warning 2
The use of ondansetron in patients following abdominal surgery or in patients with chemotherapy-induced nausea and vomiting may mask a progressive ileus and gastric distention.
Warning 3
It is not a drug that stimulates gastric or intestinal peristalsis. It should not be used instead of nasogastric suction.
ADDITIONAL INFORMATION
Pregnancy category
Always consult your physician before using any medicine.
Storage (YES/NO)
Store this medicine at room temperature, away from direct light and heat.
Related Products