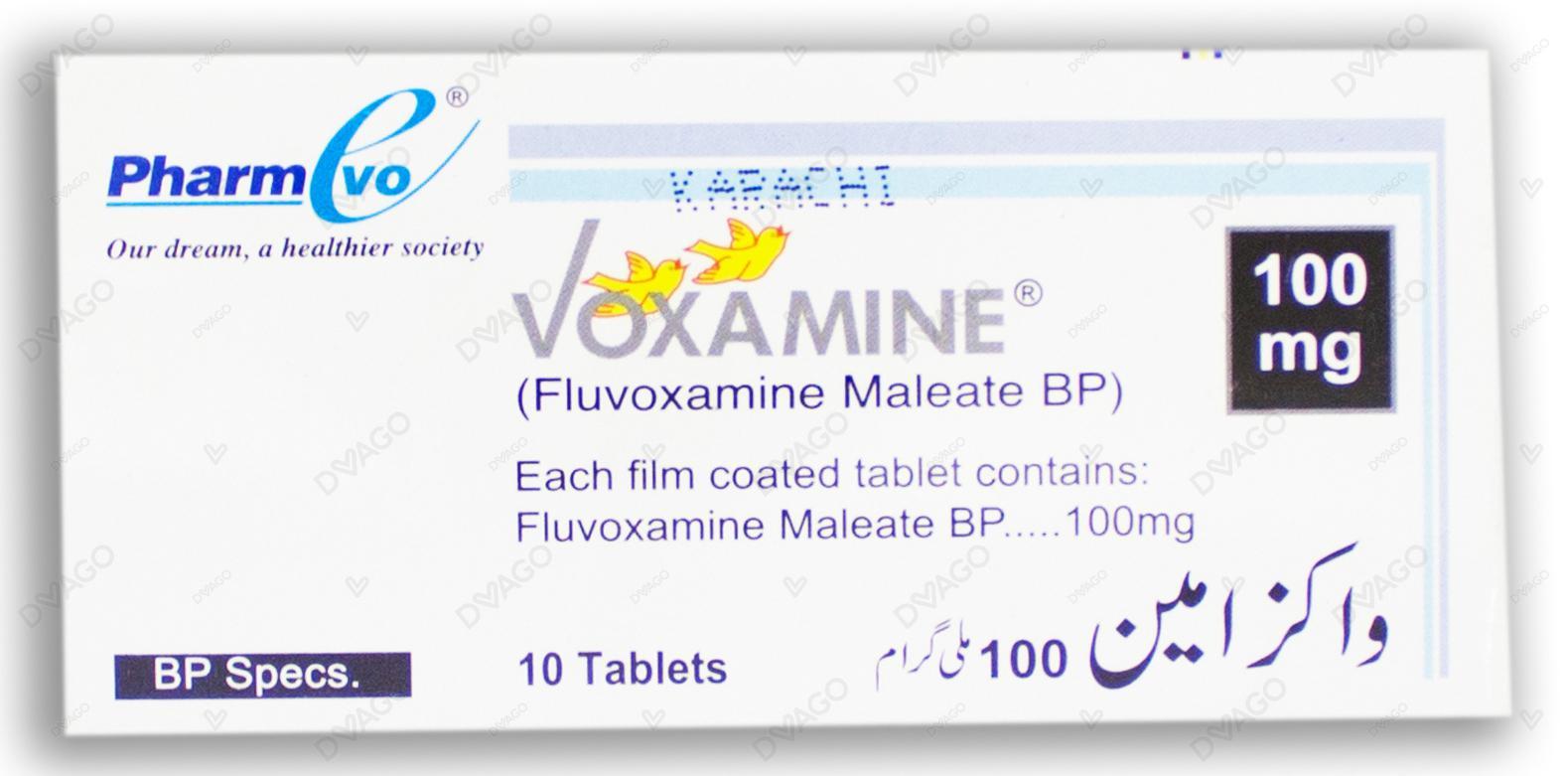 Voxamine 100Mg Tablets 10S (Pack Size 1 X 10S)
How it works
Fluvoxamine works by stopping the serotonin that has been released from being reabsorbed back into the nerve cells in the brain. This helps to prolong its effects and over time this helps to lighten mood and relieve depression.
Description
VOXAMINE TAB 100 MG 10'S
Generics
Fluvoxamine Maleate
used for
Obsessive Compulsive Disorder
Requires Prescription (YES/NO)
Yes
Indication
• Major depressive episode. • Obsessive Compulsive Disorder (OCD) .
Side Effects
Headache, nausea, diarrhea, dry mouth, dizziness, increased sweating, feeling nervous, restless, fatigued, or having trouble sleeping (insomnia). 
When not to Use
It is contraindicated in combination with tizanidine and monoamine oxidase inhibitors (MAOIs).
Dosage
Depression - Adults: The recommended dose is 100 mg daily. The recommended starting dose is 50 or 100 mg, given as a single dose in the evening.Doses up to 150 mg may be administered as one single dose,Dosages above 150 mg should be given in divided doses, preferably in the evening. If the total daily dose is greater than 150 mg, division in two or three doses is recommended. Children/Adolescents : Faverin is not recommended in children and adolescents less than 18 years for the treatment of major depressive episode. The efficacy and safety of Faverin has not been established in this population for the treatment of major depressive episode. Obsessive compulsive disorder : The recommended starting dose is 50 mg per day for 3 - 4 days. The effective dosage usually lies between 100 mg and 300 mg per day. The dosage should be increased gradually until the effective dosage is achieved, with a maximum of 300 mg per day for adults and 200 mg per day for children from 8 years on/adolescents. OR As directed by your physician .
Storage yes or /no
Store this medicine at room temperature, away from direct light and heat.
Precautions
Suicide/suicidal thoughts or clinical worsening Depression is associated with an increased risk of suicidal thoughts, self harm and suicide (suicide-related events). This risk persists until significant remission occurs. As improvement may not occur during the first few weeks or more of treatment, patients should be closely monitored until such improvement occurs.
Warning 1
Fluvoxamine should not be used in the treatment of children and adolescents under the age of 18 years except for patients with OCD. Due to lack of clinical experience the use of fluvoxamine in children for the treatment of depression cannot be recommended .
Warning 2
Patients suffering from hepatic or renal insufficiency should start on a low dose and be carefully monitored. Treatment with fluvoxamine has rarely been associated with an increase in hepatic enzymes, generally accompanied by clinical symptoms. In such cases treatment should be discontinued .
Warning 3
Glycaemic control may be disturbed (i.e., hyperglycaemia, hypoglycaemia, decreased glucose tolerance), especially in the early stages of treatment. The dosage of anti-diabetic drugs may need to be adjusted .
Pregnancy category
Always consult your physician before using any medicine.
Drug Interactions
Fluvoxamine should not be used in combination with MAOIs including linezolid, due to risk of serotonin syndrome. Fluvoxamine can inhibit the metabolism of drugs metabolized by certain cytochrome P450 isoenzymes.Plasma concentrations of propranolol are increased in combination with fluvoxamine, the propranolol dose may need to be lowered.Plasma concentrations of ropinirol may be increased in combination with fluvoxamine thus increasing the risk of overdose , Warfarin.
Suggestions