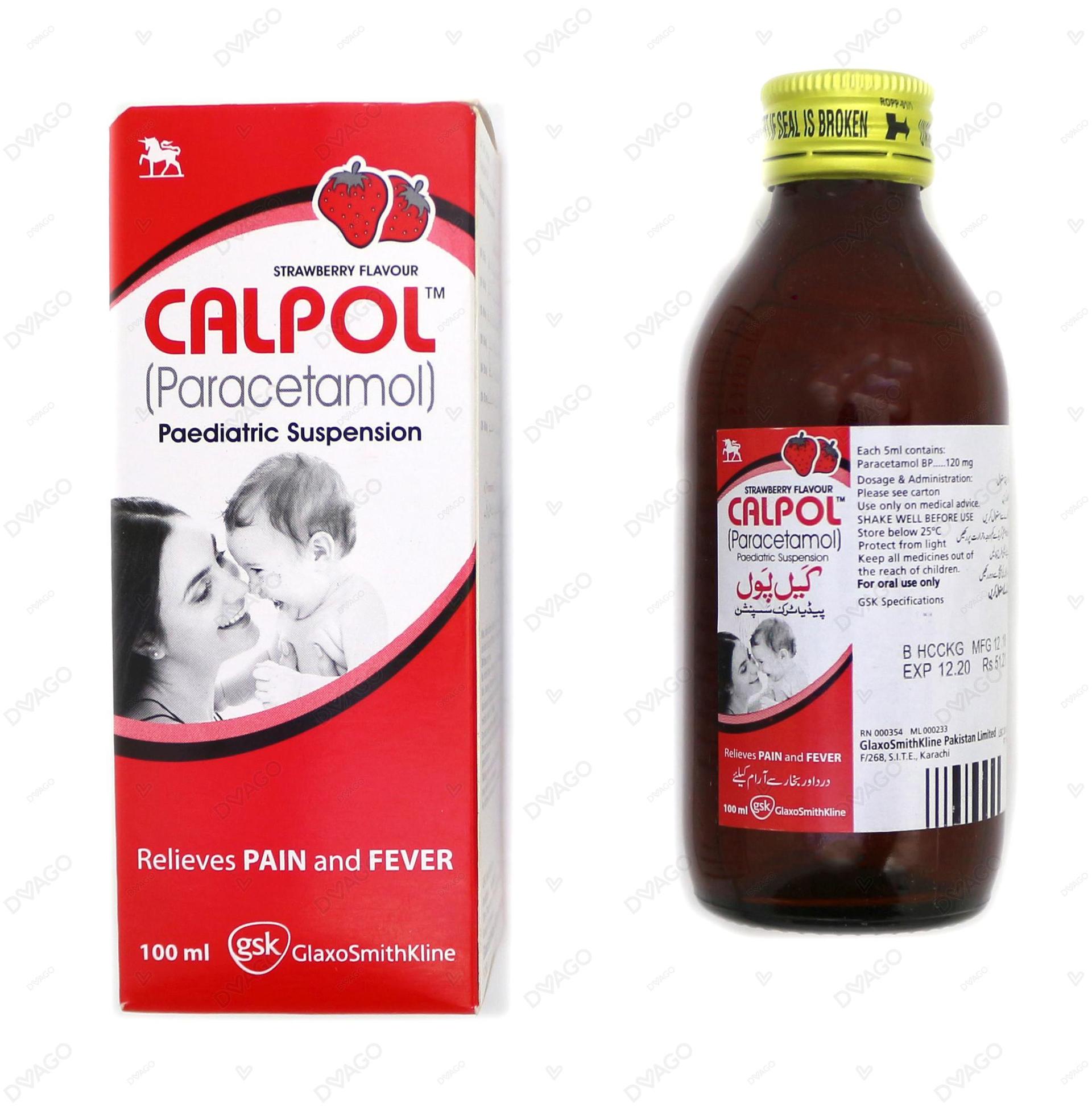 Calpol Peads 120 Mg 100 Ml Suspension
How it works
Paracetamol has a central analgesic effect that is mediated through activation of descending serotonergic pathways. Debate exists about its primary site of action, which may be inhibition of prostaglandin (PG) synthesis or through an active metabolite influencing cannabinoid receptors.
Description
CALPOL PEAD SUSPENSION 100ML
Requires Prescription (YES/NO)
No
Indication
It provide fast and effective relief against: Headache , Migraine pain , Joint pain associated with Osteoarthritis , Muscle ache , Tooth ache , Period pain , Fever.
Side Effects
Thrombocytopaenia, Anaphylaxis cutaneous hypersensitivity reactions including among others skin rashes, angiodema, stevens johnson syndrome, toxic epidermal necrosis, bronchospasm in patients sensitive to aspirin and other NSAIDs, hepatic dysfuction.
When not to Use
This product is contraindicated in patients with a previous history of hypersensitivity to paracetamol or excipients.
Dosage
Adults : ORAL : Repeat every four hour if necessary upto max 4 doses in 24 hr . Single dose of 500mg to 1000mg which may be repeated every 4 hour , max 4000mg/day. Children : Oral : Pain ; pyrexia and discomfort : 2-3 mnth , 30-60mg every 8 hr as necessary , max 60mg/kg daily in divided doses ; 3-6 mnth , 60mg every 4-6 hr , max 4 doses/day ; 6mnth-2yr , 180mg every 4-6 hr , max 4 doses/day ; 2-4 yr , 180mg every 4-6 hr , max 4 doses/day ; 4-6 yr , 240 mg every 4-6 hr , max 4 doses/day ; 6-8 yr , 240-250mg every 4-6 hr , max 4 doses/day ; 8-10 yr , 360-375mg every 4-6 hr , max 4 doses/day ; 10-12 yr, 480-500mg every 4-6 hr , max 4 doses/day ; 12-16 yr , 480-750mg every 4-6 hr , max 4 doses/day ; 16-18 yr, 500mg-1gm every 4-6 hr , max 4 doses/day . OR As directed by your physician .
Storage yes or /no
Store this medicine at room temperature, away from direct light and heat.
Precautions
It contains paracetamol. Do not use with any other paracetamol-containing products. The concomitant use with other products containing paracetamol may lead to an overdose.
Warning 1
Underlying liver disease increases the risk of paracetamol related liver damage. Patients who have been diagnosed with liver or kidney impairment must seek medical advice before taking this medication.
Warning 2
Cases of hepatic dysfunction/failure have been reported in patients with depleted glutathione levels, such as those who are severely malnourished, anorexic, have a low body mass index or are chronic heavy users of alcohol.
Warning 3
In patients with glutathione depleted states such as sepsis, the use of paracetamol may increase the risk of metabolic acidosis.
Pregnancy category
Always consult your physician before using any medicine.
Drug Interactions
The anticoagulant effect of warfarin and other coumarins may be enhanced by prolonged regular daily use of paracetamol with increased risk of bleeding; occasional doses have no significant effect.
Suggestions