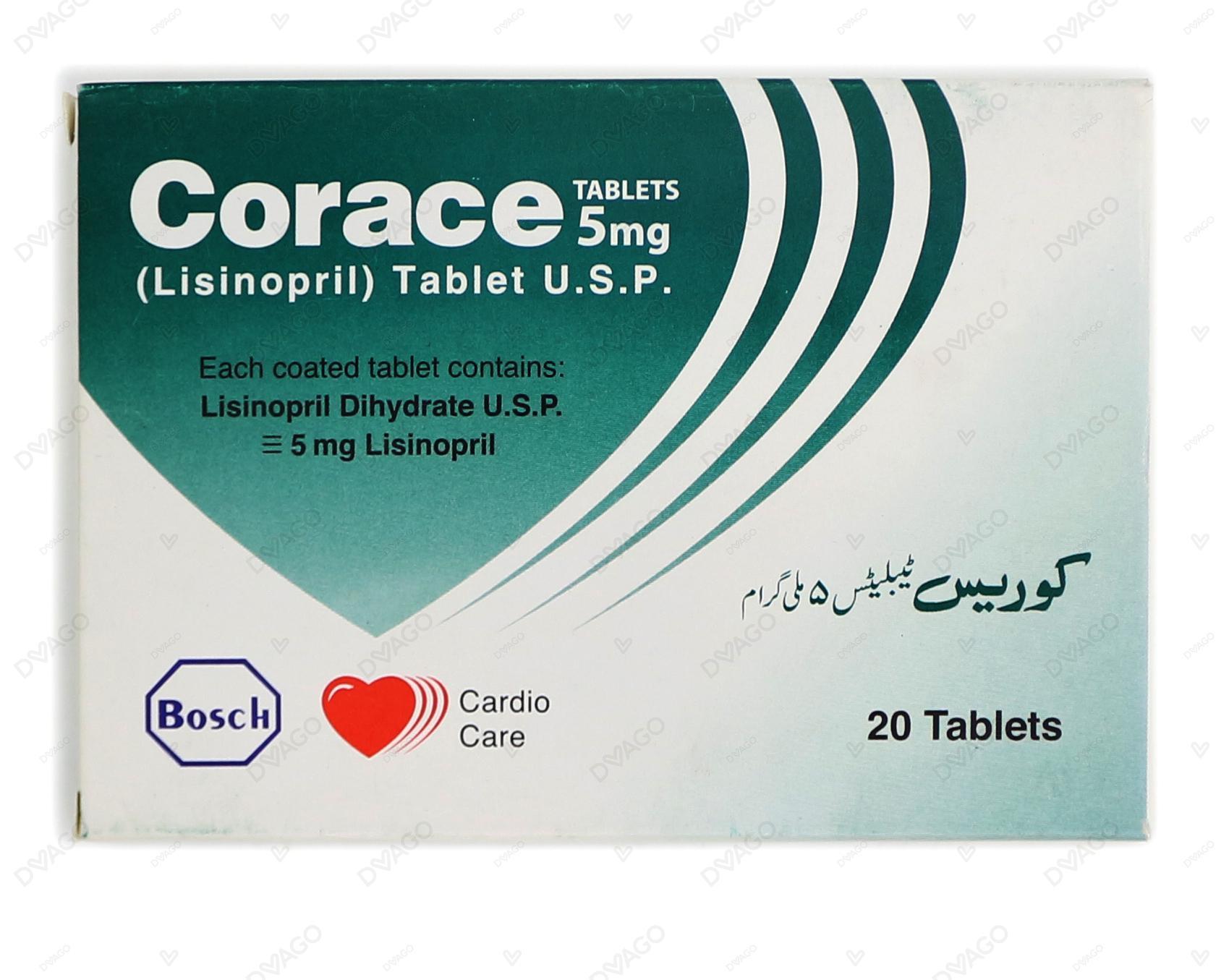 Corace 5Mg Tablets 20S (Pack Size 2 X 10S)
How it works
Lisinopril is a peptidyl dipeptidase inhibitor. It inhibits the angiotensin converting enzyme (ACE) that catalyses the conversion of angiotensin I to the vasoconstrictor peptide, angiotensin II. Whilst mechanism through which lisinopril lowers blood pressure is believed to be primarily suppression of the renin-angiotensin-aldosterone system. Lisinopril is antihypertensive even in patients with low-renin hypertension.
Description
CORACE TAB 5 MG 2X10'S
Requires Prescription (YES/NO)
Yes
Indication
Lisinopril is indicated for: Hypertension : The treatment of hypertension.Heart failure : The treatment of symptomatic heart failure. Acute myocardial infarction : Short-term (6 weeks) treatment of haemodynamically stable patients within 24 hours of an acute myocardial infarction.Renal complications of diabetes mellitus : Treatment of renal disease in hypertensive patients with type 2 diabetes mellitus and incipient nephropathy.
Side Effects
Common: Dizziness, headache, orthostatic effects (including hypotension), cough, diarrhea, nausea, vomiting.Uncommon: Mood alterations, paraesthesia, vertigo, taste disturbance, sleep disturbances, myocardial infarction or cerebrovascular accident, possibly secondary to excessive hypotension in high risk patients, palpitations, tachycardia. Raynaud's phenomenon, rhinitis, abdominal pain and indigestion, rash, pruritus, impotence, fatigue, asthenia, increase in blood urea, increase in serum creatinine, increasein liver enzymes, hyperkalaemia.Rare: Decrease in hemoglobin, decrease in hematocrit, mental confusion, dry mouth, hypersensitivity/angioneurotic edema: angioneurotic edema of the face, extremities, lips, tongue, glottis, and/or larynx, urticaria, alopecia, psoriasis, uraemia, acute renal failure.Very rare: Bone marrow depression, anaemia, thrombocytopenia, leucopenia, neutropenia, agranulocytosis, haemolytic anaemia, lymphadenopathy, autoimmune disease, hypoglycemia, bronchospasm, sinusitis, allergic alveolitis/eosinophilic pneumonia, pancreatitis, intestinal angioedema, hepatitis - either hepatocellular or cholestatic, jaundice and hepatic failure, diaphoresis, pemphigus, toxic epidermal necrolysis, Stevens-Johnson Syndrome, erythema multiforme, oliguria/anuria, gynaecomastia, increase in serum bilirubin, hyponatremia.
When not to Use
Lisinopril is contraindicated in patients:- With hypersensitivity to lisinopril, to any of the excipients or any other angiotensin converting enzyme (ACE) inhibitor.- With a history of angioedema associated with previous ACE inhibitor therapy.- With hereditary or idiopathic angioedema.- Who are pregnant .
Dosage
Hypertension : In patients with hypertension the usual recommended starting dose of Lisinopril is 10mg . The usual effective maintenance dosage is 20mg administered in a single dailydose. In general if the desired therapeutic effect cannot be achieved in a period of 2 to 4 weeks on a certain dose level, the dose can be further increased up to 80mg daily, if necessary. Acute myocardial infarction : Starting dose Treatment with lisinopril may be started within 24 hours of the onset of symptoms in an initial dose of 5mg once daily for two days, and then increased to 10mgonce daily. An initial dose of 2.5mg once daily is recommended for patients with a low systolic blood pressure. Maintenance dose : The maintenance dose is 10mg once daily. Renal complications of diabetes mellitus : The initial dose is 2.5mg once daily. In normotensive type 1 diabetics the maintenance dose is 10mg daily, increased to 20mg daily. The dose should be individualised according to patient profile and blood pressure response.
Storage yes or /no
Store this medicine at room temperature, away from direct light and heat.
Precautions
Lisinopril therapy should be immediately discontinued in patients presenting with angioedema; appropriate anti-histamine/corticosteroid therapy and monitoring should be provided until complete and sustained resolution of all signs and symptoms has occurred.
Warning 1
Occasionally, blood pressure drops too low after taking lisinopril. This usually happens after the first or second dose or when the dose is increased. It is more likely to occur in those who take diuretics, have a salt-restricted diet, are on dialysis, or are suffering from diarrhoea or vomiting. In patients at increased risk of symptomatic hypotension, initiation of therapy and dose adjustment should be closely monitored.
Warning 2
As with all vasodilators, lisinopril should be given with caution to patients with obstruction in the outflow tract of the left ventricle.
Warning 3
In patients undergoing major surgery or during anesthesia with agents that produce hypotension, lisinopril may blockangiotensin II formation secondary to compensatory renin release. If hypotension occurs and is considered to be due to this mechanism, it can be corrected by volume expansion.
Pregnancy category
Always consult your physician before using any medicine.
Drug Interactions
Diuretics , Potassium supplements, potassium-sparing diuretics (e.g. spironolactone, triamterene or amiloride) or potassium-containing salt substitutes, Lithium , NSAIDs and ACE inhibitors , glyceryl trinitrate and other nitrates , tricyclic antidepressants and antipsychotics , Sympathomimetics , antidiabetic medicines (insulins, oral hypoglycemic agents ) .
Suggestions