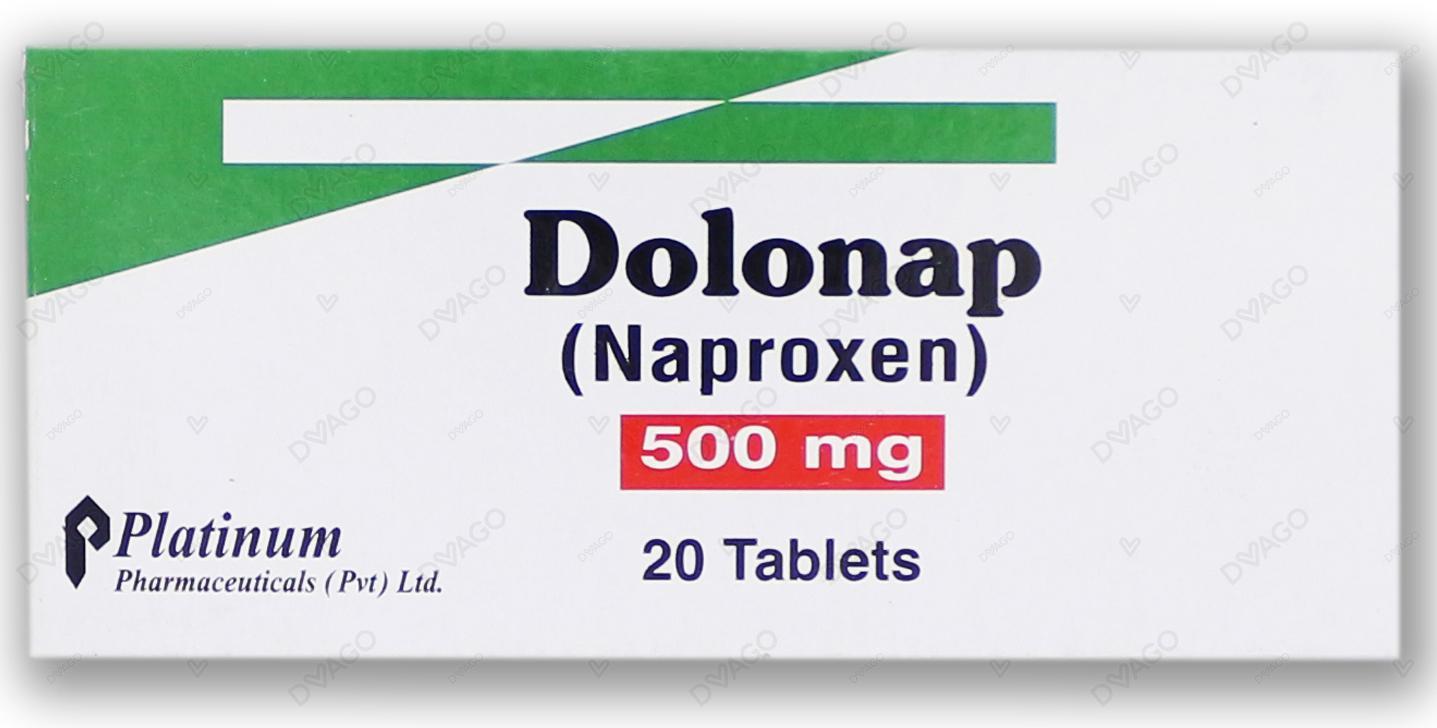 Dolonap 500Mg Tablets 20S (Pack Size 2 X 10S)
How it works
Naproxen is a non steroidal anti-inflammatory drug (NSAID) with analgesic and antipyretic properties. The mechanism of action of the naproxen anion, like that of other NSAIDs, is not completely understood but may be related to prostaglandin synthetase inhibition.
Description
DOLONAP 500MG TAB 20'S
Generics
Naproxen (as sodium)
used for
Rheumatoid Arthritis
Requires Prescription (YES/NO)
Yes
Indication
For the relief of the signs and symptoms of rheumatoid arthritis , osteoarthritis , ankylosing spondylitis , juvenile arthritis tendonitis , bursitis , Acute gout . For the management of pain .For the management of primary dysmenorrhea.
Side Effects
Headache, dizziness, drowsiness, lightheadedness, vertigo , Pruritus (itching), skin eruptions, ecchymoses, sweating, purpura , Tinnitus, visual disturbances, hearing disturbances , Edema, palpitations , Dyspnea, thirst.
When not to Use
It contraindicated in patients with known hypersensitivity to naproxen. It should not be given to patients who have experienced asthma, urticaria, or allergic-type reactions after taking aspirin or other NSAIDs. Severe, rarely fatal, anaphylactic-like reactions to NSAIDs have been reported in such patients
Dosage
For Rheumatoid Arthritis, Osteoarthritis and Ankylosing Spondylitis : 250 mg twice daily. Management of Pain, Primary Dysmenorrhea, and Acute Tendonitis and Bursitis: The recommended starting dose is 500 mg, followed by 500 mg every 12 hours or 250 mg every 6 to 8 hours as required. The initial total daily dose should not exceed 1250 mg of naproxen. Thereafter, the total daily dose should not exceed 1000 mg of naproxen.Acute Gout: The recommended starting dose is 750 mg followed by 250 mg every 8 hours until the attack has subsided. Always consult your doctor and pharmacist for dose adjustment.
Storage yes or /no
Store this medicine at room temperature, away from direct light and heat.
Precautions
Naproxen-containing products such as this medicine and other naproxen products should not be used concomitantly since they all circulate in the plasma as the naproxen anion. It cannot be expected to substitute for corticosteroids or to treat corticosteroid insufficiency. Abrupt discontinuation of corticosteroids may lead to disease exacerbation.
Warning 1
Fluid retention, edema, and peripheral edema have been observed in some patients taking NSAIDs. Naproxen should be used with caution in patients with fluid retention, hypertension, or heart failure.
Warning 2
NSAIDs, including naproxen medicine , can lead to onset of new hypertension or worsening of pre-existing hypertension, either of which may contribute to the increased incidence of Cardio vascular events.
Warning 3
NSAIDs, including naproxen, can cause serious gastrointestinal (GI) adverse events including inflammation, bleeding, ulceration and perforation of the stomach, small intestine, or large intestine, which can be fatal.
Pregnancy category
Always consult your physician before using any medicine.
Drug Interactions
ACE-inhibitors , Antacids and Sucralfate , Aspirin , Cholestyramine , Diuretics , Lithium , Methotrexate , Warfarin , Selective Serotonin Reuptake Inhibitors (SSRls) .
Suggestions