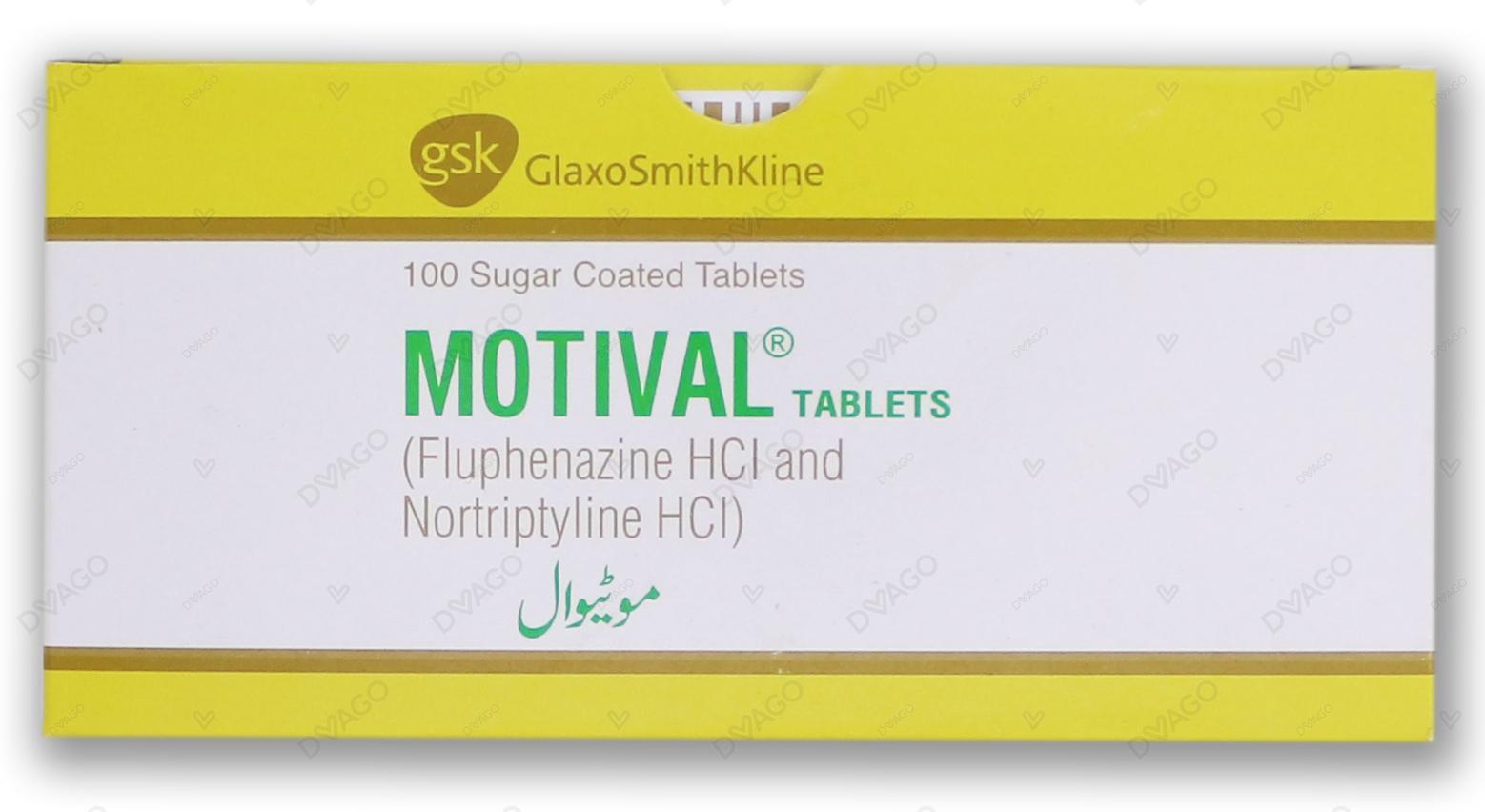 Motival Tablets 100S (Pack Size 5 X 20S)
How it works
It contains fluphenazine, a trifluoromethyl phenothiazine derivative, intended for the management of anxiety and tension states and nortriptyline, a tricyclic antidepressant intended for the treatment of mental depression.
Description
MOTIVAL TAB 100'S
Generics
Nortriptyline , Fluphenazine
Requires Prescription (YES/NO)
Yes
Indication
Treatment of patients with mild to moderate mixed anxiety depression states.
Side Effects
Nortriptyline: Confusion (especially in the elderly) with hallucinations, delirium, disorientation, delusions; anxiety, restlessness, agitation, insomnia, panic, nightmares, hypomania, exacerbation of psychosis, hostility. Numbness has occurred, as well as tingling, paraesthesia of extremities, incoordination, ataxia, tremors, peripheral neuropathy, extrapyramidal symptoms, seizures, alteration in EEG patterns, and tinnitus. Fluphenazine: The side effects most frequently reported with phenothiazine compounds such as fluphenazine are extrapyramidal symptoms, including pseudoparkinsonism, dystonia, dyskinesia, akathisia, oculogyric crisis, opisthotonos, and hyperreflexia. Respiratory complications may occur due to hypertonia of the respiratory muscles.
When not to Use
It is contraindicated: • in patients with a history of hypersensitivity to fluphenazine, nortriptyline or any other phenothiazine or dibenzazapine. • during the acute recovery period after myocardial infarction, cardiac failure and ischaemic heart disease. • in patients with suspected or established brain damage. • in patients receiving large doses of central nervous system depressants (alcohol, barbiturates, narcotics, hypnotics, ets.) • in comatose or severely depressed states.
Dosage
Adults : 1 tab two or three times daily for max. 3 month. Children : Not Recommended. OR As directed by your physician.
Storage yes or /no
Store this medicine at room temperature, away from direct light and heat.
Precautions
Patients with cardiovascular disease should be closely supervised when on nortriptyline because of the tendency of drugs in this class to produce sinus tachycardia and to prolong conduction time.
Warning 1
Patients with a history of seizures should be followed closely when nortriptyline is administered, since nortriptyline is known to lower the seizure threshold.
Warning 2
Neuroleptic Malignant Syndrome (NMS): This rare but potentially fatal symptom complex has been reported in association with fluphenazine. Clinical manifestations of NMS are fever, hyperpyrexia, muscle rigidity, altered mental status, and evidence of autonomic instability (irregular pulse or blood pressure, tachycardia, diaphoresis, and cardiac dysrhythmias). If NMS is suspected,it should be discontinued permanently.
Warning 3
The use of fluphenazine may impair the mental and physical abilities required for driving or operating heavy machinery, particularly during the first days of therapy. Potentiation of the effects of alcohol may occur with the use of this medication.
Pregnancy category
Always consult your physician before using any medicine.
Drug Interactions
Adrenaline , alcohol , barbiturates , CNS depressants , other antipsychotics , anticholinergics , antacids , dopaminergics , lithium , oral hypogycaemics , antihypertensives , anticonvulsants , drugs that prolong the QT interval (anti-arrthythmics) , sibutramine , metoclopramide , sympathomimetics , carbamazepine , barbiturates , cimetidine .
Suggestions