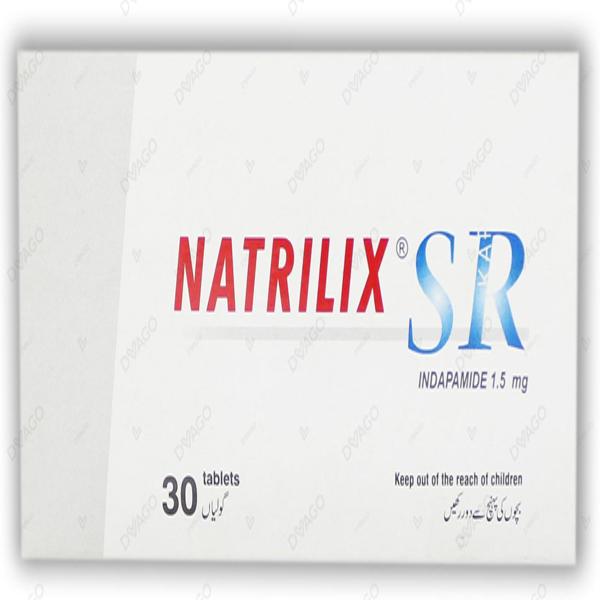 Natrilix Sr 1.5Mg Tablets 30S (Pack Size 2 X 15S)
How it works
Indapamide is a non-thiazide sulfonamide with an indole ring, belonging to the diuretic family. At the dose of 2.5 mg per day it exerts a prolonged antihypertensive activity in hypertensive human subjects.
Description
NATRILIX TAB SR 30'S
Requires Prescription (YES/NO)
Yes
Indication
This medicine is intended for the treatment of high blood pressure (hypertension).
Side Effects
Common : Raised skin rashes, allergic reactions, mainly dermatological, in subjects predisposed to allergic or asthmatic reactions ; Uncommon : Vomiting, red pinpoints on skin (purpura). Rare : Feeling of tiredness, headache, pins and needles (paraesthesia), dizziness, gastro-intestinal disorders (such as nausea, constipation), dry mouth ; Very rare : Changes in blood cells, such as thrombocytopenia (decrease in the number of platelets which causes bruising, contusions and nasal bleeding), leucopenia (decrease in white blood cells which may cause unexplained fever, soreness of the throat or other flu-like symptoms – if this occurs, and anaemia (decrease in red blood cells), increase of calcium in the blood, heart rhythm irregularities, low blood pressure, kidney disease, abnormal liver function .
When not to Use
Do not take : If you are allergic to indapamide or any other sulphonamide or to any of the other ingredients , film coated tablet , If you have severe kidney disease, If you have severe liver disease or suffer from a condition called hepatic encephalopathy (degenerative disease of the brain), If you have low potassium levels in your blood.
Dosage
Adults : One tablet each day . Children : Not recommended. OR As directed by your physician.
Storage yes or /no
Store this medicine at room temperature, away from direct light and heat.
Precautions
Cases of photosensitivity reactions have been reported with thiazides and thiazide-related diuretics . If photosensitivity reaction occurs during treatment, it is recommended to stop the treatment. If a re-administration of the diuretic is deemed necessary, it is recommended to protect exposed areas to the sun or to artificial UVA .
Warning 1
Thiazides and related diuretics including indapamide have been shown to increase the urinary excretion of magnesium, which may result in hypomagnesaemia .
Warning 2
Monitoring of blood glucose is important in diabetics, in particular in the presence of hypokalaemia.
Warning 3
Hypovolaemia, secondary to the loss of water and sodium induced by the diuretic at the start of treatment causes a reduction in glomerular filtration. This may lead to an increase in blood urea and plasma creatinine. This transitory functional renal insufficiency is of no consequence in individuals with normal renal function but may worsen pre-existing renal insufficiency.
Pregnancy category
Always consult your physician before using any medicine.
Drug Interactions
Quinidine, hydroquinidine, disopyramide, amiodarone, sotalol. ibutilide, dofetilide, digitalis , tricyclic antidepressants, antipsychotic drugs, neurolepties) , bepridil , cisapride, diphemanll , sparfioxacin, moxifioxacin , halofantrine , pentamidine , mizolastine , ibuprofen or high doses of acetylsalicylic acid, angiotensin converting enzyme (ACE) Inhibilors , oral corticosteroids , stimulant laxatives, baclofen , potassium-sparing diuretics (amiloride, spironolactone, triamterene), metformin , iodinated contrast media (used for tests involving X-rays) , calcium tablets or other calcium supplements, ciclosporin , tacrolimus , tetracosactide .
Suggestions