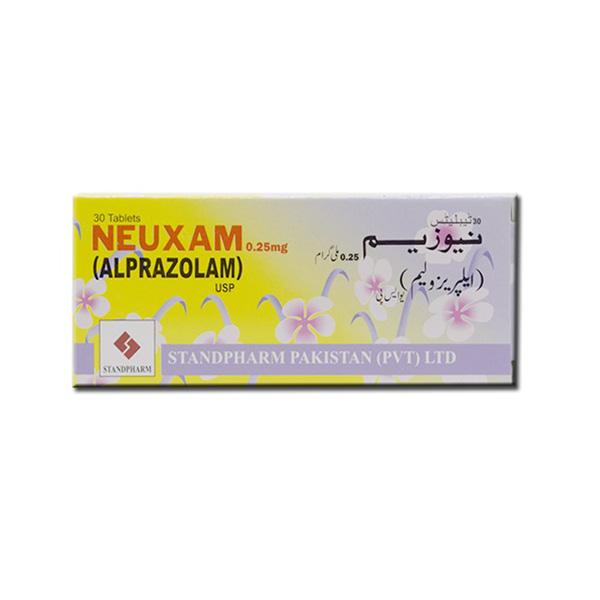 Neuxam 0.25 Mg 3X10 Tablets
How it works
Alprazolam is used to treat anxiety and panic disorders. It belongs to a class of medications called benzodiazepines which act on the brain and nerves (central nervous system) to produce a calming effect. It works by enhancing the effects of a certain natural chemical in the body (GABA).
Description
NEUXAM TAB 0.25 MG 3X10'S
Requires Prescription (YES/NO)
Yes
Indication
Alprazolam is used for short-term treatment of severe anxiety disorder.
Side Effects
Drowsiness, sleepiness and unsteadiness (similar to feeling drunk), numbed emotions, loss of alertness or concentration, confusion, tiredness, headache, light-headedness, dizziness, muscle spasms or muscle weakness, jerky or uncoordinated movements, double or blurred vision, insomnia (inability to sleep or disturbed sleep), nervousness or feeling anxious, shakiness or trembling, loss of appetite or change in your weight. blurred vision , constipation , nausea , confusion , depression , irritability , decrease in appetite , difficulty in controlling movements (ataxia) , loss of coordination , loss of strength , difficulty remembering , slurred speech , lack of concentration.
When not to Use
Do not take Alprazolam - if you are allergic (hypersensitive) to alprazolam, benzodiazepines or any of the other ingredients of alprazolam . - If you suffer from a condition called myasthenia gravis which causes the muscles to be weak.
Dosage
Anxiety : Adults : The usual dose is between 0.25 mg and 0.5 mg three times a day. May Increase every 3-4 days. Max : 4mg/day. Panic Disorder : Initial 0.5-1mg daily , preferably in the morning . Titrate : Increase by 1 mg/day every 3-4 days . Maintenance : 1-10 mg/day . Usual : 3-6mg/day . Children : Not recommended . Alprazolam tablets should be taken orally. Always take alprazolam exactly as your doctor has told you. You should check with your doctor or pharmacist if you are not sure. Alprazolam should not be taken for longer than you doctor has advised and generally should not exceed 8-12 weeks.
Storage yes or /no
Store this medicine at room temperature, away from direct light and heat.
Precautions
If you notice any changes in your behaviour as alprazolam has been associated with unusual reactions such as restlessness, agitation, irritability, aggressiveness, delusion, rages, nightmares, hallucinations, psychoses and odd behaviour. If this happens to you, please speak to your doctor, as your medicine will need to be stopped.
Warning 1
Do not drink alcohol whilst taking alprazolam; alcohol increases the effects of this medicine and therefore should be avoided.
Warning 2
If you are pregnant or are planning to become pregnant, do not take alprazolam unless you and your doctor have discussed the risks and benefits involved.
Warning 3
Do not drive or operate machinery after taking alprazolam because it can make you lose concentration or muscle control, feel dizzy, drowsy or light headed.
Pregnancy category
Always consult your physician before using any medicine.
Drug Interactions
Imipramine and desimipramine, Anti-psychotics, hypnotics, sedatives, narcotics analgesics like propoxyphene or antidepressants, Selective Serotonin Re-uptake Inhibitors (SSRIs) like fluoxetine and sertraline , ketoconazole, itraconazole and other azole derivates , Cimetidine , nefazodone or fluvoxamine , Diltiazem , ritinovir.
Suggestions