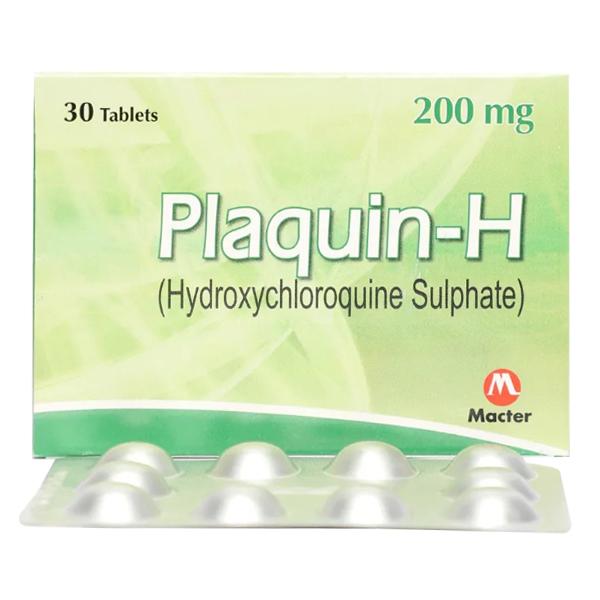 Plaquin-H 200 Mg 30 Tablets
How it works
Hydroxychloroquine exerts a beneficial effect in lupus erythematosus (chronic discoid or systemic) and acute or chronic rheumatoid arthritis. The precise mechanism of action is not known.
Description
PLAQUIN-H TAB 200 MG 30'S
Generics
Hydroxychloroquine Sulphate
used for
Rheumatoid Arthritis
Requires Prescription (YES/NO)
Yes
Indication
Hydroxychloroquine sulfate is indicated for the treatment of: * Active rheumatoid arthritis (including juvenile idiopathic arthritis). * Systemic and discoid lupus erythematosus. *Dermatological conditions caused or aggravated by sunlight.
Side Effects
The side-effects of hydroxychloroquine includes gastro-intestinal disturbances, headache and skin reactions (rashes, pruritus); those occurring less frequently include convulsions, visual changes, keratopathy, ototoxicity, hair depigmentation, hair loss and discoloration of skin, nails, and mucous membranes. In rare cases, hydroxychloroquine has caused visual changes or loss of vision. Side-effects that occur rarely include blood disorders (including thrombocytopenia, agranulocytosis and aplastic anemia), mental changes (including emotional disturbances and psychosis), myopathy, (including cardiomyopathy and neuromyopathy), acute generalized exanthematous pustulosis, exfoliative dermatitis, Stevens-Johnson syndrome, photosensitivity and hepatic damage, angioedema has also been reported.
When not to Use
Hydroxychloroquine is contraindicated in: * Patients with known hypersensitivity to 4-aminoquinoline compounds. * Patients with pre-existing maculopathy of the eye. * Long-term therapy in children. * Children under 6 years of age.
Dosage
Active Rheumatoid Arthritis Adults: A suitable initial dose of Hydroxychloroquine sulfate is 400mg to 600mg (2 or 3 tablets) daily, preferably taken at meal times. Four to twelve weeks therapy is required before the effect of treatment can be evaluated. Lupus Erythematosus : The dose of Hydroxychloroquine sulfate depends on the severity of the disease and the patient's response to treatment.Adults: An initial recommended dose of Hydroxychloroquine sulfate is 400-800mg daily. This level can be maintained for several weeks and then reduced to a maintenance dose.Maintenance dose: Doses are reduced to the minimum effective dose for maintenance that is 200-400mg daily but should not exceed 6.5mg/kg body weight daily (or 400mg daily whichever is smaller). To avoid excessive dosage in obese patients, special care is needed to calculate the dosage on the basis of lean body weight.Children: The minimum effective dose should be used upto a maximum of 6.5mg/kg body weight daily (or 400mg daily whichever is smaller). OR As directed by your physician.
Storage yes or /no
Store this medicine at room temperature, away from direct light and heat.
Precautions
The drug should be used with caution in neurological disorders (especially in those with a history of epilepsy).
Warning 1
In the treatment of rheumatoid arthritis, if objective improvement does not occur within six months, the drug should be discontinued.
Warning 2
Periodic blood cell counts should be made if patients are given prolonged therapy. If any severe blood disorder appears which is not attributable to the disease under treatment, discontinuation of the drug should be considered.
Warning 3
Dermatologic reactions to hydroxychloroquine may occur and, therefore, proper care should be exercised when it is administered to any patient receiving a drug with a significant tendency to produce dermatitis.
Pregnancy category
Always consult your physician before using any medicine.
Drug Interactions
Alfa and Beta Agalsidase , Laronidase , Amiodarone , Droperidol , Moxifloxacin , Antacids , Kaolin , Lanthanum , Antiepileptic , Mefloquine , Ciclosporin , Digoxin , Cimetidine , Neostigmine , Pyridostigmine .
Suggestions