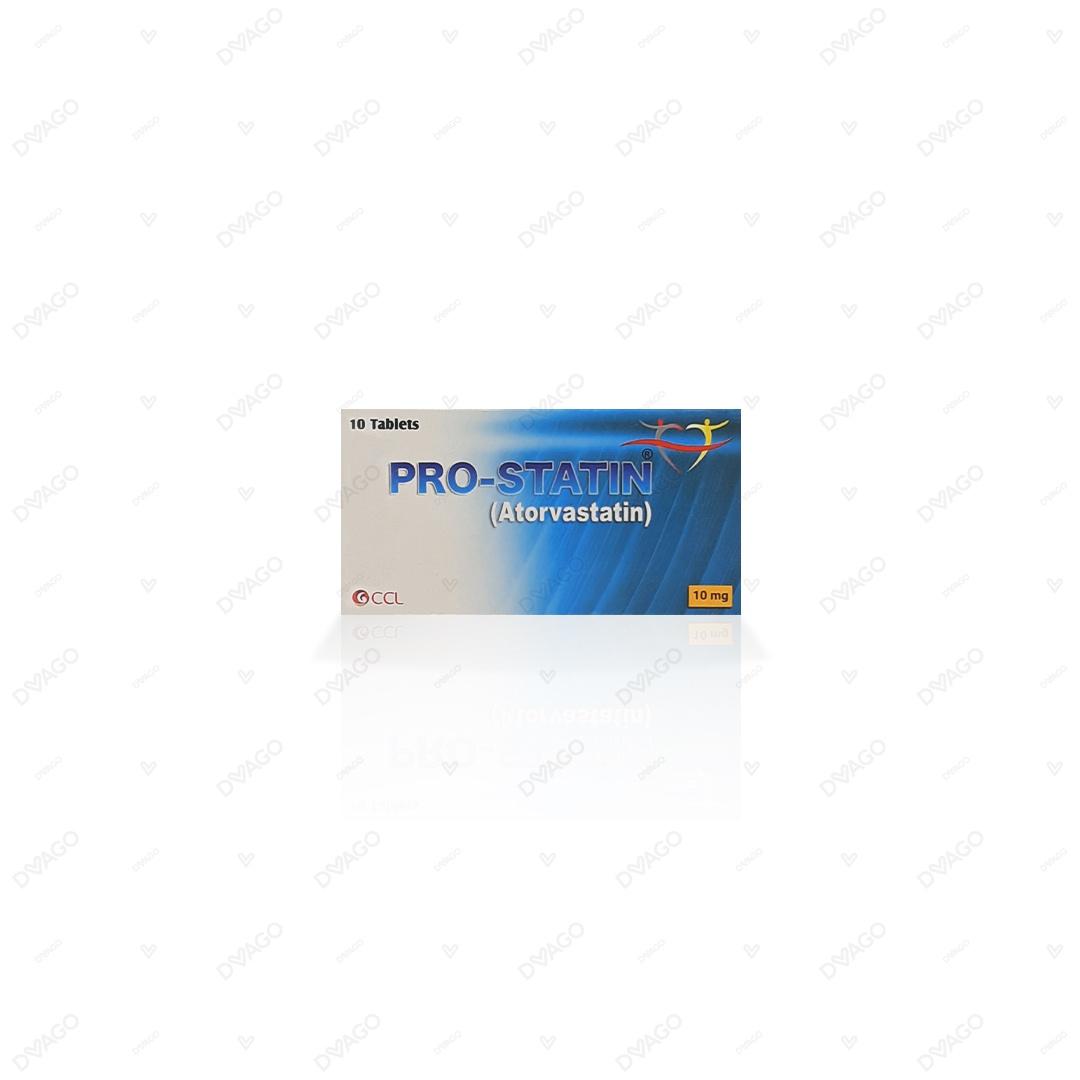 Pro-Statin 10Mg Tablets 10S (Pack Size 1 X 10S)
How it works
Atorvastatin is used to lower lipids known as cholesterol and triglycerides in the blood when a low fat diet and life style changes on their own have failed. If you are at an increased risk of heart disease, Atorvastatin can also be used to reduce such risk even if your cholesterol levels are normal. You should maintain a standard cholesterol lowering diet during treatment.
Description
PRO-STATIN TAB 10 MG 10'S
used for
Cholesterol Control
Requires Prescription (YES/NO)
Yes
Indication
Atorvastatin, belongs to a group of medicines known as statins, which are lipid (fat) regulating medicines.
Side Effects
Serious allergic reaction which causes swelling of the face, tongue and throat that can cause great difficulty in breathing , Serious illness with severe peeling and swelling of the skin, blistering of the skin, mouth, eyes genitals and fever. Skin rash with pink-red blotches especially on palms of hands or soles of feet which may blister , Anorexia (loss of appetite), weight gain, decreases in blood sugar levels (If you have diabetes you should continue careful monitoring of your blood sugar levels) , having nightmares, insomnia.
When not to Use
Do not take Atorvastatin :• If you are hypersensitive to Atorvastatin, or to any similar medicines used to lower blood lipids, or to any of the other ingredients • if you have or have ever had a disease which affects the liver.• If you have had any unexplained abnormal blood tests for liver function.
Dosage
The usual starting dose is 10 mg once a day. Adjustment of dose should be made at intervals of 4 weeks or more. The maximum dose is 80 mg once a day. Children : 10 yr, Not recommended. OR As directed by your physician .
Storage yes or /no
Store this medicine at room temperature, away from direct light and heat.
Precautions
Do not take more than one or two small glasses of grapefruit juice per day because large quantities of grapefruit juice can change the effects of Atorvastatin.
Warning 1
Normally this medicine does not affect your ability to drive or operate machines. However, do not drive if this medicine affects your ability to drive. Do not use any tools or machines if your ability to use them is affected by this medicine.
Warning 2
Atorvastatin contains lactose If you have been told by your doctor that you have an intolerance to some sugars, contact your doctor before taking this medicine.
Warning 3
Talk to your doctor, pharmacist or nurse before taking Atorvastatin if you have had a previous stroke with bleeding into the brain, or have small pockets of fluid in the brain from previous strokes.
Pregnancy category
Always consult your physician before using any medicine.
Drug Interactions
Ciclosporin , erythromycin, clarithromycin telithromycin, ketoconazole, itraconazole, voriconazole, fluconazole posaconazole rifampin, fusidic acid , gemfibrozil, other fibrates, colestipol , amlodipine, diltiazem , digoxin verapamil,amiodarone ,ritonavir, lopinavir, atazanavir, indinavir, darunavir, the combination of tipranavir/ritonavir , telaprevir ,ezetimibe ,warfarin , oral contraceptives,stiripentol , cimetidine , phenazone, colchicine , antacids (indigestion products containing aluminium or magnesium) and boceprevir .
Suggestions