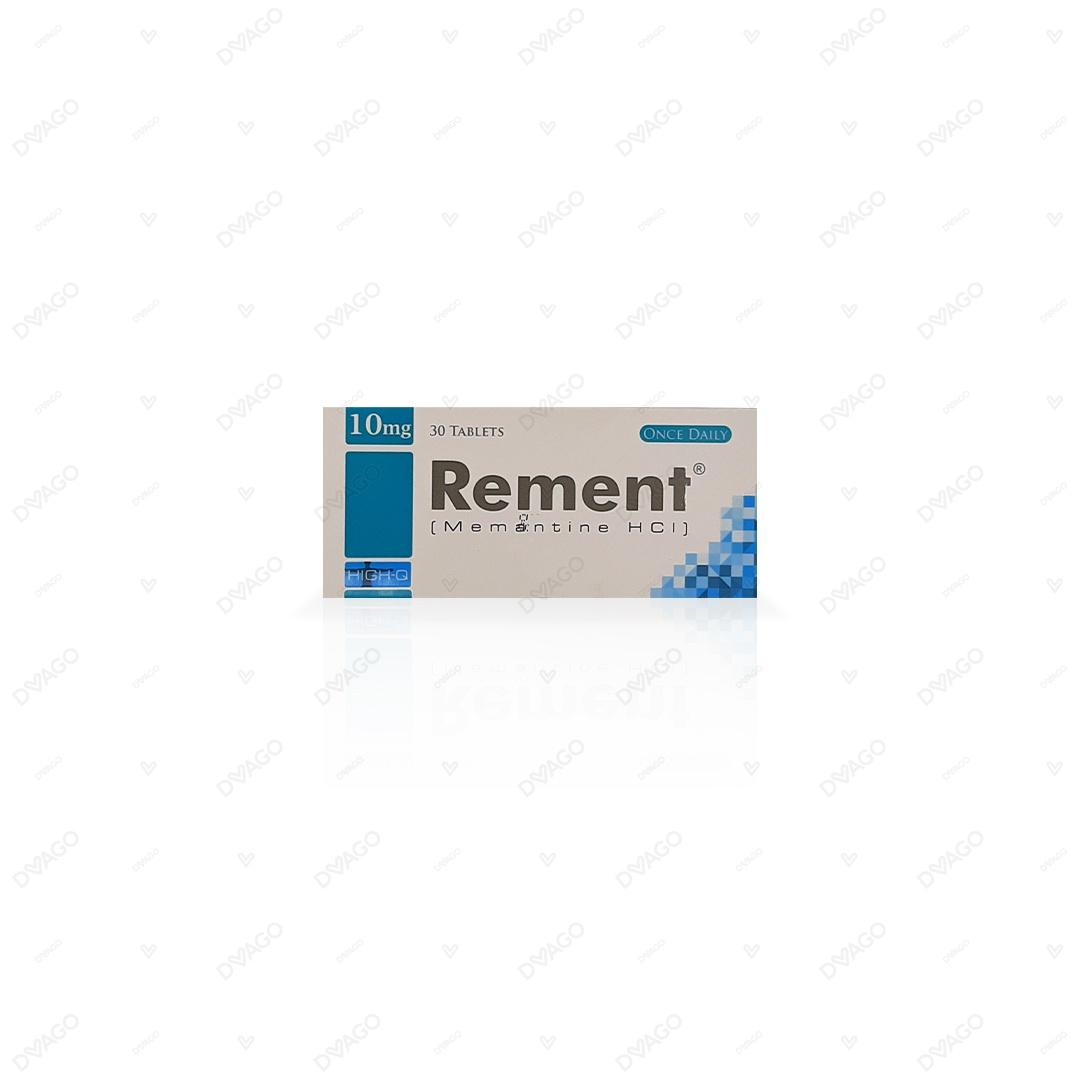 Rement 10Mg Tablets 30S (Pack Size 3 X 10S)
SPECIFICATION
Requires Prescription (YES/NO)
Yes
Generics
Memantine Hydrochloride
How it works
There is evidence that malfunctioning of glutamatergic neurotransmission, in particular at N-methyl-D-aspartate (NMDA)-receptors, contributes to both expression of symptoms and disease progression in neurodegenerative dementia. Memantine is a voltage-dependent, moderate-affinity uncompetitive NMDA-receptor antagonist. It blocks the effects of pathologically elevated tonic levels of glutamate that may lead to neuronal dysfunction .
USAGE AND SAFETY
Dosage
Memantine Hydrochloride
Side Effects
Common: Headache, sleepiness, constipation, elevated liver function test, dizziness, balance disorders, shortness of breath, high blood pressure and drug hypersensitivity ; Uncommon: Tiredness, fungal infections, confusion, hallucinations, vomiting, abnormal gait, heart failure and venous blood clotting (thrombosis/thromboembolism).
Drug Interactions
L-dopa, dopaminergic agonists, and anticholinergics , antispasmodic medicines, dantrolene or baclofen , amantadine , cimetidine, ranitidine, procainamide, quinidine, quinine and nicotine , hydrochlorothiazide (HCT) , dextromorphan , oral anticoagulants .
Indication
Treatment of patients with moderately severe to severe Alzheimer's disease .
When not to Use
Hypersensitivity to memantine hydrochloride or to any of the excipients . Children and adolescents below the age of 18 years, as safety and efficacy have not been established.
PRECAUTIONS
Precaution
Based on pharmacological considerations and single case reports, caution is recommended with patients suffering from epilepsy.
WARNINGS
Warning 1
Concomitant use of N-methyl-D-aspartate (NMDA)-antagonists such as amantadine, ketamine or dextromethorphan should be avoided. These medicines act at the same receptor system as this product and therefore adverse drug reactions (mainly CNS-related) may be more frequent or more pronounced .
Warning 2
In most clinical trials with Memantine, patients with recent myocardial infarction, congestive heart failure (NYHA III-IV) and uncontrolled hypertension were excluded. As a consequence only limited data are available and patients with these conditions should be closely supervised.
Warning 3
Moderately severe to severe Alzheimer's disease usually causes impairment of driving performance and compromises the ability to use machinery. Furthermore, Memantine may change reactivity such that outpatients should be warned to take special care when driving a vehicle or operating machinery.
ADDITIONAL INFORMATION
Pregnancy category
Always consult your physician before using any medicine.
Storage (YES/NO)
Store this medicine at room temperature, away from direct light and heat.
Related Products