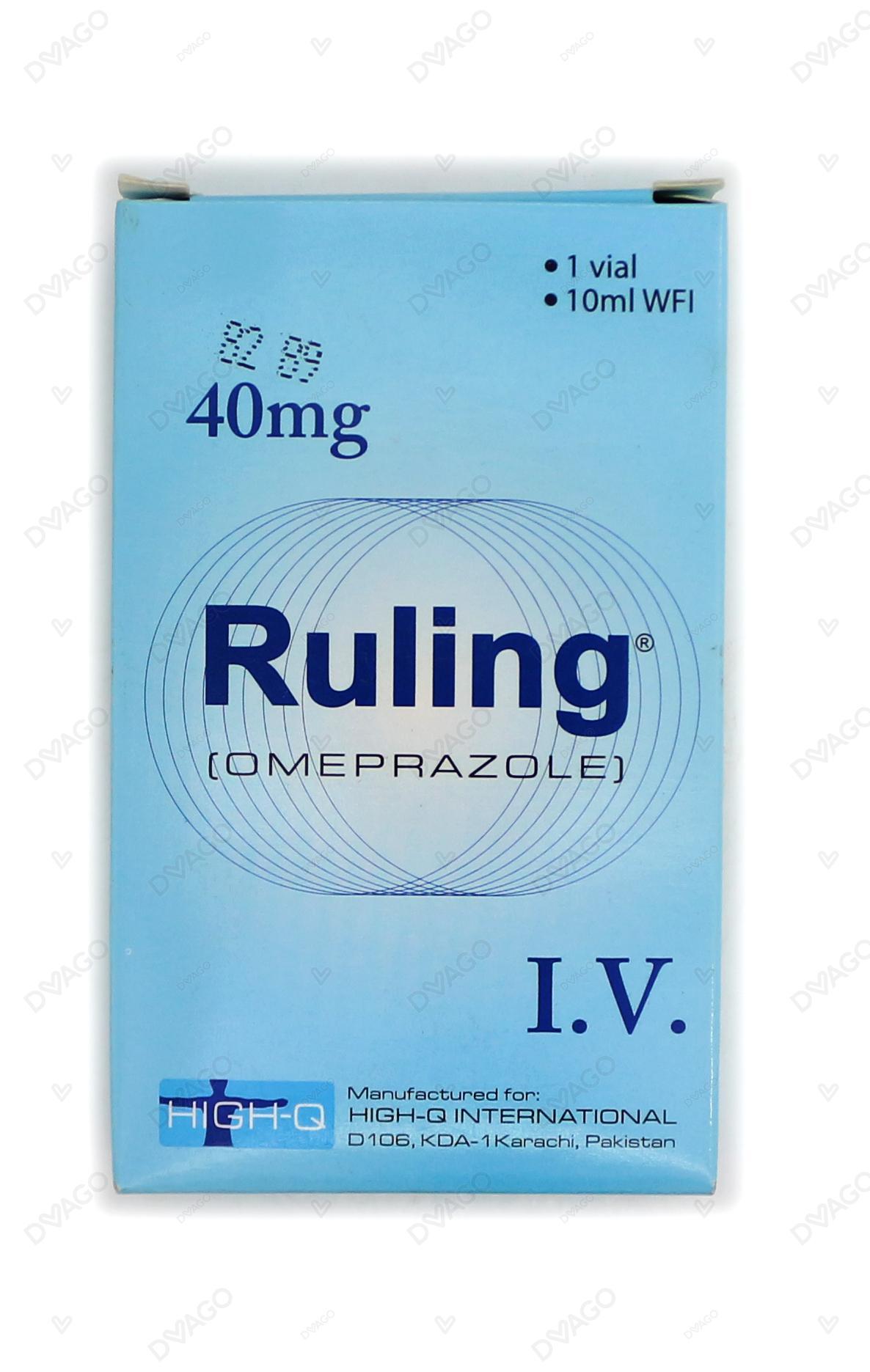 Ruling 40Mg Iv Infusion 1Vial
How it works
It inhibits secretion of gastric acid by irreversibly blocking the enzyme system of hydrogen/potassium adenosine triphosphatase (H+/K+ ATPase), the proton pump of the gastric parietal cell. This effect is dose-related and leads to inhibition of both basal and stimulated acid secretion irrespective of the stimulus.
Description
RULING INF 40 MG 1 VIAL
used for
Gastroesophageal Reflux Disease
Requires Prescription (YES/NO)
Yes
Indication
It (Omeprazole) is indicated in adults for the treatment of: Gastro-Esophageal Reflux Disease (GERD):- Treatment of erosive reflux esophagitis.- Long term management of patients with healed esophagitis to prevent relapse.- Symptomatic treatment of gastroesophageal reflux disease (GERD).
Side Effects
Common : Central and peripheral nervous system: Headache. Gastrointestinal: Diarrhea, constipation, abdominal pain, nausea/vomiting and flatulence.Uncommon : Central and peripheral nervous system: Dizziness, paraesthesia, somnolence, insomnia and vertigo.Hepatic: Increased liver enzymesSkin: Rash and/or pruritis, urticariaOther: MalaiseRare : Central and peripheral nervous system: Reversible mental confusion, agitation,aggression, depression and hallucinations, predominantly in severely ill patients.Endocrine: Gynecomastia
When not to Use
Omeprazole is contraindicated in patients with known hypersensitivity to any component of the formulation or to substituted benzimidazoles. Omeprazole must not be used concomitantly with nelfinavir.
Dosage
In Gastro-oesophageal reflux disease , Peptic ulcer disease , Treatment and prophylaxis of NSAID associated ulceration , Duodenal ulcer : Omeprazole IV 40mg once daily for upto 5 days ; Zollinger-Ellison syndrome : Initial dose of Omeprazole IV given intravenously is 60mg daily. Higher daily doses may be required and the dose should be adjusted individually. Dose greater than 60mg should be given twice daily ; Prophylaxis of acid aspiration during general anesthesia : Recommended dose of Omeprazole IV is 40mg to be given slowly (over a period of 5 minutes) as an intravenous injection, in the evening before surgery and a further 40mg one hour before surgery. OR As directed by your physician.
Storage yes or /no
Store this medicine at room temperature, away from direct light and heat.
Precautions
Omeprazole, as all acid-blocking medicines, may reduce the absorption of vitamin B12 (cyanocobalamin) due to hypo- or achlorhydria. This should be considered in patients with reduced body stores or risk factors for reduced vitamin B12 absorption on long-term therapy.
Warning 1
When gastric ulcer is suspected, the possibility of malignancy should be excluded as treatment may alleviate symptoms and delay diagnosis.
Warning 2
Proton pump inhibitors, especially if used in high doses and over long durations of greater than one year, may modestly increase the risk of hip, wrist and spine fracture, predominantly in the elderly or in presence of other recognized risk factors .
Warning 3
Consideration should be given to reducing the dose of omeprazole in patients with impaired hepatic function as bioavailability and half-life can increase.
Pregnancy category
Always consult your physician before using any medicine.
Drug Interactions
Ketoconazole and itraconazole , diazepam, citalopram, imipramine, clomipramine, phenytoin , Atazanavir , Digoxin , Clopidogrel , posaconazole, erlotinib , Saquinavir , Tacrolimus , Methotrexate , clarithromycin , CYP2C19 or CYP3A4 or both (such as rifampicin and St John's wort.
Suggestions