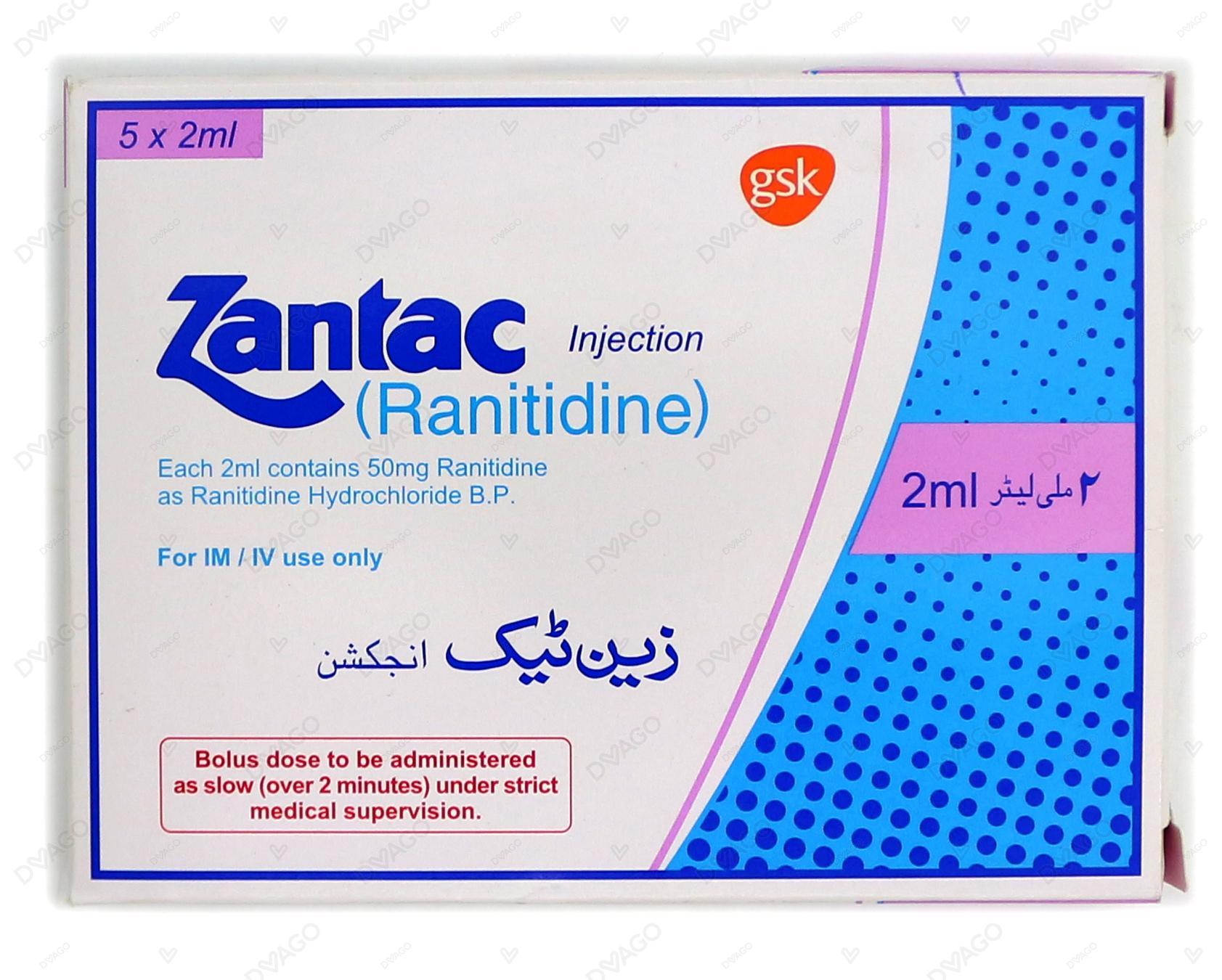 Zantac Injection 50 Mg 5 Ampx2 Ml
How it works
This medicine contains a medicine called ranitidine. This belongs to a group of medicines called H2-receptor antagonists. It lowers the amount of acid in your stomach.
Description
ZANTAC INJ 50 MG 5 AMPX2 ML
Requires Prescription (YES/NO)
Yes
Indication
For adults (including the elderly) it is used to heal and stop ulcers in the stomach, or the part of the gut it empties into (the duodenum).
Side Effects
Headache , dizziness , changes in liver function. Rarely hepatitis, thromocytopenia, leucopenia, agranulocytosis, pancytopenia, hypersensitivity, confusion, breast symptoms in men , reversible impotence, rash, bradycardia, pancreatitis.
When not to Use
Do not take Ranitidine if you are allergic to ranitidine or any of the other ingredients of this medicine.
Dosage
INJ : IM - 50mg every 6-8hr. IV - By slow IV injection, 50mg diluted to 20ml and adminitered over atleast 2 minutes. Your exact dose will depend on your particular stomach condition, your doctor will tellyou the dose you should take.
Storage yes or /no
Store this medicine at room temperature, away from direct light and heat.
Precautions
Since it is excreted primarily by the kidney, dosage should be adjusted in patients with impaired renal function ). Caution should be observed in patients with hepatic dysfunction since it is metabolized in the liver.
Warning 1
Check with your doctor or pharmacist before taking your medicine if you have any problems with your immune system.
Warning 2
If you are pregnant or breast-feeding, think you may be pregnant or are planning to have a baby, ask your doctor, pharmacist or nurse for advice before taking this medicine. You should not take this medicine unless your doctor advises it is essential.
Warning 3
After a few days of taking the medicine you should start to feel much better. Do not stop taking the medicine without talking to your doctor or pharmacist first, otherwise the original pain and discomfort may come back.
Pregnancy category
Always consult your physician before using any medicine.
Drug Interactions
Non-Steroidal Anti-Inflammatory (NSAID) , lidocaine , propranolol, procainamide or n-acetylprocainamide , diazepam , phenytoin , theophylline , warfarin , glipizide , atazanavir or delavirdine , triazolam , gefitinib , ketoconazole, erlotinib , sucralfate.
Suggestions