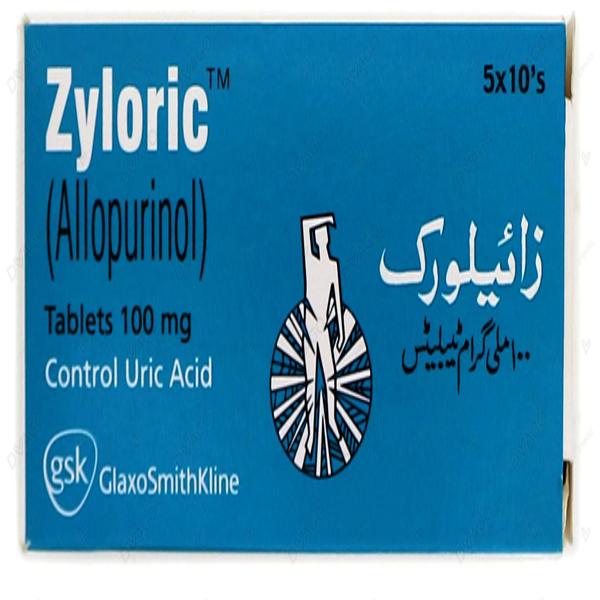 Zyloric 100Mg Tablets 50S (Pack Size 5 X 10S)
How it works
Allopurinol is a xanthine-oxidase inhibitor. Allopurinol and its main metabolite oxipuronol lower the level of uric acid in plasma and urine by inhibition of xanthine oxidase, the enzyme catalyzing the oxidation of hypoxanthine to xanthine and xanthine to uric acid. In addition to the inhibition of purine catabolism, in some but not all hyperuricaemic patients, de novo purine biosynthesis is depressed via feedback inhibition of hypoxanthine-guanine phosphoribosyltransferase.
Description
ZYLORIC TAB 100 MG 50'S
Requires Prescription (YES/NO)
Yes
Indication
It is indicated for reducing urate/uric acid formation in conditions where urate/uric acid deposition has already occurred (e.g. gouty arthritis, skin tophi, nephrolithiasis) .
Side Effects
Uncommon (may affect less than 1 in 100 people) : A reaction of any kind such as flaking skin, boils or sore lips and mouth or very rarely, sudden wheeziness, fluttering or tightness in the chest; collapse . Rare (may affect less than 1 in 1000 people) : Fever and chills, headache, aching muscles (flu-like symptoms) and generally feeling unwell , serious hypersensitivity reactions involving fever, skin rash, joint pain, abnormalities in blood and liver function tests (these may be signs of a multi-organ sensitivity disorder). bleeding in the lips, eyes, mouth, nose or genitals, any changes to your skin, for example; ulcers of the mouth, throat, nose, genitals and conjunctivitis (red and swollen eyes), widespread blisters or peeling.
When not to Use
It should not be administered to individuals known to be hypersensitive to allopurinol or to any of the components of the formulation.
Dosage
Adults : It should be introduced at low dosage e.g. 100 mg/day to reduce the risk of adverse reactions and increased only if the serum urate response is unsatisfactory. Extra caution should be exercised if renal function is poor. The following dosage schedules are suggested: -100 to 200 mg daily in mild conditions,300 to 600 mg daily in moderately severe conditions,700 to 900 mg daily in severe conditions.If dosage on a mg/kg bodyweight basis is required, 2 to 10 mg/kg bodyweight/day should be used.Children (under 15 years) : 10 to 20 mg/kg bodyweight/day up to a maximum of 400 mg daily. Use in children is rarely indicated, except in malignant conditions (especially leukaemia) and certain enzyme disorders such as Lesch-Nyhan syndrome. OR As directed by your physician.
Storage yes or /no
Store this medicine at room temperature, away from direct light and heat.
Precautions
It should be withdrawn IMMEDIATELY when a skin rash or other evidence of sensitivity occurs as this could result in more serious hypersensitivity reactions, including 4 Stevens-Johnson syndrome (SJS), toxic epidermal necrolysis (TEN) and hypersensitivity syndrome (also known as Drug Rash with Eosinophilia and Systemic Symptoms, DRESS).
Warning 1
Talk to your doctor before taking allopurinol about/ if you are suffering, or have you suffered, from liver or kidney disease.
Warning 2
Talk to your doctor before taking allopurinol about/ if you are taking medicines (diuretics and/or a medicine called ACE inhibitors) for heart disease or high blood pressure .
Warning 3
Take special care with allopurinol if you have kidney stones. The kidney stones will become smaller and may have a small chance of entering and blocking your urinary tract.
Pregnancy category
Always consult your physician before using any medicine.
Drug Interactions
Immunosuppressants e.g. 6-mercaptopurine, azathioprine and cyclosporin , adenine arabinoside (vidarabine), other medicines to treat gout, such as probenecid , aspirin (or related drugs called salicylates) , chlorpropamide, used to treat diabetes , drugs which thin the blood (anticoagulants), such as warfarin , medicines used for fits (epilepsy), phenytoin , theophylline, used for breathing problems , antibiotics (ampicillin or amoxicillin) , drugs used for the treatment of cancer , didanosine, used to treat HIV infection , medicines for heart problems or high blood pressure such as ACE inhibitors or water tablets (diuretics) , cyclophosphamide, doxorubicin, bleomycin, procarbazine, alkyl halogenides.
Suggestions