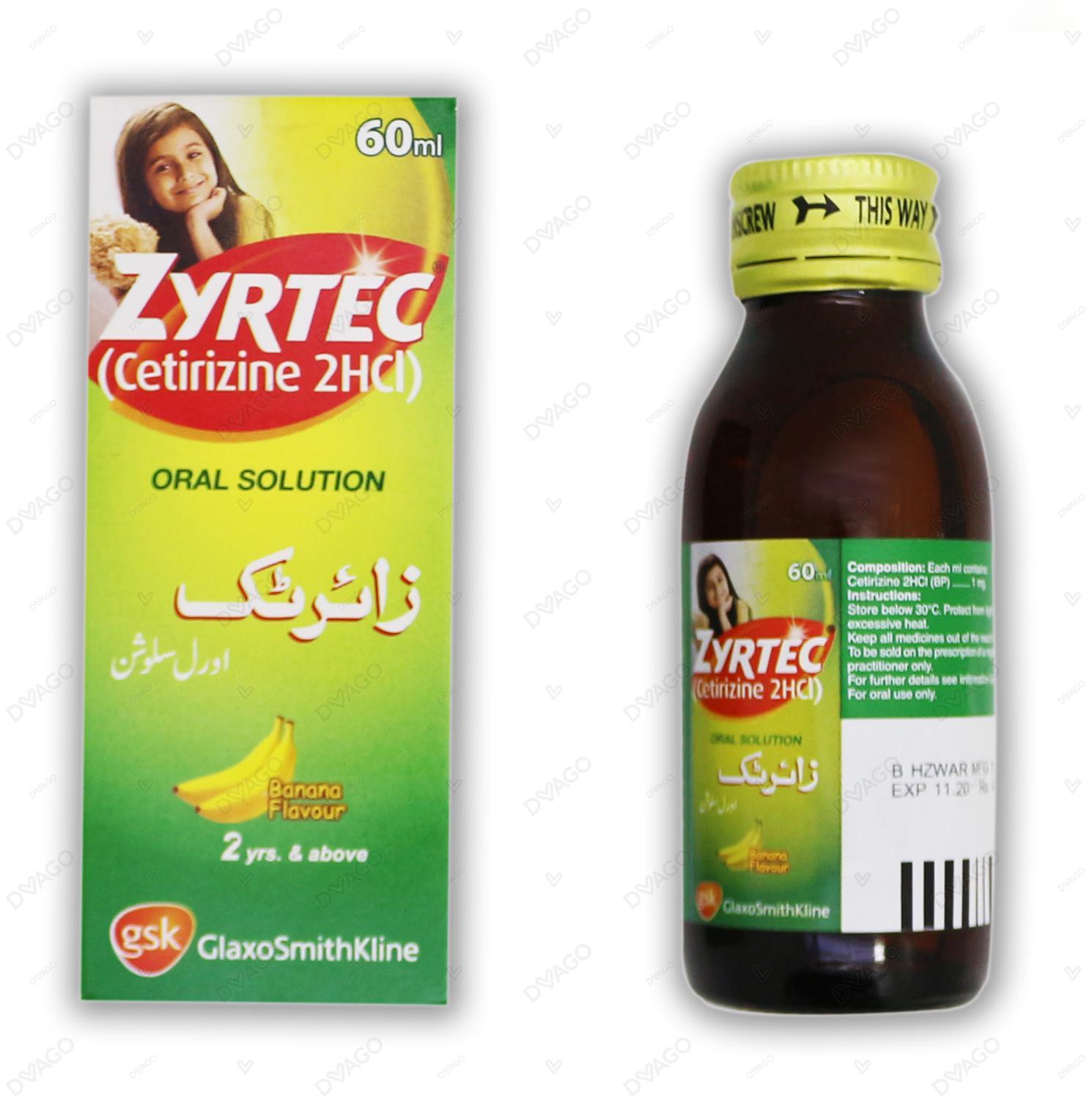 Zyrtec 5Mg/5Ml Oral Solution 60Ml 1S
SPECIFICATION
Requires Prescription (YES/NO)
Yes
Generics
Cetirizine Dihydrochloride
How it works
It works by blocking a certain natural substance (histamine) that your body makes during an allergic reaction.
USAGE AND SAFETY
Dosage
Cetirizine Dihydrochloride
Side Effects
If you experience any of the following, stop taking this medicine and talk to your doctor: Confusion , Hallucinations , Abnormal liver function tests , Rapid heartbeat , Loss of consciousness . Other effects which may occur include: Common (affecting 1 in 100 to 1 in 10 people): Headache and dizziness , Drowsiness or tiredness , Restlessness , Dry mouth, sore throat , Upset stomach, diarrhoea, nausea , Runny nose . Uncommon (affecting 1 in 1000 to 1 in 100 people): Agitation , Weakness , Malaise , Pins & needles , Itching , Rash , Abdominal pain .
Drug Interactions
CNS suppresants , alcohol
Indication
This medicine is used to relieve: • Symptoms of hayfever and other allergies such as sneezing, runny nose and burning, itchy eyes • Symptoms of skin allergies such as rash, itching or urticaria (hives) .
When not to Use
Do not take if you: • Are allergic (hypersensitive) to cetirizine dihydrochloride or any of the other ingredients in the medicine. • Have serious kidney problems .
PRECAUTIONS
Precaution
f you are due to have an allergy test, ask your doctor if you should stop taking cetirizine dihydrochloride oral solution for several days before testing. This medicine may affect your allergy test results.
WARNINGS
Warning 1
Talk to your doctor or pharmacist before taking this medicine if you: • Have epilepsy or are at risk of convulsions. • Have problems passing urine (like spinal cord problems, prostate or bladder problems) .
Warning 2
Tests have shown that this medicine does not cause drowsiness in the vast majority of people using it. Therefore it will not normally affect your ability to drive or operate machinery. However there may be very rare exceptions and if you experience dizziness, nausea or drowsiness, do not drive or operate machinery.
Warning 3
This product contains lactose. If you have been told by your doctor that you have an intolerance to some sugars, contact your doctor before taking this medicine.
ADDITIONAL INFORMATION
Pregnancy category
Always consult your physician before using any medicine.
Storage (YES/NO)
Store this medicine at room temperature, away from direct light and heat.
Related Products